Community Partners
Everyone should have access to art. We believe it's essential to a well-rounded human experience. But, for thousands of kids who live in LA's urban sprawl, transportation is a huge obstacle. So, we bring the Armory to them.
Every day, and at no cost to participants, teaching artists from the Armory's Community Pathways initiative transform lives and communities through the power of art. They work with incarcerated teens to create vibrant murals inside juvenile detention camps. They teach graphic design at continuation high schools in Pasadena and Boyle Heights. They offer free art classes at parks and recreation centers for some of our most vulnerable community members. The Armory can do all these things for one simple reason: we have a strong community that inspires us, and we're happy you are part of it. This is what the power of art looks like. This is your community. This is your Armory.
Below is a list of community partners with who we've had the pleasure and privilege of collaborating with to bring arts education to more members of our community.
---
Partner with Us! Collaborating with members and organizations in our community is one of our top goals and joys. For community partnership inquiries, please email Armory Vice President of Programs at ksatzman@armoryarts.org.
---

805 N. Madison Ave.
Pasadena, CA 91104
(626) 798-1538
adelante@adelanteya.org
Adelante Youth Alliance has been instrumental in providing thousands of youth with the support, resources, and role models needed to believe in their own abilities and achieve their full potential to become productive members of their communities – willing and able to give back.
---

743 E. Calaveras Street
Altadena, CA 91001
(626) 396-5650
At Altadena Arts Magnet, visual and performing arts are an integral part of a well-rounded education, boosting engagement and achievement.
---

ArtCenter College of Design offers a new model for art and design education in the 21st century. Our visionary approach is based on the College's conservatory-like approach to teaching and learning; a desire for rich, intercultural, and transdisciplinary dialogue; and a mandate to provide students innovative learning and making spaces.
---

2727 E. Anaheim St. PO Box 4722
Long Beach, CA 90804
admin@ahjnetwork.org
The Arts for Healing and Justice Network (AHJN) is an interdisciplinary collaborative that provides exceptional arts programming in order to build resiliency and wellness, eliminate recidivism, and transform the juvenile justice system.
AHJN envisions a future where youth are empowered and the systems that serve them are transformed by using arts as a foundational strategy and catalyst for change.
They leverage the reach and expertise of our members to amplify impact, provide thought leadership for the field, and serve as a model for effective collaboration. AHJN strives to "connect the dots" between direct service and systemic change by connecting advocacy to those most impacted, centering arts and art-making as a way to build community, partnership, and resilience in systems-change work, and using the arts to shift how people see each other to increase empathy and solidarity.
---

2200 E. 1st Street
Los Angeles, CA 90033
323-263-6901
---

The Benton Museum of Art originates lively and innovative art experiences that foster creative and critical thinking. The Benton's vision is to make the visual arts an essential part of the experience of all Pomona College students. By presenting contemporary and historic works of art for exhibition and study, and placing those works in context, the museum engages, instructs, and delights visitors from a range of audiences.
The museum utilizes carefully designed, lively, and innovative exhibitions and programs to link the creative energy of making art and experiencing art. It envisions its collections as a teaching resource, emphasizing the first-hand conversation with art objects as a tool for increasing visual literacy and investigating the diversity of human experience. It achieves this by integrating the visual arts into the broader intellectual and disciplinary context of Pomona College. The museum encourages active learning and creative explorations across disciplines, and among the visual arts, performing arts, the humanities, and the natural and social sciences. The museum approaches the arts with the same quest for knowledge, discovery, and understanding that guides practitioners across disciplines—the scientist, the engineer, the policy maker, the sociologist, the economist, the historian, and the performer.
---

As the visual arts center at one of the world's leading public research universities, the UC Berkeley Art Museum and Pacific Film Archive (BAMPFA) brings the rich artistic resources of the UC Berkeley campus to the broader public. BAMPFA's mission is to inspire the imagination, ignite critical dialog, and activate community engagement through art, film, and other forms of creative expression. Through its collections, research resources, and programs, BAMPFA aspires to be locally connected and globally relevant.
Each year, BAMPFA presents more than twenty gallery exhibitions and 450 film programs. In conjunction with its major exhibitions, BAMPFA develops extensive public programs, including gallery tours, lectures, and performances. BAMPFA provides the community with accessible and engaging arts programs, including school field trips and hands-on artmaking workshops for families and multigenerational audiences. BAMPFA's collections of more than 23,000 art objects and 17,500 films and videos represent a tremendous diversity of global cultures and historical periods.
---

221 S. Grand Avenue
Los Angeles, CA 90012
The Diversity Apprenticeship Program (DAP) is an initiative by The Broad to create career opportunities for underrepresented communities in the museum field broadly and art handling and preparations world specifically. By underrepresented, we mean people who identify as Black, Indigenous, and people of color; women; immigrants; LGBTQIA+; people who were formerly incarcerated; and foster youth.
The DAP provides nine-month, full-time paid apprenticeships in art handling and preparations. Through the DAP, we help create tangible changes for apprentices and the communities they represent. The DAP approach, while representing new directions in the field, serves as a real-time springboard for the museum field to move toward more-equitable workforce strategies.
---

California Calls is a growing alliance of 31 grassroots, community-based organizations spanning urban, rural, and suburban counties across the state. California Calls engages, educates, and motivates new and infrequent voters among young people, from communities of color, and from poor and working-class neighborhoods to make California's electorate reflect our state's diverse population.
"Through our bottom-up approach, they are organizing voters most impacted by budget cuts and deteriorating public services in support of systemic, progressive solutions to our state's fiscal crisis. Working together, and including those who are often left out of policy decisions, we believe we can reclaim the California Dream of equality, opportunity, and prosperity for all Californians." - California Calls Mission Statement
---

The award-winning CalArts Community Arts Partnership (CAP), a co-curricular program of CalArts, offers free after-school and school-based arts programs for youth ages 4-18 in every discipline taught at the Institute. Programs are offered at public schools, community centers, and social service agencies, covering a 1,000-square-mile radius across Los Angeles County. With classes led by a teaching corps of accomplished CalArts faculty, alumni, and student instructors, CAP participants learn to create original works of art and to experiment with prevailing conventions of artistic expression.
---

175 N Euclid Ave
Pasadena, CA 91101
Building vibrant, healthy cities by advancing public health, empowering youth, and igniting change.
---

760 W. Mountain View St.
Altadena, CA 91001
(626) 798-6793
Since 1888, Five Acres has protected the most vulnerable members of our community: children. Originally founded in downtown Los Angeles as an orphanage, Five Acres was initially created to offer safety to children who had no home. In time, their mission expanded to also focus on the well-being and mental health of our clients who were increasingly coming to them as a result of abuse or neglect.
---

Flintridge Center is a program provider, coordinator, advocator, collaborator, and convener. More importantly, Flintridge is a supporter and provider of hope and opportunities to individuals of high-risk, high-need circumstances from various communities in the Los Angeles County.
These individuals range from middle school youth to adults and include the formerly incarcerated, previously gang-involved, and those most susceptible to heading towards the path of violence and incarceration. Each year, over 500 individuals seek the services provided by Flintridge to transform their lives, reach their full potential, and become contributing and self-sufficient members of our communities.
---

940 Avenue 64
Pasadena, CA 91105
(323) 254-2274
A premier provider dedicated to healing children and young adults, strengthening families, and transforming communities through quality comprehensive services and advocacy. Hillsides envision a world in which children and young adults, families, and communities are able to heal, grow, and thrive.
Hillsides has five core programs that offer a depth and breadth of innovative services for at-risk children and their families. Their integrated team of experts work together to provide the highest quality care and treatment to achieve positive, lasting change. Their programs are widely known and respected in the child welfare community.
---

3100 Huntington Drive
San Marino, CA 91108
(626) 299-7080
K.L. Carver Elementary School is located in San Marino, which is east of Los Angeles, near the San Gabriel Mountains. What was once the home of the Gabrielino Indians, and later became the Henry E. Huntington Ranch, has evolved into a neighborhood of single-family homes, clustered around the Huntington Library and a beautiful community park. Carver School opened in its present location in 1952 and is one of two elementary schools in the district, which also includes one middle and one high school. The schools in the San Marino Unified School District (SMUSD) are an integral part of a community that provides ongoing support in terms of volunteer service and financial commitment.
---

595 Lincoln Avenue, Suite 103
Pasadena, CA 91103
(626) 535-0115
naacppasadena@gmail.com
The Pasadena Branch has a more than 100-year history in Pasadena. It was charted by the National Office on September 8, 1919, and was the 16th charter issued by the National NAACP. The Branch was founded when a small group of citizens answered the call of John Wright to respond to the needs of minority people in Pasadena. Their first step was to build an organization that served as the voice of all those denied the basic dignities rightfully due to human beings, especially African American citizens in the City of Pasadena.
---

1030 S. Arroyo Pkwy, Suite 106
Pasadena, CA 91105
(626) 799-3566
NDLON improves the lives of day laborers, migrants, and low-wage workers. NDLON builds leadership and power among those facing injustice so they can challenge inequality and expand labor, civil and political rights for all.
---

The mission of Otis College of Art and Design is to educate a diverse community of students to become highly skilled, well-informed, and responsible professionals—empowering them to shape the world. "The city is our soul—Los Angeles—where dreams meet discipline. We don't just welcome, support, and include. Diversity defines us."
---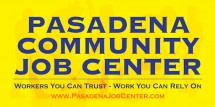 500 North Lake Avenue
Pasadena, CA 91101
(626) 440-0112
The Pasadena Community Job Center aims to connect you with skilled day laborers for a variety of services. The hiring process is fast and orderly. The center has hard-working men and women who are reliable, dedicated to supporting their families, and being active contributors to our community.
---

Locations Vary
---
To preserve and improve the physical, social, and economic health of Pasadena neighborhoods by delivering inclusive, innovative, and progressive recreational and human service programs; the Parks, Recreation, and Community Services is committed to providing the City of Pasadena with a wonderful place to live, work, and play which contributes to a connected, healthier, vibrant, and diverse community.
---

351 S. Hudson Ave
Pasadena, CA 91109
(626) 396-3600
The schools of PUSD offer a wide variety of educational options designed to prepare today's students to be critical thinkers, creative problem-solvers, and strong communicators - the leaders of tomorrow. Vibrant academics, exceptional teachers, and supportive school communities that nurture the whole child are the hallmarks of PUSD. The Armory works with all PUSD Elementary Schools, Washington STEAM Middle School, and John Muir High School.
---

135 N. Mission RD.
Los Angeles, CA 90033
(626) 535-0115
Proyecto Pastoral is a Boyle Heights-based community-building organization working on the east side of Los Angeles. Over 5,000 children and families are reached each year through our efforts. They believe that effective solutions to community challenges must be designed and implemented in close partnership with community residents. Residents serve as members of our Board of Directors, and as leaders in the Safety, Education, and Community Development committees of their Comunidad en Movimiento (CEM) program; the Parent Ambassador program of their Early Education Centers; and the governance structure of the Promesa Boyle Heights collaborative.
---

787 East Washington Blvd.
Pasadena, CA 91104
(626) 529-5014
Remainders is focused on creative reuse and sustainability. Using a creative reuse model in their materials depot, thousands of pounds of usable materials are diverted from landfills because households and businesses have donated to them. Their creative space has hosted many intergenerational workshops, bringing together a diverse group of people to learn from each other.
---

712 E. Villa St.
Pasadena, CA 91101
(626) 449-4960
info@gostars.org
Stars is a community that affirms, equips, and emboldens young people to pursue a life of purpose, service, and meaning.
---

TeenTix LA exists to break down the barriers that prevent teens from accessing art in our community, such as ticket or admission cost, not knowing where to look for events, navigating transportation around the city, and feeling insecure around arts-going if there's no one in their lives already championing the arts. ANY teenager (13-19 years old) can sign up for a free TeenTix pass! The pass entitles teens to purchase $5 day-of-show tickets at any of our growing list of partner organizations in the Los Angeles area.
---

#VigilantLOVE creates spaces for connection and grassroots movement to protect the safety and justice of communities impacted by Islamophobia and violence in the greater Los Angeles area.
---

1650 Huntington Drive
San Marino, CA 91108
(626) 299-7090
W.L. Valentine Elementary School enjoys a beloved place in the life of the small, picturesque San Marino community. The San Marino Unified School District enjoys phenomenal community partnerships with the Chinese Club, City Club, Rotary, and local city officials and departments.
---
Follow the great work we do in our community every day.