It's an exhibition within an exhibition. Alice Könitz's Mohn Award Winning Los Angeles Museum of Art (LAMOA) is currently occupying the Armory's Caldwell Gallery as part of The Fifth Wall: Tom Friedman, Evan Holloway, Farrah Karapetian, Alice Könitz, Marco Rios, Corinna Schnitt, Artur Żmijewski. The Fifth Wall and the rotating exhibits inside LAMOA is made possible by a grant from the Pasadena Art Alliance.
---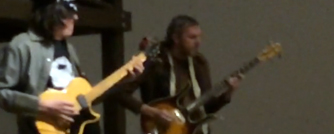 West Coast New Energy Encounter Group
Saturday, December 13, 2014

Activating LAMOA through sound, dialogue, and silence, the West Coast New Energy Encounter Group presents a new performance work that energizes the space through expressive costuming and powerful musicianship.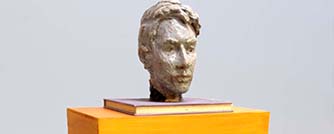 Torbjörn Vejvi
November 1 - December 14, 2014

This series of handmade painted sculptures is inspired by Torbjörn Vejvi's childhood reflections. Closing performance by West Coast New Energy Encounter Group on December 13, from 7 - 9 pm.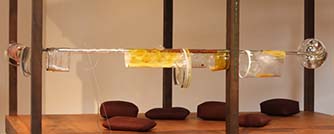 Olivia Booth: Glass Pavilion Piece (Accardi Piece, Copper Piece, Dad Piece, Sand Piece, Ivy Piece, LAMOA Piece, Taut Piece, Jawlensky Piece, Glint Piece, Studio Piece, Citi Piece…)
September 6 – October 26, 2014

A homage to the pavilion as exalted shed, this installation consists of a hanging glass cylinders, rods, and planes.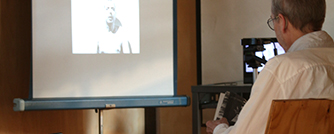 "Skip Arnold China" and other ephemera...
July 19 - July 27, 2014

Skip Arnold presented his recently completed travel film Skip Arnold China, as well as video films from his archives. Arnold was present during gallery hours to guide viewers through the exhibition.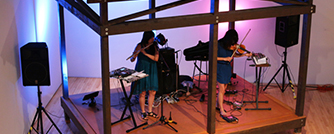 Get Back
Musical performance by Kelly Coats and Kathleen Kim of SheKhan
Saturday, July 12, 2014

A 30-minute experiment in the oscillation of structure and improvisation, harmony and dissonance.