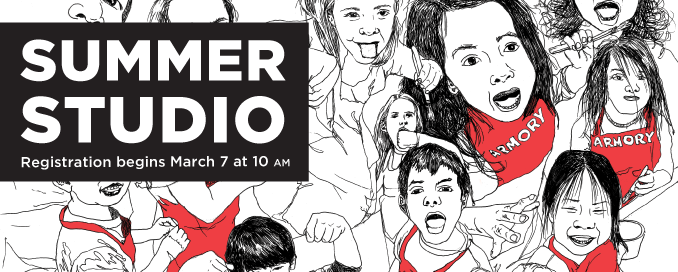 Summer Studio registration has begun! Our nationally-recognized, award-winning art classes are offered Mondays through Saturdays, mornings and evenings. Our Summer program is designed to accommodate your busy schedule. Explore traditional, experimental, and digital art in small classes taught by professional artists. All skill levels are welcomed. Armory Summer Studio begins July 2.

Supervised Lunches for your Children
Our staff and volunteers will supervise a snack time and lunchtime program for children enrolled in consecutive classes. We are happy to offer free supervision for children. Sack lunches, snacks and all drinks must be provided from home. See all Armory Studio Policies.
PLEASE NOTE: Online registrations will processed in real time and receive priority seating over paper registration forms.