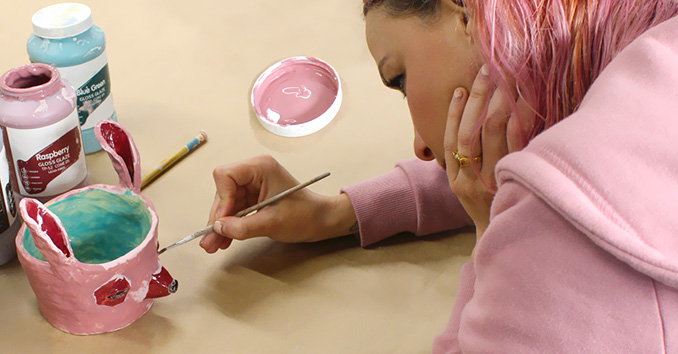 Strengthen skills, try something new, or simply meet other adults who love art as much as you. Day and evening classes enrolling now in letterpress, ceramics, painting, drawing, graphic design, darkroom photography, collage, book arts*, and more.


Nonprofit and donor-supported, Armory Center for the Arts is the Los Angeles region's leading independent institution for contemporary art exhibitions and community arts education. Adult Summer Studio art classes start rolling out July 9 in the heart of Old Pasadena. Most classes meet once a week for 6 weeks. Tell a friend and sign up together. All skill levels are welcomed.



*Book Arts workshops are approved for credit towards one LAUSD Teacher salary point.


Making Watercolor Illumination Lamps
Saturdays, July 14 - August 18
1:00 - 3:30 pm

Build a unique, artful lamp that hides and reveals images from within! Your watercolor paintings will shine through paper, illuminated by the flick of a switch.

---

Letterpress
Mondays, July 9 - August 13
1:00 - 3:30 pm

Learn how to handset type and print on different letterpresses. Combine text and images to design and create personal letterhead, postcards, cards, announcements, posters, and more. We also offer morning and evening Letterpress classes.



---
Portrait Photography
Mondays, July 9 - August 13
6:30 - 9:00 pm

Ramp up your portrait taking skills by studying with a professional fine art portrait photographer. This class focuses on creating expressive portraits that communicate an individual and unique vision. Portraits are shot on location using natural ambient lighting.



---
Printmaking
Tuesdays, July 10 - August 14
6:30 - 9:00 pm

Learn exciting printmaking techniques using non-toxic methods. Multi-colored original prints will be created using methods like relief blocks, image transfers, monotypes, drypoints, and silk aquatints. Most techniques can be printed without a press and replicated at home.

---
Drawing As Meditation
Wednesdays, July 11 - August 15
6:30 - 9:00 pm

Meditate through art. Unwind after a busy day as you relax into a mindful art experience that cultivates your inner, untapped creativity. Discover new ways of seeing and drawing by tuning into your right brain attributes that nurture your inner sense of calm, ease, and slower pace. This course will explore various drawing techniques to build patience, focus, and mindfulness such as Shodo, the fine art of Japanese calligraphy. Also see our Beginning Drawing class.

---
Darkroom Photography
Wednesdays, July 11 - August 15
6:30 - 9:00 pm

Explore film-based black and white photography in our newly renovated darkroom. Instruction emphasizes creative skills such as manual film camera controls and exposure methods rather than film development. In-class use of 35mm film cameras and supplies is included in materials fee.

---
Graphic Design: Photoshop
Wednesdays, July 11 - August 15
6:30 - 9:00 pm

Empower your design skills with the expert help of a professional graphic designer. Learn the fundamentals of visual communication with Photoshop by experimenting with type, composition, color and concept development. Learn how designers creatively problem solve and communicate meaning.



---
Painting
Thursdays, July 12 - August 16
6:30 - 9:00 pm

Gain experience in painting techniques and to develop a creative approach to painting. Various elements of traditional and contemporary painting will be explored through exercises and finished art pieces, emphasizing color, composition, space, and texture. We also have classes for more advanced painters.



---
Natural Dyeing & Shibori
Thursdays, July 12 - August 16
6:30 - 9:00 pm

Experiment with dyeing techniques to create one-of-a-kind wearable and/or functional pieces. Learn Shibori, a Japanese resist dye technique. Bind, stitch, fold, twist or compress fabric and salvaged cloth to achieve different patterns and designs. Explore technical elements of working with natural dyes and the fixatives used to set them. Make your own natural dyes from kitchen compostables and foraged plants. View Teaching Artist Allison Alford's natural dyed work here.

---
Ceramics
Saturdays, July 14 - August 18
1:00 - 3:30 pm

Learn how to use the potter's wheel as well as hand-building techniques with high and low fire clay. Experiment with methods of glazing and different types of surface textures. If you're advanced, instruction focuses on slip trailing, wax resist, printing, and carving. We also offer an evening Ceramics class.