With the support of friends, volunteers, and donors, artist Kim Abeles and her team have spent the last several weeks giving a much-needed makeover to one of Pasadena's most unusual and informative public art pieces nearly 14 years after it's installation.

Abeles' Illuminated Fig Leaves consists of over 35 laser-cut, metal fig leaves (each measuring 5 feet) that climb the rear exterior walls of the Marriott and the Armory. Each leaf contains an illuminated, circular cut-out that depicts 35 artworks from artists that have lived, worked, or exhibited in Pasadena, including Eileen Cowin, Allan Kaprow, John Outterbridge, Barbara T. Smith, Andy Warhol, Noah Purifoy, and Anne Bray.

The piece celebrates Pasadena's rich history of art and references a time prior to the state's agricultural revolution when Mission Figs and other types of the fruit were brought into California.

Illuminated Fig Leaves is located behind the Armory on Electric Alley, is accessible to the public 24 hours a day, and is perfect for selfies! Post your Fig Leaf pics on Instagram and Twitter and we'll share the best ones on our feed (@armoryarts).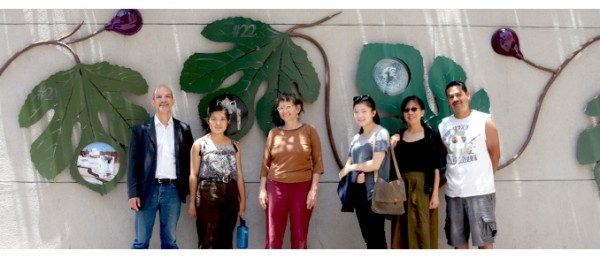 Kim Abeles' Illuminated Fig Leaves is a City of Pasadena Public Art project commissioned in 2001 by Accord Interests, LLC—the developers of Pasadena's Courtyard Marriott Hotel—and is administered by Armory Center for the Arts.