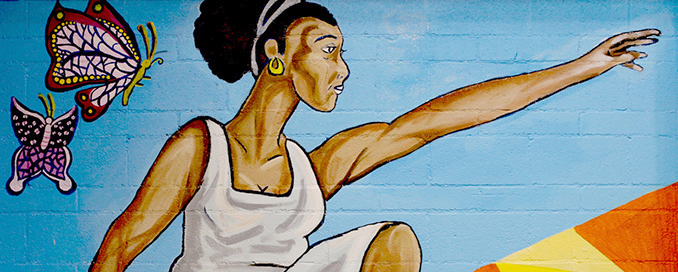 Armory Teaching Artist Carlos Callejo recently completed a stunning collaborative mural with 15 teenage girls currently serving time inside Santa Clarita's Scudder Detention Camp.

• See Mural Pics on Flickr

The mural is part of a month-long collaboration among the LA County Probation Department, the LA County Arts Commission, and the Arts for Incarcerated Youth Network — the only network of its kind for arts providers in LA County working with in-crisis youth. The Network consists of eight LA-based nonprofits, including the Armory, Coalition for Engaged Education, Street Poets Inc., The Unusual Suspects Theatre Company, InsideOUT Writers, Rhythm Arts Alliance, Violence Prevention Coalition of Greater LA, and Bold Ink Writers (aka Write Girl).


Network members are teaming up to deliver intensive, creative experiences to incarcerated youth at 6 detention camps throughout July 2015. To deliver these creative experiences, the Network is working in concert with the Children Defense Fund's Freedom Schools program. The mural at Scudder Camp is the first Armory project completed. Two other murals are currently in-process at Camp Afflerbaugh in La Verne and Camp Gonzales in Calabasas, both of which are facilities for boys.

For the Scudder mural, Armory Teaching Artists Carlos Callejo teamed up with six-time HBO Def Poetry Jam performer Mayda del Valle, currently a teaching artist with Network member Street Poets, Inc. Ms. del Valle—who mesmerized President Obama during her 2009 White House Poetry Jam performance—worked with the girls to explore themes of "self" and finding the good in other people through the lens of You Don't Even Know Me — a 2011 collection of poems that provide insight into the minds of teenage African Americans. Through analysis and writing exercises with del Valle, the Scudder girls worked through ideas that became the foundation for the mural's imagery.
One of the Scudder Probation Officers observed that, although Scudder has hosted mural projects in the past, he's never experienced one where the girls were given such an active role in designing and producing the final product. Typically, he told us, artists come to these detention camps with finished designs and the girls' only job is to assist the muralist. The Armory mural was truly a collaborative endeavor that gave these girls a sense of pride, a taste of accomplishment, and the encouragement to creatively express themselves in productive ways.