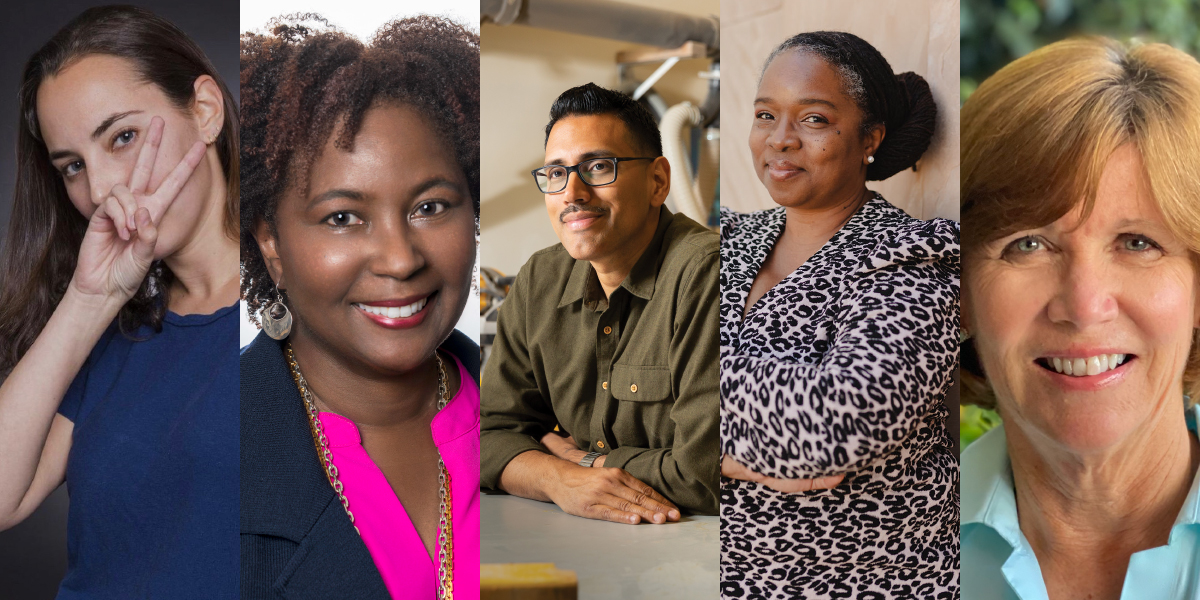 The Armory has welcomed five new board members, whose diverse range of expertise and networks will help to advance our newly adopted mission to nurture our community and its young people by creating, learning, and presenting art to advance equity and social justice.

A Pasadena native who took her first art class at the Armory, Mary Gumport is the Narrative Lead at Theorycraft Games. She previously worked as an editor and publisher for BOOM! Studios and Riot Games, where she also directed the narrative team for the blockbuster video game League of Legends. Gumport has a BA in English and History from Stanford University and a passion for arts advocacy and education, especially in systems-impacted communities. "I'd be excited to support the Armory at any time, but especially at this pivotal moment," says Gumport. "The organization has done a great job of thoughtfully meeting the challenges of this unique era. I can't wait to support the Armory's long history of providing arts access and education that helps our communities to be more thoughtful, curious, and human."

Susan Hall-Hardwick is CPA and independent accounting consultant to small businesses and nonprofits, including the Hemophilia Foundation of Southern California and Jericho Road. As a former Chair of the California African American Museum's Arts Council, Hardwick raised funds to acquire works for the museum's permanent collection by Artis Lane and Charles White, among others. Hardwick's board service includes the Pasadena Delta Foundation, which provides awards and scholarships for charitable, religious, educational, health, scientific, and entrepreneurial endeavors. She was previously a member of the board of Project X Foundation for Art and Criticism. An Altadena resident and MBA graduate from the University of Michigan, Hardwick says she is "looking forward to sharing and helping to spread positive creative energy in our community."

Artist Nery Gabriel Lemus is a professor and director of Azusa Pacific University's Masters of Fine Arts program. A former Armory Teaching Artist, Lemus has extensive experience working with systems-impacted youth throughout the region. Represented by Charlie James Gallery in Los Angeles, Lemus works in a broad range of mediums with subjects ranging from stereotypes, immigration, and societal problems that lead to the failure of families. Lemus says he is "looking forward to serving the Armory by providing an artist's perspective at the board level. The Armory has been crucial in my growth as an artist and I welcome this new adventure wholeheartedly." Lemus has an MFA from CalArts, a BFA from Art Center, and lives with his wife and children in Northwest Pasadena.

Dr. Shannon Malone is the newly appointed Senior Director of TK-12 Principals for the Pasadena Unified School District (PUSD). Fluent in Spanish, Dr. Malone previously served as Principal at PUSD's Washington STEAM Multilingual Academy. During her tenure, Washington became California's first, and the Nation's fifth, STEM-certified school. In 2022, Washington was renamed in honor of acclaimed science fiction author and PUSD alumna Octavia E. Butler. Dr. Malone, who holds a Doctorate in Educational Leadership for Social Justice from Loyola Marymount University, says she is "both honored and excited about the opportunity to serve on the Armory's board. I am looking forward to working with my colleagues to increase the availability of the arts throughout the Pasadena community."

Long-time Pasadena resident Kathy Mangum is a recently retired Disney executive with substantial production experience in theme park design and construction projects. A past board member of Ryman Arts, Mangum is a California State University, Fullerton graduate and funds a scholarship program for Ryman alumni attending the university. "I've always admired the role the Armory has played in keeping Pasadena a vibrant arts community, it's just one of the reasons I love living in Pasadena," says Mangum. "I've also been lucky enough to work with many wonderful artists during my career with Disney, so I've seen first-hand the positive impact art can have on a person's life. The ability to express oneself through art is immeasurable."

Board President Victoria Stratman wishes to thank Tonita Fernandez, Stephen Nowlin, Shelley Short Ogden, Debra A. Ortega, Lisa Sugimoto, Philip A. Swan, and Peter Tolkin, who are all rotating off the board this fiscal year. "My deepest thanks to all of you for what you have contributed to the Armory during your tenure, especially since the pandemic began." Stratman affirmed that their efforts are "what kept the Armory going through these difficult times." She has one request for her departing colleagues who made such an impact during their terms of service to the Armory. "Please, even though you have transitioned off the board, please stay engaged with the Armory. You are truly valued."
Image (from left): Mary Gumport, Susan Hall-Hardwick, Nery Gabriel Lemus, Dr. Shannon Malone, and Kathy Mangum.