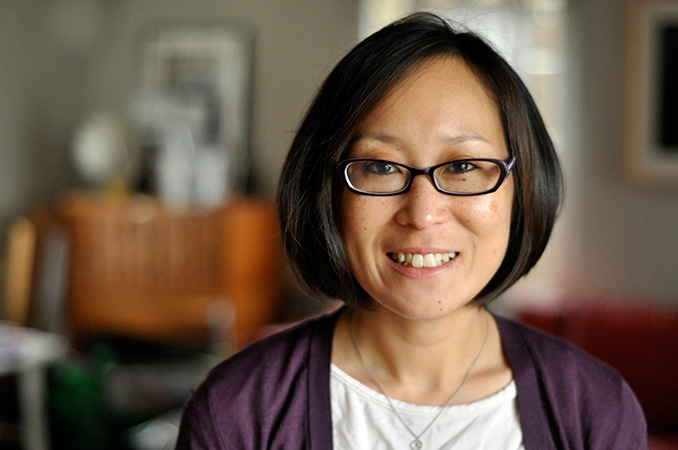 Following a 6-month national search conducted by the executive search firm of Morris & Berger, Armory Center for the Arts' Board of Directors have announced that Leslie A. Ito of South Pasadena will become the organization's new Executive Director, effective September 4, 2018. Ms. Ito, age 43, is highly regarded as one of the most skillful, entrepreneurial arts executives in the Los Angeles region with over 20 years of proven leadership and fundraising expertise to her credit. Ito's reputation for cultural "bridge-building" and advocacy underscores her deep commitment to arts equity and access for all people. Ito will become the 29-year old-nonprofit art organization's third chief executive. She is preceded by current Executive Director Scott Ward, who will retire June 30 after 17 years of service, and founding director Elisa Callow.

• View Press Kit

Ito is currently serving as President and CEO of the Japanese American Cultural & Community Center (JACCC) located in Los Angeles, a position she has held for more than 5 years. Founded in 1971, JACCC is one of the largest ethnic arts and cultural centers of its kind in the United States. During her tenure at JACCC, Leslie helped shape and rebuild the organization, including balancing the budget, strengthening relationships and ties with Japan, and developing a robust strategic plan. Under Leslie's leadership, new programs such as Ukuleles for Little Tokyo, Fiesta Matsuri, and Little Tokyo Concert Series were created. JACCC during this period has also played, and continues to play, a key role in Sustainable Little Tokyo, neighborhood-wide initiative around economic, environmental and cultural sustainability. JACCC also hosted the successful run of the musical Allegiance, starring George Takei, at their newly upgraded Aratani Theatre.

---


"I consider the Armory part of my arts lineage."
— Leslie A. Ito
---


Prior to her tenure at JACCC, Ms. Ito was Program Director for Arts and Health at the California Community Foundation, and Director of Grant Programs at the Los Angeles County Arts Commission. She has also served as Executive Director of Visual Communications, the nation's premiere Asian American media arts organization, and as a Program Associate in the Media, Arts & Culture Division at the Ford Foundation in New York. In 2016, Leslie was awarded the prestigious Stanton Fellowship from the Durfee Foundation, which awards six fellows with financial support over a two-year period to think deeply about the intractable problems in their sector, and to tease out solutions that will improve life for the people of Los Angeles.

The retiring Executive Director Scott Ward is thrilled that the Armory's Board of Directors has selected Ito. "Leslie possesses the perfect combination of hometown savvy and national experience to guide the Armory to its best future. Her skill, energy, drive, and charisma will assure that we continue to make a profound difference in our communities for many years to come. We welcome her home."

Ito's Pasadena roots run deep. "My family has lived in Pasadena for over 70 years," says Ito, who attended Pasadena's San Rafael Elementary, Chandler School, and Flintridge Prep in La Canada. "My relationship with the Armory dates back to its predecessor organization, the Pasadena Art Workshops. Some of my earliest and best art memories happened in the classrooms of the Pasadena Art Workshops, where I took classes in photography, ceramics, jewelry making, and enameling."

"I consider the Armory part of my arts lineage. The impact that these classes had on me are a part of my professional building blocks in the trajectory of my arts career. I am thrilled that I have been able to pass this tradition on to my own children through the Armory's art classes, art birthday parties, and visits to the gallery. I am honored to have the opportunity to lead this important arts institution and I look forward to working with the board, staff, and community constituents to continue its great work."

Current Armory Board President Maria Khader Karp is thrilled by the Board's choice. "We are excited to have Leslie, who is such a positive force in the LA art world, lead our organization into the future. With Leslie at the helm, we will grow the Armory's programs to meet the evolving needs of our communities and continue to transform lives through art."

Karp's term expires June 30 of this year. Incoming Board President Linda Burrow concurs with her colleague's assessment. "Leslie is a proven leader, with the experience and vision to lead the Armory. I'm thrilled to have the opportunity to work with her, and excited to see what the future holds for this amazing organization."

In a 2017 interview, Ito stated that she is "continuously seeking opportunities to engage diverse arts audiences, tell our own stories which are often untold, and create environments for artists to flourish. I am trying to create a more just world for my kids and their generation. I believe that the arts and artists play an influential role in making change and building community." Ito hopes to continue building strong relationships between the Armory and local communities of color and envisions artists playing a role as not just educators, but also social change makers.

A native of Los Angeles and a Yonsei (fourth-generation Japanese American), Ito attended Stanford University Graduate School of Business' Executive Program for Non Profit Leaders. She received a Master of Arts in Asian American Studies from the University of California, Los Angeles, and a Bachelor of Arts in American Studies from Mount Holyoke College.

Ms. Ito will be officially installed as the Armory's new Executive Director on September 4, 2018. Armory Finance and Operations Director Slade Bellum and Communications Director Jon Lapointe will serve as the organization's Interim Co-Executive Directors, effective July 1, to facilitate Ms. Ito's transition into her new role.

About Armory Center for the Arts
Nonprofit and community-based, Armory Center for the Arts is the Los Angeles region's leading independent institution for contemporary art exhibitions and community arts education. The Armory believes that an understanding and appreciation of the arts is essential for a well-rounded human experience and a healthy civic community.

Armory exhibitions inspire dialogue around visual culture and contemporary life, contribute to global discourses in contemporary art, and introduce contemporary visual art to Pasadena, Southern California, and beyond. In addition to critically acclaimed exhibitions by contemporary artists, the Armory's exhibitions team produces a broad range of public programs, including artist residencies, forums, screenings, and performances.

At the core of the Armory's mission is a deep commitment to social justice through arts education. Every day, Armory Teaching artists transform lives and communities through the power of art. This includes year-round studio art classes for all ages at the center's Old Pasadena facility, plus hundreds of no-cost art classes at schools, parks, libraries, community centers, and juvenile detention centers, both in Pasadena and throughout Southern California. In a 2015 White House ceremony, First Lady Michelle Obama honored the Armory as one of the best after school art programs for teens in America by awarding the organization the National Arts and Humanities Youth Program Award — an accolade the White House calls the highest honor for after school art programs in the Nation.

About Japanese American Cultural & Community Center (JACCC)
Founded in 1971, Japanese American Cultural & Community Center is one of the largest ethnic arts and cultural centers of its kind in the United States. A hub for Japanese and Japanese American arts and culture and a community gathering place for the diverse voices it inspires–JACCC connects traditional and contemporary; community participants and creative professionals; Southern California, and the world beyond. JACCC also provides office space in its five-story complex to a wide variety of nonprofit cultural, educational, and community-based organizations in Los Angeles.
Image courtesy Steven Wong