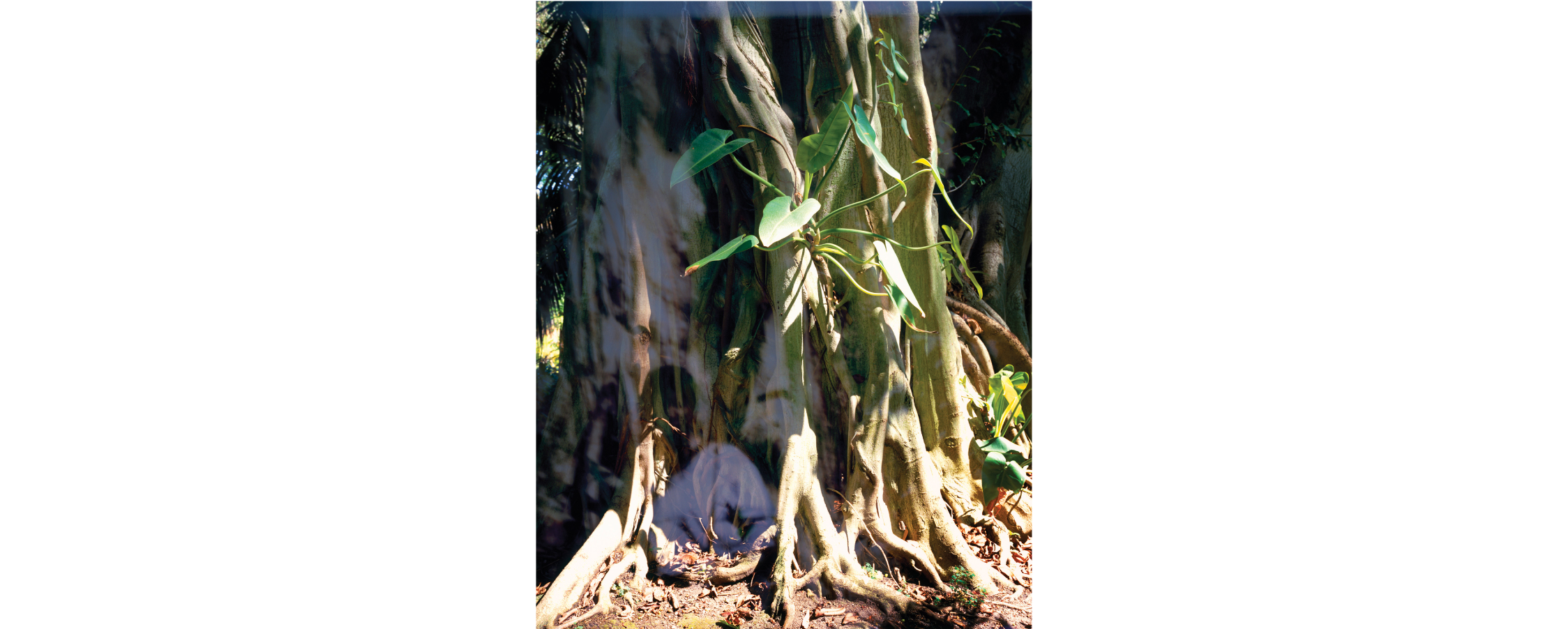 Connie Samaras
The Past is Another Planet:
Huntington Tropical Garden; OEB 7185, Octavia E. Butler and Large Tree,
Amazon River Region, July 1985.
2016
Archival pigment print on Hahnemühle Fine Art Baryta
10 x 8 inches
Published by Armory Press and Clockshop

Edition of 50 with 7 artist proofs
$200



This limited edition photograph was produced in conjunction with the exhibition Radio Imagination: Artists in the Archive of Octavia E. Butler, organized by Clockshop and presented at the Armory. It was created by artist Connie Samaras while conducting research in the archives of science fiction writer Octavia E. Butler, held at the Huntington Library.

Octavia E. Butler was a bestselling and award-winning author, receiving both the Hugo and Nebula Awards for her groundbreaking science fiction, as well as a Lifetime Achievement Award from PEN West. She was the first Black woman to achieve international prominence in the genre, and is the first and only writer of science fiction to earn a MacArthur "genius" Fellowship. With Black female protagonists, radical notions of kinship, and a keen understanding of power dynamics, Butler's writing revamped the conventions of the science fiction genre. Ultimately, her work suggested new ways of thinking and new models of working for generations of writers and artists to come.

Connie Samaras's image is from a new body of work, The Past is Another Planet, where selections from the Octavia E. Butler archive are overlaid in-camera over relevant sections of the Huntington Gardens. Using a large-format camera, multiple exposures, and large-scale transparencies, Samaras overlays images from Butler's journals and photographs onto photographs of the Huntington Botanical Gardens. In this edition, Samaras applies a snapshot of Butler, taken when the writer was traveling in the Amazon, onto a photograph of the Huntington's Tropical Garden, an area that includes vegetation from the same area of the Amazon basin. By doing so, Samaras inserts Butler's presence into the constructed imaginaries of the Huntington.

Proceeds from the sale of this print are divided between the Armory, Clockshop, and the Octavia E. Butler Memorial Scholarship Fund.

Connie Samaras (b. Albuquerque) lives and works in Los Angeles. Working primarily in photography and video, she employs a variety of interdisciplinary frames and aesthetic strategies. Her ongoing interests include the variable membrane between fiction and real world; political geographies and psychological dislocation in the everyday; and science fiction genres that posit the future as a series of shifting possibilities countering neo-liberal speculations of the future as a single probability. In addition to an extensive record of art exhibitions, lectures, reviews, and awards, she has also published writings, narrative and critical, on a range of topics. Samaras's work was the subject of a survey exhibition, Tales of Tomorrow, at the Armory in 2013.

For more information, or to purchase an edition offline, please contact exhibitions@armoryarts.org, or call 626-792-5101 x 122.