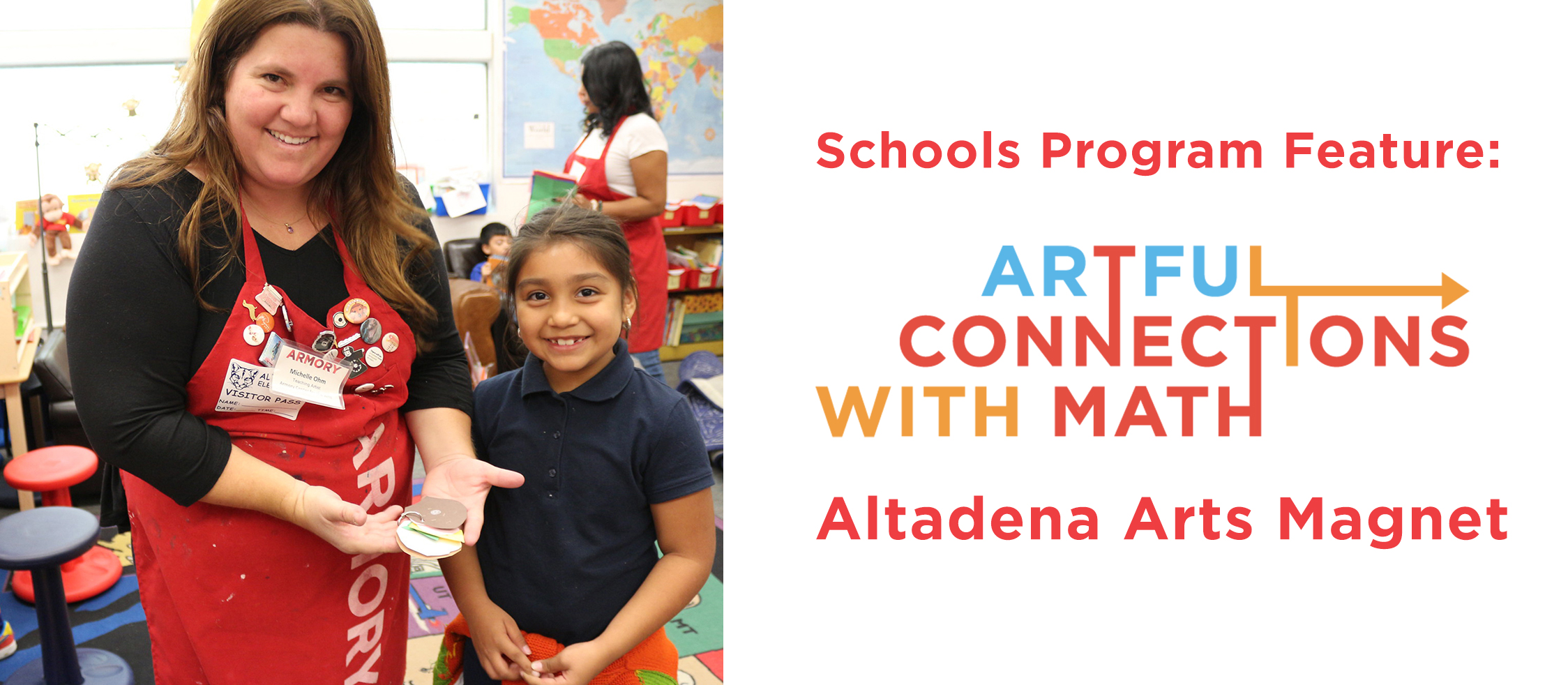 Virtual exhibition for the Armory's Artful Connections with Math program
During the Fall 2019 semester, Armory Center for the Arts provided a new comprehensive visual art/math integrated curriculum for Kindergarten, 1st grade and 5th grade classes at Altadena Arts Magnet, as well as the opportunity to provide the classroom teachers with professional development throughout the 12-week program through on-going modeling in the classroom.
For Kindergarteners
Counting mobiles: Students create a hanging mobile with beads strung in patterned sets. Students practice counting (according to current scope of counting for students); learn how to create patterns through counting; and practice drawing and painting shapes and numbers with color.
"How many" Underwater Painting: Students learn how to create underwater animals by cutting and combining simple shapes. Through collaging a variety of animals into their underwater painting, students compare amounts of animals in their painting and in the paintings of others. In addition, each student practices mixing colors to create paper with visual texture.
Insects on a Log, First Place Value Sculpture: Beginning place value concepts are practiced by bundling a ten into a clay log and creating a number of clay insects to represent ones placed on top. Students bundle ten straws and cover with clay to create a log. Insects are modeled out of clay and toothpicks to represent the ones. Sculptures represent numbers between 11 and 19.
My Neighborhood Book: Students are creating a counting book in which each number is represented by objects, people, buildings, and animals from my home and community. Through counting objects of a similar kind they practice writing numbers from 1 - 20, learn ways to draw elements of everyday life, and practice beginning skills with paper and bookmaking.
Sorting and Bundling Sculpture: Students sort, group and bundle sticks to form a 3D standing figure or character. Students practice sorting a variety of sticks into categories and decomposing their number. Sticks are grouped into two quantities and connected to create a form. Students wrap their forms using string, wire, yarn, twine, cloth etc. and add details to create their own characters.
For 1st Graders
Comparing Numbers Drawing: Students create an oil pastel drawing with watercolor of overlapping two-digit numbers layered in order from least to greatest, deepening their understanding of place value. By practicing beginning skills with pastels and watercolor, students learn to create visual texture in a drawing.
Color Addition/Subtraction Painting: Students fabricate their own stamp shapes and work together to create printed pattern paintings by counting and comparing quantities of shapes. Throughout the lesson, students learn about mixing colors and connect concepts of color mixing to addition and subtraction in math. They then complete a painting by mixing colors for a color grid with numbers.
Place Value Beaded Necklace: Students are creating necklaces by using place value to organize numbers of beads into necklaces. During the lesson, students learn how to organize quantities into groups of tens and ones to demonstrate a beginning understanding of place value. They learn about and compare everyday decorative objects from different cultures, and practice working together to create an artwork.
For 5th Graders
Decimal Gradient Painting: Students create a monochromatic painting based on their own concept and estimate the decimal value of the tints and shades they will use in their paintings. Students connect the tints and shades they mix to decimal values on a number line from -1 to 1, practicing comparing values of decimals to the thousandths place and relate tints and shades to positive and negative decimal intervals on a number line while learning strategies for beginning an artwork.
Generative Pattern Drawing: Students create a drawing, following instructions of other to generate an image. Throughout the lesson, students learn about patterns in math and art as they learn about conceptual art. They learn to observe patterns in a series of generated numbers or images and practice working collaboratively.
Order of Operations Collage: Students create their own equations, with different brackets, parentheses and braces, and create two collages from the different order of operations. The goal of this lesson is to extend the student's understanding of the order of operations in Mathematical problems by imaginatively applying the same process to the creation of a collage. They learn how to imagine numerical expressions as instructions for an artwork and learn about creating art according to a system.
Power of Ten Scale Drawing: Students create a drawing of an object to scale and, using a grid, scale the drawing up two times by a power of 10. As a part of this lesson, students understand powers of 10 and the relationship to place value. While learning how to scale up or down an image they translate an object into a realistic drawing of the same scale and practice drawing realistically from observation.
---
Watch and download FREE Math and Arts integration lessons for 2nd and 3rd graders.
---
Support the meaningful work the Armory's Teaching Artists do in our community every day.