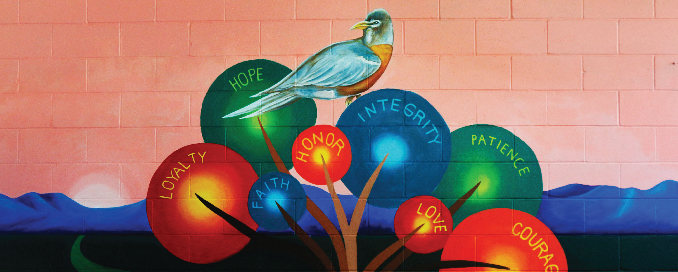 Bright pink and blue chairs, a television screen, and vibrant paintings fill the "Hope Center" of Camp Joseph Scott Juvenile Hall — and for a moment it feels "normal." The Hope Center recently welcomed a new mural from the collaborative hands of the girls from the camp with the guidance of Armory Teaching Artists Nery Gabriel Lemus and Joe Galarza. Christian Alderete was later added on to help the girls complete the additional wall and door signage for the Hope Center—based on lettering created by one of the girls.

• See Mural Photos on Flickr

While the mural visually refreshes the space, this project is also part of a new initiative to make the juvenile camps more therapeutic and less punitive. Artists Joe Nery Gabriel Lemus and Joe Galarza teamed up to lead the girls in drafting, creating, and executing the mural. The mural's concept centers around a tree blooming with words of inspiration: love, hope, integrity, courage, and more. Accompanied with a perched bird on top set with a sunset and a leading road.




The mural is part of an ongoing collaboration among the LA County Probation Department, the LA County Arts Commission, and the Arts for Incarcerated Youth Network — the only network of its kind for arts providers in LA County working with in-crisis youth. The Network consists of eight LA-based nonprofits, including the Armory, Coalition for Engaged Education, Street Poets Inc., The Unusual Suspects Theatre Company, InsideOUT Writers, Rhythm Arts Alliance, Violence Prevention Coalition of Greater LA, and Bold Ink Writers (aka Write Girl).

The Arts for Incarcerated Youth Network was also featured in two articles by Priska Neely for KPCC.

• LA County Ends Solitary Confinement

• Juvenile Camps to Careers in the Arts