We all have a choice and a voice! Twice a week throughout the month of August, young adults from Greater LA and across the country met via Zoom as part of a "Get Out the Vote" zine class—a collaborative effort between the Armory and California Calls.

Offered at no cost to participants, classes typically began with presentations by experts on topics like systemic racism, gerrymandering, and also examined propositions on the California ballot. Then, Armory Teaching Artists lead students through hands-on lessons covering graphics, black-line rendering, messaging, lettering, printmaking, and collage.

All student artwork has now been assembled, printed, and distributed as a collaborative, homemade magazine (aka "a zine") to encourage everyone 18 and over to get registered and vote in the November General Election. Images from this class will also become part of a state-wide social media campaign encouraging people to vote on November 3rd. Download your copy today.
---
Contributing Artists
---
Sofia Aguilar • William Camargo • Jocelyn Casas • Isabel Fernandez • Sergio Hernandez • Hannah Hunter • William Hunter • Austyn de Lugo • Nicole Megana • Jeamilet Martinez • Mriana Mejia • Kathie Mirada • Kara Neal • Joe Sanchez • Emma Solorio • Sofia Solorio • Jasmine Sorgen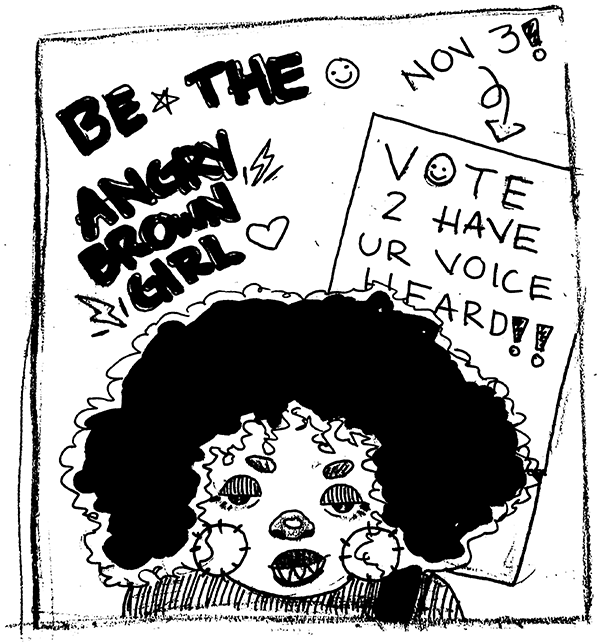 Above: Illustration by Kara Neal.