Field Trips for K-12 and Corporations
A Unique Hands-on Art Experience for K-12 Students
Armory teaching artists lead students through an exhibition where they engage in small group activities, and discussions about the exhibition's themes. Your students will then create an art project in our studio related to the exhibition. Working in mediums such as clay, painting, sculpture, mixed media, printmaking, or bookmaking, this standards-based experience encourages students to explore their artistic process.
2-hours (9:30-11:30am)
Offered Tuesday-Friday
$8 per student (minimum of 25 students and maximum of 50 students)
Every Student Makes an Art Projects
• Explore contemporary art
• Experience the creative process
• Excite imaginations
• Encourage problem-solving and critical thinking
• Work with professional artists & award-winning educators
• Fun hands-on, standards-based experiences for all K-12
---
Fall 2019 Exhibition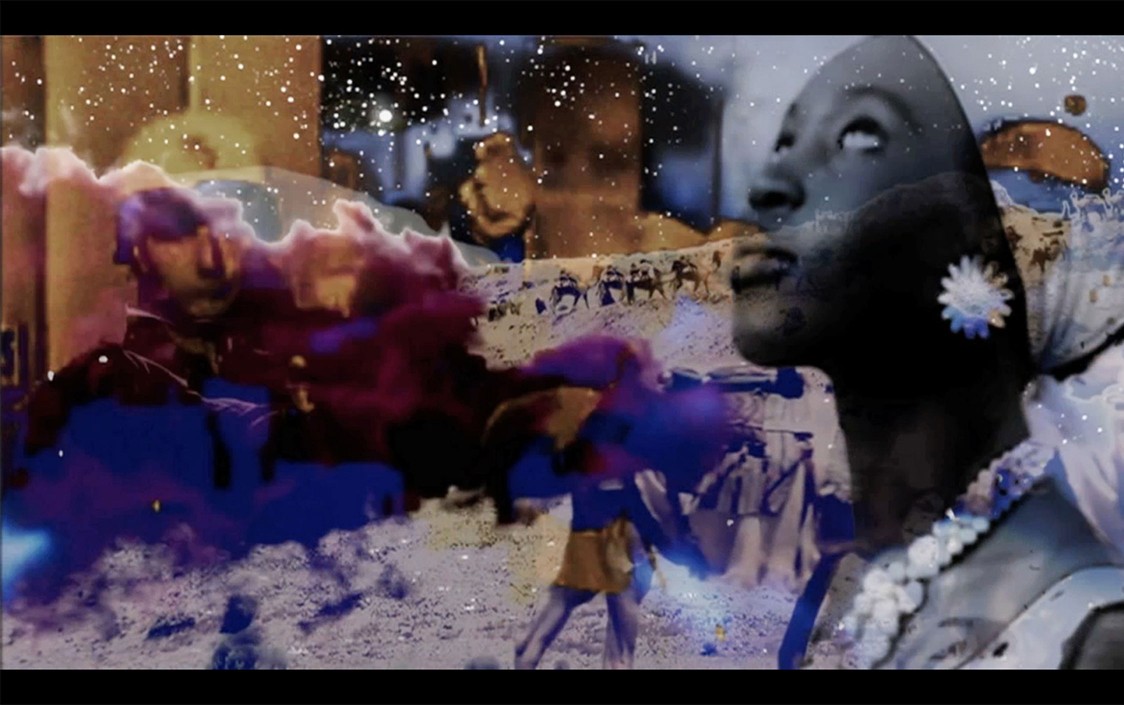 Calafia: Manifesting the Terrestrial Paradise
Exhibition Dates: October 6, 2019 - January 12, 2020
The early 16th century novel Las Sergas de Esplandian, by Garci Rodriguez de Montalvo, described a mythical California as a rugged island paradise, populated entirely by women, and ruled by the great Black queen Calafia with the help of her army of warriors and their man-eating griffins. This legendary version of California serves as a point of departure to examine the region and its peoples as a collective territory, criss-crossed and scarred by political, psychological, and geological borders. Featuring projects from contemporary artists on both sides of the border, the exhibition weaves urgent questions about feminism, indigenous rights, gentrification and displacement, misogyny, post-colonialism, and resistance movements into and through the current and historical political climate of the region.

Calafia: Manifesting the Terrestrial Paradise is organized by curatorial team of the MexiCali Biennial: Ed Gomez, Luis G. Hernandez, and Daniela Lieja Quintanar. The MexiCali Biennial is a non-profit, contemporary visual arts organization that focuses on the area encompassing the California and Mexico border as a region of aesthetic production. Originally started as a project critiquing the proliferation of international and regional art biennials, it operates nomadically and may appear at any time and at any location. Its exhibitions appear on both sides of the California/Mexico border through partnerships with arts institutions to showcase both emerging and established artists working in all media. This fall, the MexiCali Biennial brings Calafia: Manifesting the Terrestrial Paradise to the Armory.

Image: Chris Christion, The Unauthorized Histography of California Vol. 1, 2018, Digital video; 10 minutes, 45 seconds. Image courtesy of the artist and The MexiCali Biennial.
Armory Center for the Arts gratefully recognizes the California Arts Council's support for its youth field trip program:
---
Corporate Field Trips
Creative Team Building Art Experiences
---
"The field trip was awesome and everyone loved it! Your teachers were incredible. The gallery tour and the print making lesson was fantastic. Everybody left feeling super inspired." - Sean Anderson, Patagonia, Inc.
---

Remember school field trips? The best day ever, right? What about your last corporate team building seminar? If high-priced consultants armed with PowerPoints and trust-fall exercises put your staff to sleep, wake them up with a creative, inspired, and shared experience. It's time to take the team on field trips.

First, our highly-trained Armory Teaching Artists tour your people through our current exhibition of cutting-edge contemporary art in our historic main gallery. Then, segue over to our spacious studio, where the same Teaching Artists lead your team through a hands-on art-making lesson with lots of room for personal expression.

3-hour packages start at $1,000 for up to 15 participants (all materials included).
Sponsor a School
For an additional $500, your company can sponsor an Armory Field Trip for a needy or neighborhood school of your choice (up to 40 children). Giving back is good for staff morale and it's good for business — consumers like to see companies supporting their community.

If you have any questions or would like to book a field trip, please call our Field Trip Coordinator Tricia Garcia, at (626) 792-5101 x 140 or email tgarcia@armoryarts.org.