Field Trips for K-12 and Adults
A Unique Hands-on Art Experience for K-12 Students
Armory teaching artists lead students through an exhibition where they engage in small group activities, and discussions about the exhibition's themes. Your students will then create an art project in our studio related to the exhibition. Working in mediums such as clay, painting, sculpture, mixed media, printmaking, or bookmaking, this standards-based experience encourages students to explore their artistic process.
2-hours (9:30-11:30am)
Offered Tuesday-Friday
$8 per student (minimum of 25 students and maximum of 50 students)
Every Student Makes an Art Project
• Explore contemporary art
• Experience the creative process
• Excite imaginations
• Encourage problem-solving and critical thinking
• Work with professional artists & award-winning educators
• Fun hands-on, standards-based experiences for all K-12
---
Spring 2020 Exhibition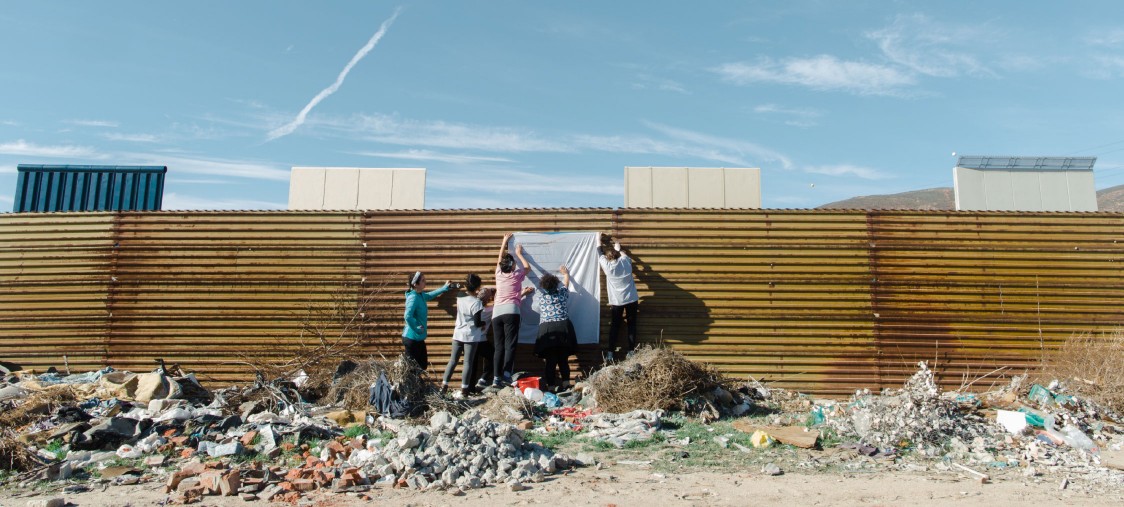 Tanya Aguiñiga: Borderlands Within/La Frontera Adentro
Exhibition Dates: February 9 - August 9, 2020
Drawing from the lived experience of the US/Mexico border, Tanya Aguiñiga has developed an experimental approach to craft, using fiber, ceramics, hand-blown glass, and traditional techniques to generate conversations about and across political and cultural divides. Given the ongoing persecution of migrants along the border, and amid an increasingly polarized political climate, Aguiñiga's upcoming exhibition at the Armory highlights her long-standing commitment to thoughtful and urgent dialogue on immigration politics, transnational identity, and community activism. Along with the Los Angeles debut of some of the artist's most iconic works, including the binational border-epic AMBOS, this exhibition will also feature a site-specific commission that repurposes the walls of the Armory as an artist-activated loom
Image: Tanya Aguiñiga, America's Wall (performance photo), 2018. Performed by Tanya Aguiñiga, Jackie Amézquita, Cecilia Brawley, Natalie Godinez, Izabella Sanchez, and Shannen Wallace. Photo by Gina Clyne. Courtesy of the artist.
Armory Center for the Arts gratefully recognizes the California Arts Council's support for its youth field trip program:
---
Corporate Field Trips
Creative Team Building Art Experiences
---
"The field trip was awesome and everyone loved it! Your teachers were incredible. The gallery tour and the print making lesson was fantastic. Everybody left feeling super inspired." - Sean Anderson, Patagonia, Inc.
---

Remember school field trips? The best day ever, right? What about your last corporate team building seminar? If high-priced consultants armed with PowerPoints and trust-fall exercises put your staff to sleep, wake them up with a creative, inspired, and shared experience. It's time to take the team on field trips.

First, our highly-trained Armory Teaching Artists tour your people through our current exhibition of cutting-edge contemporary art in our historic main gallery. Then, segue over to our spacious studio, where the same Teaching Artists lead your team through a hands-on art-making lesson with lots of room for personal expression.

3-hour packages start at $1,000 for up to 15 participants (all materials included).
Sponsor a School
For an additional $500, your company can sponsor an Armory Field Trip for a needy or neighborhood school of your choice (up to 40 children). Giving back is good for staff morale and it's good for business — consumers like to see companies supporting their community.

If you have any questions or would like to book a field trip, please call our Field Trip Coordinator Tricia Garcia, at (626) 792-5101 x 140 or email tgarcia@armoryarts.org.