Connie Samaras: Surface Events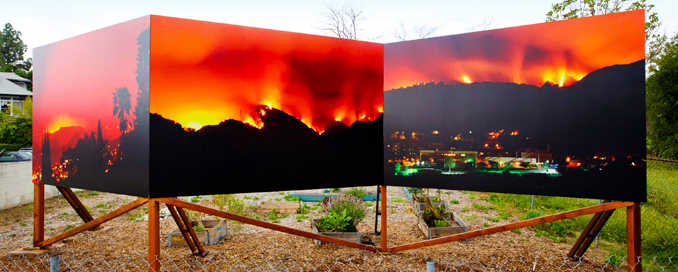 Dates: Monday, Apr 1, 2013 -
Sunday, Sep 28, 2014
Hours:
Galleries Open 12:00 to 5:00 PM
Wednesdays 12:00 to 7:00 PM
Closed Tuesdays and Holidays
Connie Samaras: Surface Events is on display at Roadside Attraction, the Armory's open-air gallery in Northwest Pasadena. This outdoor exhibition, featuring three photographic works by Los Angeles-based artist Connie Samaras, runs in conjunction with her survey exhibition, Connie Samaras: Tales of Tomorrow, in the Caldwell Gallery at the Armory.
The phrase "surface events" is a term used in the glossary of the US Geological Society to describe earthquake and related phenomena. Surface Events is the name of Samaras's ongoing series of photographs that evidence everyday life in Southern California, examining the paradoxes of the environments in which we live and in turn revealing our subjective detachment from our surroundings. The three images currently displayed at Roadside Attraction are from Samaras's photographic series Surface Events; they document the Griffith Park Fire of 2007 and Station Fire of 2009, two huge, devastating wildfires in the Los Angeles area.
• See Exhibition Pics on Flickr