Exposure: Native Art and Political Ecology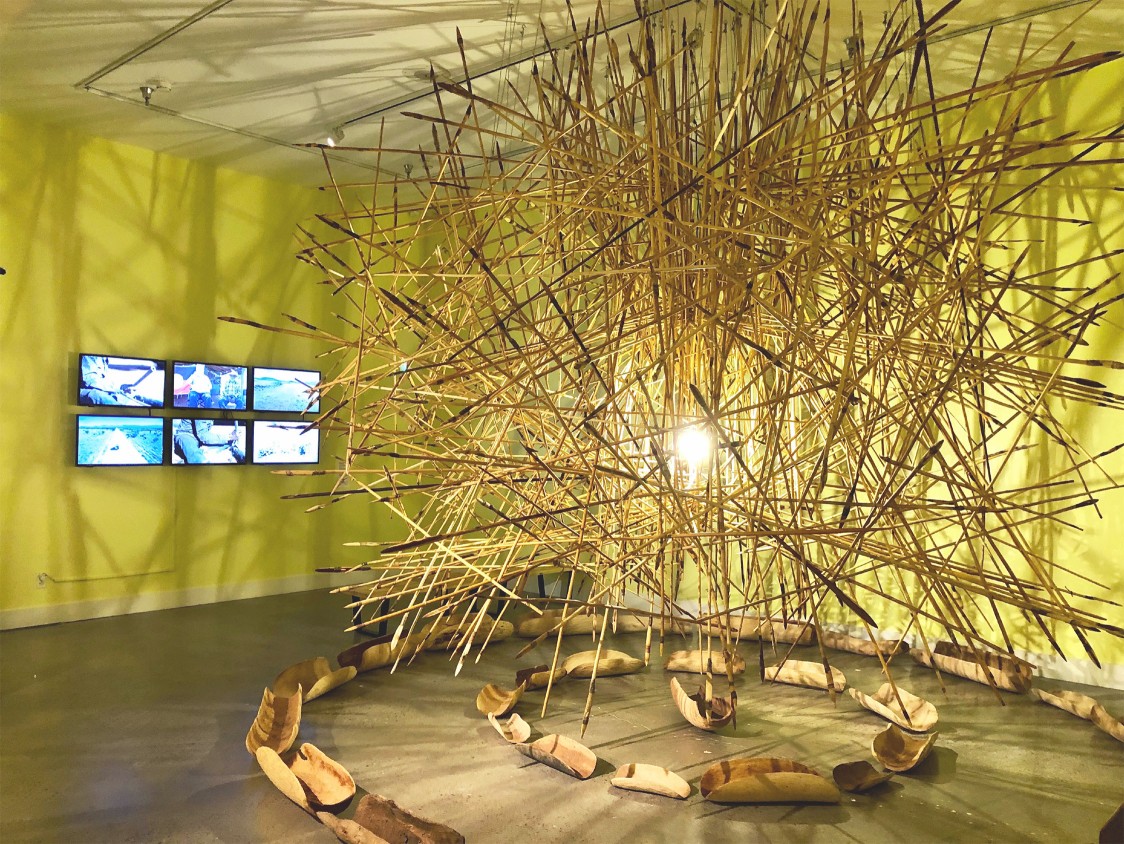 Dates: Friday, Jan 27, 2023 -
Sunday, Jun 11, 2023
Hours:
Join us for our upcoming exhibition:
Exposure: Native Art and Political Ecology
January 27 - June 11, 2023
This exhibition documents international Indigenous artists' responses to the impacts of radiation and toxic waste on Native peoples and the environment. The work of the 36 artists and collectives, most of whom identify as Indigenous, is centered around the impact that nuclear testing, uranium mining, and the subsequent contamination have had on the colonized peoples and their ancestral, unceded lands of present-day Australia, Canada, Greenland, the US, Japan, and the Pacific Islands. The exhibition presents an interdisciplinary mixture of forms and genres, including sculpture, video installation, photography, collage, glasswork, metalwork, fiber, paintings, and virtual-reality experiences. The works tell personal stories of illness, struggle, and resilience in the face of corporate willfulness and government complicity.

Exposure was first presented in August 2021 at the Museum of Contemporary Native Arts in Santa Fe, New Mexico, a contemporary art venue operated by the Institute of American Indian Arts, and was organized by a curatorial team led by MoCNA's Chief Curator Maneula Well-Off-Man. The exhibition and its accompanying hardcover catalogue were made possible with support from the Ford Foundation and the Andy Warhol Foundation for the Visual Arts. This will be the first west coast presentation of this poignant exhibition which, following its premiere at MoCNA, will be presented at the Marshall M. Fredericks Sculpture Museum (Saginaw, MI) and the El Paso Museum of Art (TX) in addition to the Armory.
Image: APY Art Collective (Pitjantjatjara/Yankunytjatjara/Luritja) artists. Kulata Tjuta ("many spears"), 2017, 550 suspended kulata (spears), 27 coolamons, video, 6 monitors. Courtesy of Art Gallery of South Australia.

Exposure was supported by generous grants from the Ford Foundation, Andy Warhol Foundation for the Visual Arts, and by Air Tahiti Nui.

Lead support for all Armory programs comes from the Los Angeles Arts Recovery Fund and the Perencho Foundation.