ArtNight Pasadena @ the Armory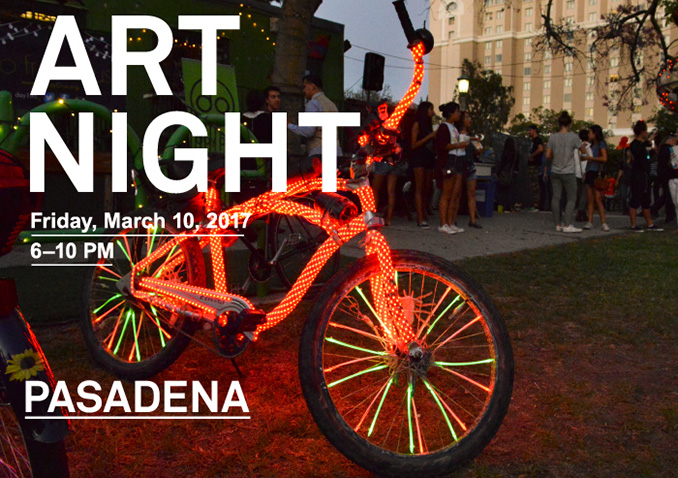 Dates:
Friday, Mar 10, 2017
Time:
6:00 PM to 10:00 PM
Enjoy a free evening of art and entertainment as Pasadena's most prominent institutions swing open their doors. The night is yours to decide. Meet at the Armory for live music, food trucks, and craft beer, then take a free shuttle to dozens of other cultural destinations in town.

• Art Night Website

• Art Night on Facebook

• Art Night on Twitter
---

In Our Caldwell Gallery
Between Words and Silence:
The Work of Translation
This exhibition addresses the inherent impossibility ​of understanding "the other." The artists are from Brazil, Colombia, Japan, Mexico, Saipan, Spain, and the US. All currently reside in Los Angeles or Mexico.

• Learn More

Federico Gama, Series Mazahuacholoskatopunk, 1989-2013.

---

On Our Main Stage
El Haru Kuroi
This East L.A. trio draws their original style from their cultural upbringing, with influences reminiscent of Mexican, South American, African, and American Jazz music.

• Learn More



Made possible by the City of Pasadena's Cultural Affairs Department.



---

See Art. Make Art
Armory Studio Open House
Get to know our nationally-recognized art classes for toddlers, children, teens, adults, and families. Watch live demos of our darkroom photography programs for all ages, plus some of the best stop-motion animation films made by Armory students. Try your hand at live figure drawing, and make some intriguing "aroma art," too (seriously). Sign up for classes during ArtNight and get 10% off tuition.

• Learn More

---

Special Guests: NewTown
Tote Your Float
Pasadena's NewTown has commissioned seven Los Angeles-based artists to create interactive, human propelled "parade floats" — original works of art, dispersed at separate locations until they meet up with other floats and at the Armory during ArtNight.

• Learn More

---

Food + Beverage Sponsors