SABOTEURS Issue #5: bitter/sweet Launch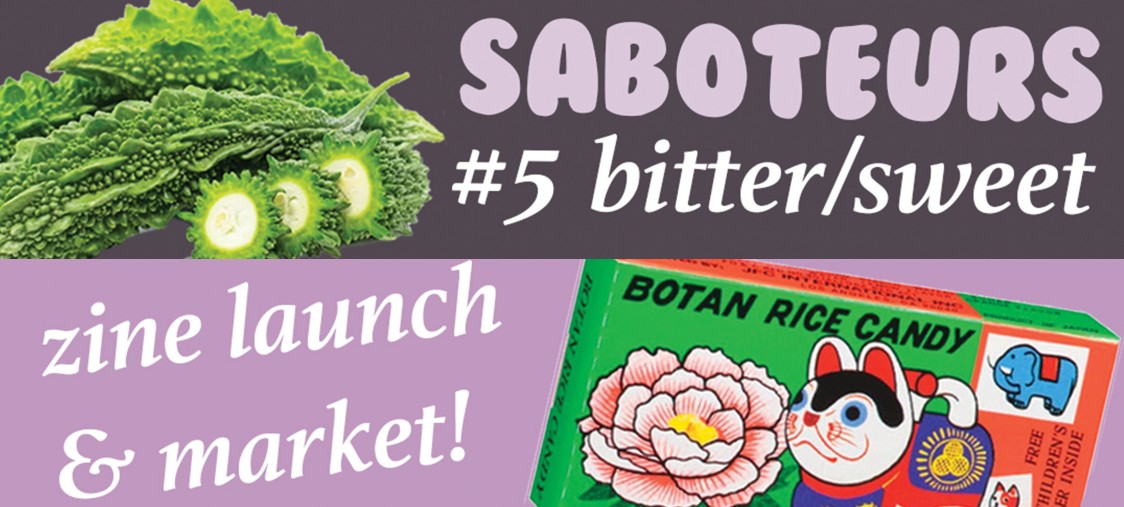 Dates:
Sunday, Dec 8, 2019
SABOTEURS Issue #5: bitter/sweet launches on Sunday December 8, 2019 from 3:00 to 5:00 pm at Armory Center for the Arts in Old Pasadena.
The event features readings, performances, and a community holiday market. Artists and community organizations will offer for sale bokashi composting kits, limited edition posters, and more! SABOTEURS is a zine focused on writings and artwork by Asian Americans and Pacific Islanders. Event is free and open to the public.
Issue #5 Features work by:
• Mitsuko Brooks
• Janice Gomez
• Fatima Hoang
• Maryam Hosseinzadeh
• YoungEun and Eugene Kim
• SJ Kim-Ryu
• Klarita Makinig
• Narumi Nekpenekpen
• Kamala Puligandla
• Shadae Lamar Smith
• Jonathan Takahashi
• Devon Tsuno
• Mikki Yamashiro
Community market vendors include:
• AF3IRM
• Candy Pain
• Fight to the Death (Pearl C. Hsiung and Michael C. Hsiung)
• Nikkei Progressives
• Sustainable Little Tokyo
• Tomorrow Girls Troop
• Yumi Sakugawa
• Kristina Wong (Performance Artist and Real Life Politician)
#SABOTEURSzine