Active Voice Part 1: Lockdown, One Year Later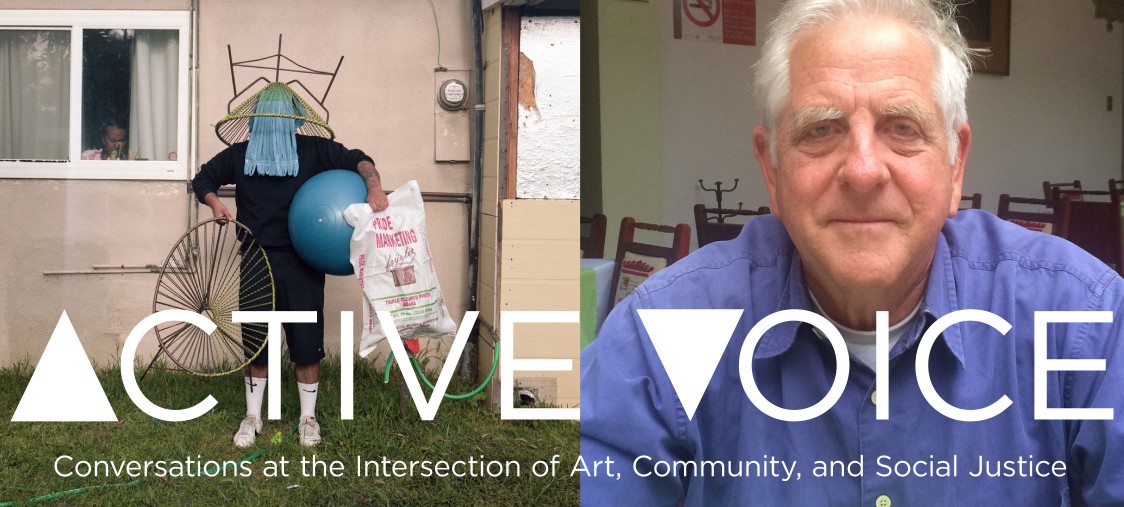 Dates:
Thursday, Mar 25, 2021
On March 19, 2020, following the emergence and rapid spread of the COVID-19 virus, California became the first U.S. state to issue a state-wide safer-at-home order. Subsequently, the County of Los Angeles lockdown shuttered cultural venues and museums. One year later, the closure ordinances remain in place, arts organizations are still closed to the public, and many are in peril of never opening again.

Despite the closures and challenges that have come with this global pandemic, many artists and arts organizations have continued to work, create, and fight for a better future. Join artists William Camargo and Dan McCleary for a conversation moderated by the Armory's Heber Rodriguez as we look back at the events of the last year, discuss their impact on the arts in Los Angeles, and consider their lasting effects on cultural production moving forward.
About the Panelists
William Camargo is an arts educator, visual artist, and arts advocate born and raised in Anaheim, California. He holds an M.F.A at Claremont Graduate University and his BFA at the California State University, Fullerton. His work is in response to found archives of a city through a historical art praxis that manifests as series-based artworks and strategies that address geographic place. His work creates counter-narratives that center communities of color. He is the current artist in residence at The Latinx Project at NYU and has lectured about his work nationwide in different institutions and universities.

Dan McCleary (born 1952) is an American artist and founder and executive director of Art Division, a nonprofit organization offering professional arts training and academic and career support to young adults aged 18 to 26 in the under-served MacArthur Park community in Los Angeles. In 2014, the now 10,000-volume Art Division Library opened for students, artists, and the community at large. Located on W. 6th Street, Art Division also includes paint, media, and printmaking studios as well as a newly opened art gallery.

As an artist, McCleary has been featured in more than 50 solo and group exhibitions throughout the U.S. and Europe. The subject of McCleary's paintings, drawings and prints is individuals, often alone and rendered life-size, engaged in daily activities at home, the office, a hair salon or restaurant. Los Angeles Times art critic Christopher Knight has called McCleary "among the finest figurative painters working today."
About the Program
Active Voice: Conversations at the Intersection of Art, Community, and Social Justice is a monthly conversation series hosted by Armory Center for the Arts inspired by the conversations and reflections in the year under lockdown orders.

The past year presented many unique challenges. The arts community, locally and around the world, struggles to find its footing amid a global pandemic that has made the dangers of the politicization of science evident. An outpouring of demonstrations defending the value of Black lives were met with military opposition. And the recent, very real threats to American democracy made one thing abundantly clear: there will be no return to a post-pandemic "normal."

In response to this moment, the Armory is pleased to present Active Voice: Conversations at the Intersection of Art, Community, and Social Justice.

Active Voice is a platform for the generation of ideas, conversation, and action. This series of programs brings artists, activists, community organizers, and other change agents together for thematic discussions that challenge audiences to imagine a "new normal" that:
Advances our thinking around the function of the arts in our communities
Allows for greater inclusivity within the arts and works against the inequitable practices ingrained in the arts infrastructure
Increases our ability to deploy the arts to advance social causes
These conversations will not only look forward to a post-pandemic (lockdown?) future, but will also include calls to action based on the ideas put forth by participants. The conversations and audience responses to the calls to action will be archived on the web and compiled into an Art Action Log that can serve as a springboard for further activities.

As difficult as the challenges of the past year have been, they have also offered some opportunity for the arts community to reset, root out inequities, look beyond business-as-usual, and imagine different models built through collaboration. Now it's up to us to take action. It is not a time for passivity or complacency.
Upcoming Programs in the Series
| | |
| --- | --- |
| April 22 | Wellness at Home and in Community |
| May 20 | Home Studio, Teaching Art, and Learning During the Pandemic |
| June 17 | Inside and Out, Justice System Reform |
Image (from left): William Camargo and Dan McCleary, courtesy of the artists.