Ana Vujanović & Bojana Cvejić': Transindividual Futures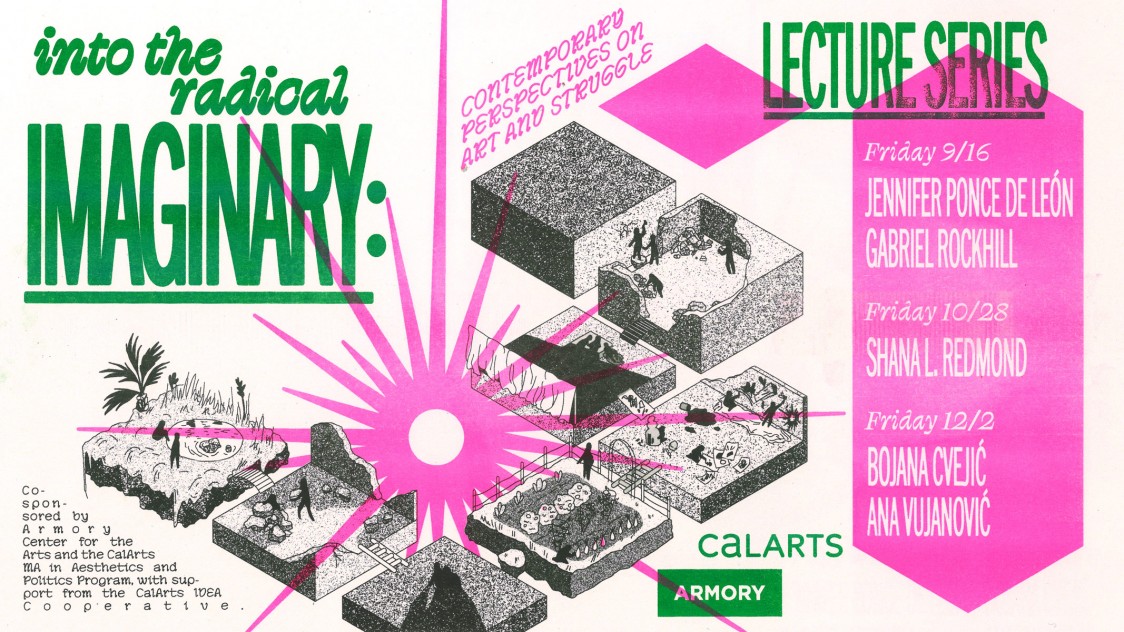 Dates:
Friday, Dec 2, 2022
This final installment of Into the Radical Imaginary: Contemporary Perspectives on Art and Struggle features scholars Ana Vujanović and Bojana Cvejić', live at the Armory. RSVPs are required for this free event. Masks and proof of vaccination are required for all guests.

CalArts is hosting a reception after the talk at Der Wolf, just a block away from the Armory at 72 North Fair Oaks Avenue. In respect of The Armory's COVID protocols, the reception will be held on Der Wolf's outdoor patio (note: reception will be canceled in the event of rain). While the bar does have outdoor heaters, please bring a coat for your comfort. The reception will be from 8:30 - 10:00 PM.
About this Installment
Starting from a concern with the crisis of the social, which coincides with the rise of individualism, Toward a Transindividual Self examines the process of performing the self, distinctive for the formation of the self in Western neoliberal societies in the 21st century. It approaches the self from a transdisciplinary angle where political and cultural anthropology, performance studies and dramaturgy intersect, and thus critically asks: How is that which distinguishes me as an individual formed in the first place?

This question demands that we look into the process of individuation, which precedes and exceeds the individual. And that process encompasses biological, social, and technological conditions of becoming whose real potential is transindividual, or more specifically, social transformation. A 'theater of individuation' (Gilbert Simondon) captures the dramaturgical stroke by which the authors investigate social relations (like solidarity and de-alienation) in which the self actualizes its transindividual horizon. As with every horizon, the transindividual may not be closely at hand; however, it is certainly within reach, and the book encourages the reader to approach it through an array of tangible social, aesthetic, and political acts and practices.

About the Presenters
Ana Vujanović is a cultural worker based in Berlin and Belgrade. As an independent researcher and writer she works in the fields of performance, culture and gender studies. She is also engaged as dramaturge in contemporary performance and film. A remarkable part of her work is cultural activism and she has taken part in numerous organizations and initiatives in Belgrade and internationally. Since 2016 she is a team member and mentor at SNDO, University of Arts, Amsterdam and since 2022 - a visiting professor at HZT, University of Arts, Berlin.

Bojana Cvejić' research spans performance theory, philosophy, and dance studies. Among several books, she is the author of Choreographing Problems (2015). As a dramaturg, she has collaborated with many choreographers and collectives on performances and independent self-organized platforms for artistic production, theory, and education in Europe and former Yugoslavia. Since 2017, she divides her time between Brussels, where she teaches at P.A.R.T.S. and Oslo, where she is professor at the National Academy of the Arts.

Together they are co-authors of the book Public Sphere by Performance (B_Books 2012) and Toward a Transindividual Self (Sarma, 2022).
About Into the Radical Imaginary: Contemporary Perspectives on Art and Struggle
Over the last decade, wave after wave of struggle has cracked open the radical social imaginary, aiming for the roots of systems of domination and creating space for liberatory formations to emerge. If another world once more seems possible, what new – and renewed - understandings of aesthetics and politics can help us bring it into being? This series is co-sponsored by the Armory and the CalArts MA in Aesthetics and Politics Program.