Active Voice Part 2: Wellness at Home and In Community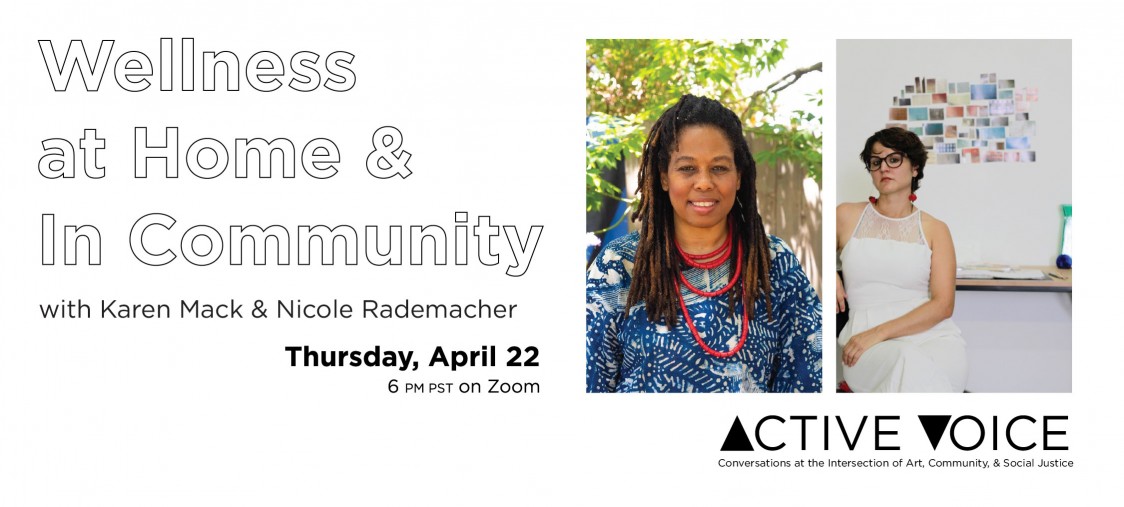 Dates:
Thursday, Apr 22, 2021
The emergence and rapid proliferation of the novel coronavirus known as COVID-19 resulted in a global pandemic at a scale not seen since the Spanish flu of 1918. In the U.S. the virus came as a shock to an already strained healthcare system, pushing the medical infrastructure to its limits. More than a year since the first recorded case and after more than 500,000 recorded deaths nationally, we have been forced to take a different perspective on health, wellness, and care.

In this climate of fear, loss, grief, and general lack of resources, many artists, arts organizations, and community organizers have pivoted to address the needs of communities through resource distribution, self-care and mental health practice education, and healing centered engagement. Join Karen Mack, founder and Executive Director of LA Commons, and Nicole Rademacher, artist and founder of Acogedor, for a conversation with the Armory's Heber Rodriguez as we discuss the effects and responses to isolation, social distancing, and the pandemic on our communities and us as individuals.


Watch the Recording
---
---
About the Panelists
Karen Mack is founder and Executive Director of LA Commons, an organization dedicated to promoting Los Angeles' diverse neighborhoods through locally based, interactive, artistic and cultural programming. LA Commons has implemented community art projects, tours and classes in partnership with organizations such as Fowler Museum at UCLA, National Endowment for the Arts, LA Dept of Cultural Affairs, and LA County Department of Arts and Culture. She holds an MPA from Harvard University and an MBA from the John Anderson School of Management at UCLA where she currently teaches a course on Social Justice Artivism. She is a member of the Los Angeles City Planning Commission.

Nicole Rademacher (she/her) is an artist and an Art & Marriage and Family Therapist Trainee. She serves as the founding director of Acogedor, an intimate project space that functions as an inclusive and supportive space collaborating with BIPOC, queer, disabled, female-identifying, gender non-conforming, and the adoptee community. Since COVID-19 Lockdown, Rademacher has spearheaded community-based projects, launched Acogedor online programming--with an exhibition focused on work made during the pandemic--, and is currently part of a trio studying art-making and wellbeing during COVID-19 with professional artists as part of her graduate thesis at Loyola Marymount University in Los Angeles. Rademacher currently lives and works in Los Angeles with her husband and son.


About the Program
Active Voice: Conversations at the Intersection of Art, Community, and Social Justice is a monthly conversation series hosted by the Armory Center for the Arts inspired by the conversations and reflections in the year under lockdown orders.

The past year presented many unique challenges. The arts community, locally and around the world, struggles to find its footing amid a global pandemic that has made the dangers of the politicization of science evident. An outpouring of demonstrations defending the value of Black lives were met with military opposition. And the recent, very real threats to American democracy made one thing abundantly clear: there will be no return to a post-pandemic "normal."

In response to this moment, the Armory is pleased to present Active Voice: Conversations at the Intersection of Art, Community, and Social Justice.

Active Voice is a platform for the generation of ideas, conversation, and action.

This series of programs brings artists, activists, community organizers, and other change agents together for thematic discussions that challenge audiences to imagine a "new normal" that:

1. advances our thinking around the function of the arts in our communities
2. allows for greater inclusivity within the arts and works against the inequitable practices ingrained in the arts infrastructure
3. increases our ability to deploy the arts to advance social causes

These conversations will not only look forward to a post-pandemic (lockdown?) future, but will also include calls to action based on the ideas put forth by participants. The conversations and audience responses to the calls to action will be archived on the web and compiled into an Art Action Log that can serve as a springboard for further activities.

As difficult as the challenges of the past year have been, they have also offered some opportunity for the arts community to reset, root out inequities, look beyond business-as-usual, and imagine different models built through collaboration. Now it's up to us to take action. It is not a time for passivity or complacency.
Upcoming Programs in the Series
June 17 - Home Studio, Teaching Art, and Learning during the Pandemic

July 8 - Art and Abolition in Los Angeles
Previous Programs
March 25 - Lockdown, One Year Later