WATCH: Active Voice Part 4: Art and Abolition in Los Angeles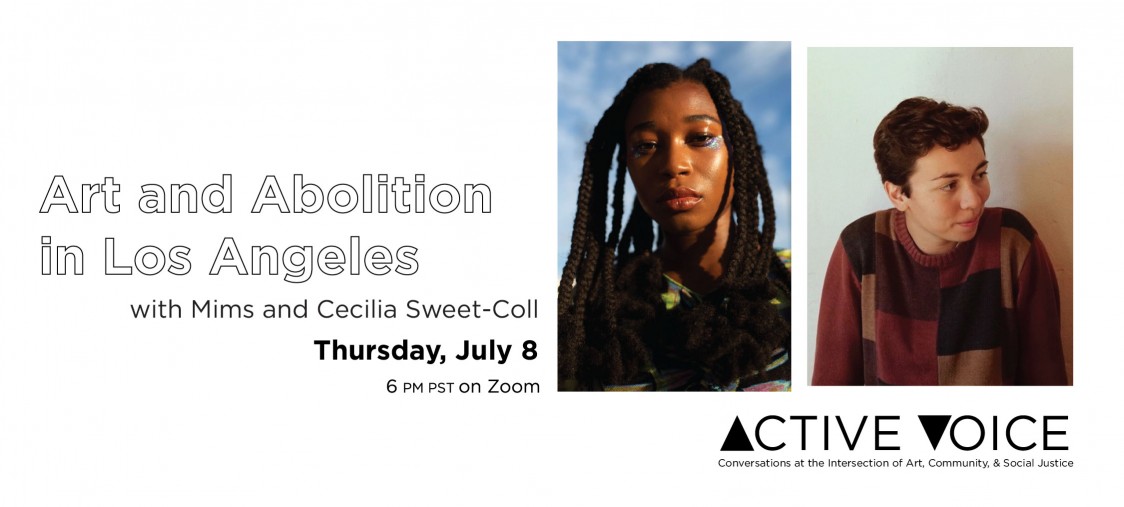 Dates:
Thursday, Jul 8, 2021
Following the murder of George Floyd at the hands of Minnesota Police Department Officer Derek Chauvin in May of 2020, hundreds of thousands of people around the world took to the streets, town squares, city halls, and other gathering places amid a global pandemic to decry racism, protest racial injustices, take a stand against police brutality, and show support and solidarity with the Black Lives Matter movement. The loss of Floyd's life, preceded by the deaths of Ahmaud Arbery and Breonna Taylor just a few months earlier, was a tipping point. Tired of decades of a lack of accountability, countless black and brown lives lost, and coming at a moment where faith in institutions continues to wane and move toward decentralization, a growing number of activists and everyday citizens are calling for better alternatives to our current broken criminal justice system and its violent policing arm.

In this climate, abolition, a call for the complete removal of the current system of incarceration and policing that looks beyond reform has increasingly become a viable strategy in working toward safer, healthier communities. Join artists and abolitionists Mims and Cecilia Sweet-Coll for an abolitionist workshop and conversation moderated by the Armory's Heber Rodriguez as they discuss the abolitionist movement and its strategies while reflecting on the demonstrations, protests, and milestone events during the past year.
Watch the Recording
---
---
About the Participants
Mims is an artist, abolitionist, and facilitator based in Los Angeles. Her work – which spans across the disciplines of fashion, dance, advocacy, facilitation, curation, and directing – is rooted in abolition and transformative justice frameworks. She experiences the body as a site of liberation and uses that information as a guide for organizing, facilitation, and all of the art she creates. Mims is a graduate of the University of Southern California where she studied Dance and NGO's and Social Change. She currently works for Californians United for a Responsible Budget.

Cecilia Sweet-Coll is an animator and musician from San Francisco, CA with backgrounds in film, dance, virtual reality, photography, and sculpture. Cecilia coordinated a team of abolitionist artists in a successful campaign to stop Los Angeles County's jail expansion plan, and continues to study and build towards abolition with Brianna Mims. They have also worked as an art preparator in half a dozen museums and galleries throughout Los Angeles as part of The Broad's Diversity Apprenticeship Program. Their hope in all their work is to make more space for people to rest and breathe.
About the Program
Active Voice: Conversations at the Intersection of Art, Community, and Social Justice is a monthly conversation series hosted by the Armory Center for the Arts inspired by the conversations and reflections in the year under lockdown orders.

The past year presented many unique challenges. The arts community, locally and around the world, struggles to find its footing amid a global pandemic that has made the dangers of the politicization of science evident. An outpouring of demonstrations defending the value of Black lives were met with military opposition. And the recent, very real threats to American democracy made one thing abundantly clear: there will be no return to a post-pandemic "normal."

In response to this moment, the Armory is pleased to present Active Voice: Conversations at the Intersection of Art, Community, and Social Justice.

Active Voice is a platform for the generation of ideas, conversation, and action.

This series of programs brings artists, activists, community organizers, and other change agents together for thematic discussions that challenge audiences to imagine a "new normal" that:

1. advances our thinking around the function of the arts in our communities
2. allows for greater inclusivity within the arts and works against the inequitable practices ingrained in the arts infrastructure
3. increases our ability to deploy the arts to advance social causes

These conversations will not only look forward to a post-pandemic (lockdown?) future, but will also include calls to action based on the ideas put forth by participants. The conversations and audience responses to the calls to action will be archived on the web and compiled into an Art Action Log that can serve as a springboard for further activities.

As difficult as the challenges of the past year have been, they have also offered some opportunity for the arts community to reset, root out inequities, look beyond business-as-usual, and imagine different models built through collaboration. Now it's up to us to take action. It is not a time for passivity or complacency.
Previous Programs
June 17 - Home Studio, Teaching Art, and Learning during the Pandemic
April 22 - Wellness at Home and In Community
March 25 - Lockdown, One Year Later