Welcome
We strive to make Armory Center for the Arts a welcoming, inclusive, and engaging experience for everyone. If you have questions, or can't find accessibility accommodations listed below that address your particular situation, please contact us at information@armoryarts.org.
Administrative Hours
Monday through Friday
9:00 AM to 5:00 PM

Gallery Hours
12 to 5 PM (closed Tuesdays and holidays)
Admission is free. Donations are appreciated.
Studio Art Class Registrar Hours
Summer: Monday through Friday, 10:00 AM - 4:00 PM
Fall-Spring: Monday through Friday, 12:00 - 5:00 PM
Gallery Tours for Teens & Adults
A member of the Armory's Gallery department will lead a one-hour tour of the Armory's exhibitions, providing opportunities for insight and discussions. There is a $5 fee per person for all other adult tour groups.

To schedule a one-hour tour of an Armory gallery exhibition, please contact the Armory's Exhibitions Department at 626.792.5101.
Interested in booking a gallery tour for your class? Click here to learn about our K-12 Field Trip Program.

Location
145 North Raymond Avenue
Pasadena, California 91103
Parking
Up to 90 minutes of free parking is available at the city parking structure just north of the Armory on Raymond Avenue. View parking options in Old Pasadena. There are several ADA parking spots in the parking garage next door as well as metered spots throughout street parking.
Metro and Bus Information
Metro provides Bus and Rail transportation to Memorial Park Station until 2 am on Fridays and Saturdays. For your best route or more info, visit the Metro Trip Planner or call (323) Go Metro (323.466.3876).
The Armory is on the Metro Gold Line. We are across the street from the Memorial Park Station.
Connecting Bus Services:
Metro Bus Lines 260, 267, 501, 687
Foothill Transit Lines 187
Pasadena Transit Bus Routes 20, 40, 50, 80
Street Entry/Drop Offs
The Armory's curbside front entrance on Raymond Avenue is perfectly level, with even pavement transitioning directly to large double doors. There are no entry stairs, but the double doors do not automatically open, yet. To the left of the doors is a doorbell that anyone can sound to request help with the doors.
Accessible Restrooms and Family Lounge
A designated women's restroom as well as a lockable, all-gender restroom can be found just past our front entrance, to the right. Both restrooms have 1 ADA-compatible stall each, and are equipped with infant changing stations.
Elevators
Elevators to our second floor can be accessed from our front entrance towards the rear of our main studio. See map below.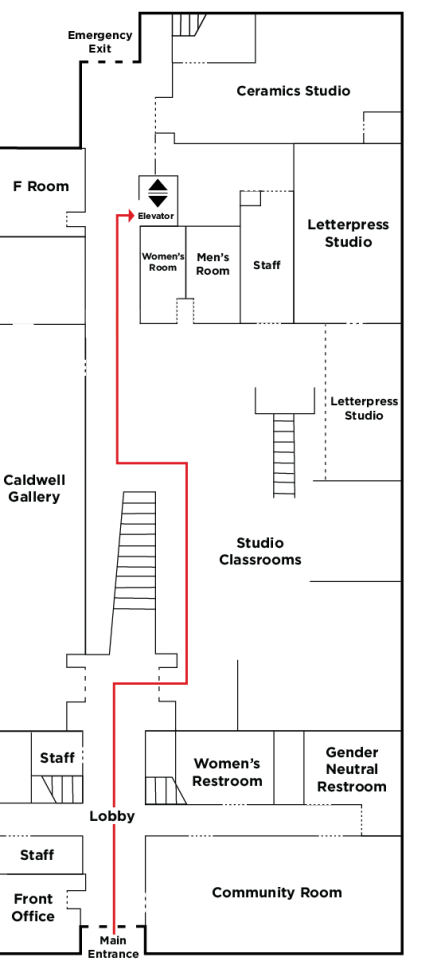 Wheelchair/Stroller Access
All Armory galleries, classrooms, meeting rooms, and restrooms are wheelchair and stroller accessible.
Animals
Certified service animals are always welcomed inside the Armory.
Seating and Rest Areas
Seating can be found throughout the Armory, including at the:
Front entrance Foyer

2nd Floor Visitors' Lounge, which is accessible by stairs and elevator (see map above).
Quiet Times to Visit
For guests with noise and/or crowd sensitivities, Armory galleries are generally the most quiet between 12:00-3:00 PM weekdays (closed Tuesdays), and most weekends from 12-5 PM. Before you visit, please review our events schedule or contact our gallery attendant at (626) 792-5101 x122 to confirm there are no large events scheduled.
Visually Impaired: Indoor Lighting
Please note that lighting in galleries for certain exhibitions may be dimmed and/or contain blackened rooms to display video projections or accommodate aspects of an artists' installation.
Follow the great work we do in our community every day.