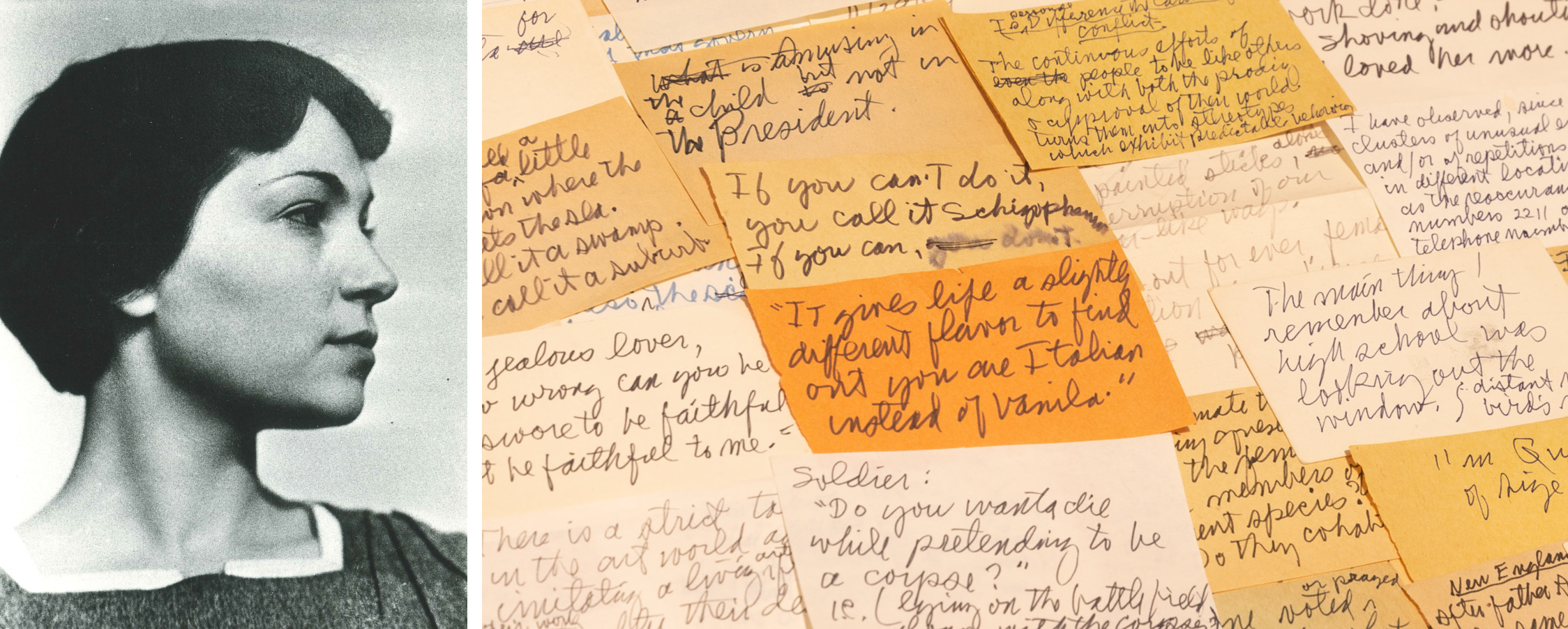 If she lived during the age of smart phones, what would Sara Kathryn Arledge think of Twitter? It's an intriguing question, because decades before the advent of the tweet, Arledge wrote and archived hundreds of what she called "brief statements."

Following her death in 1989, Arledge's friends opened a small storage unit rented by the artist and discovered these brief statements, organized in no apparent order other than compiled in a file folder box. The brief statements were written mostly on inexpensive 3x5" notepad paper, sometimes on index cards, and occasionally on something else, including a Trader Joe's receipt. Some were as short as one line, others consisted of multiple pages. They reveal Arledge's love of word play, puns, and jokes, as well as her pointed opinions on gender relations, societal contradictions, aesthetics, and more. Arledge's friends also discovered scores of previously unknown, vibrant works on paper, storyboards for unrealized film projects, personal letters, and other ephemera. Many of the items discovered in Arledge's storage unit, along with seven of her most notable experimental films, can be seen in the Armory's current survey exhibition Sara Kathryn Arledge: Serene for the Moment, on view through May 12.





About Sara Kathryn Arledge
An under-recognized painter and innovator of mid-20th century experimental cinema, Sara Kathryn Arledge (1911-1998) was a prolific artist who emphasized the eerie in the mundane and the disorienting in the beautiful. Arledge lived and worked primarily between Pasadena and Santa Cruz, California. One of her earliest influences was a performance by Thomas Wilfred, on his Clavilux, at the Pasadena Playhouse, which she saw in 1928 as a teenager. Born in Mojave, California, Arledge received a Bachelor of Education in Art from the University of California, Los Angeles in 1936. She also both studied and taught at Columbia University and the Barnes Foundation in Philadelphia, and taught in the Department of Art at the University of Oklahoma and at the University of Arizona, Tucson. Defying convention and authority, Arledge created a diverse and experimental body of work in between film and painting. "My plan," she said, 'was to extend the nature of painting to include time." Sara Kathryn Arledge: Serene for the Moment is now on view in the Armory's Caldwell Gallery through May 12. Galleries are open daily 12:00 to 5:00 PM (closed Tuesdays and holidays). Admission is always free.

Sara Kathryn Arledge: Serene for the Moment has been produced with generous support from the Pasadena Art Alliance, with thanks to the Sara Kathryn Arledge Memorial Trust. In conjunction with the exhibition, a book will be published in autumn 2019 by Armory Press, an imprint of the Armory, and X Artists Books, with generous support provided by the Hillenburg Family.

Above (from left): Photograph of Sara Kathryn Arledge by Margrethe Mather, c. 1931-1932. Installation detail of Arledge's brief statements. Photo by Photo by Ian Byers-Gamber.

Center (from left): Photographs of Arledge's brief statements, as stored by the artist prior to her death. Selection of brief statements' written on 3x5" note cards. Brief statement written on Trader Joe's receipt, dated May 11, 1984 (front and back view).