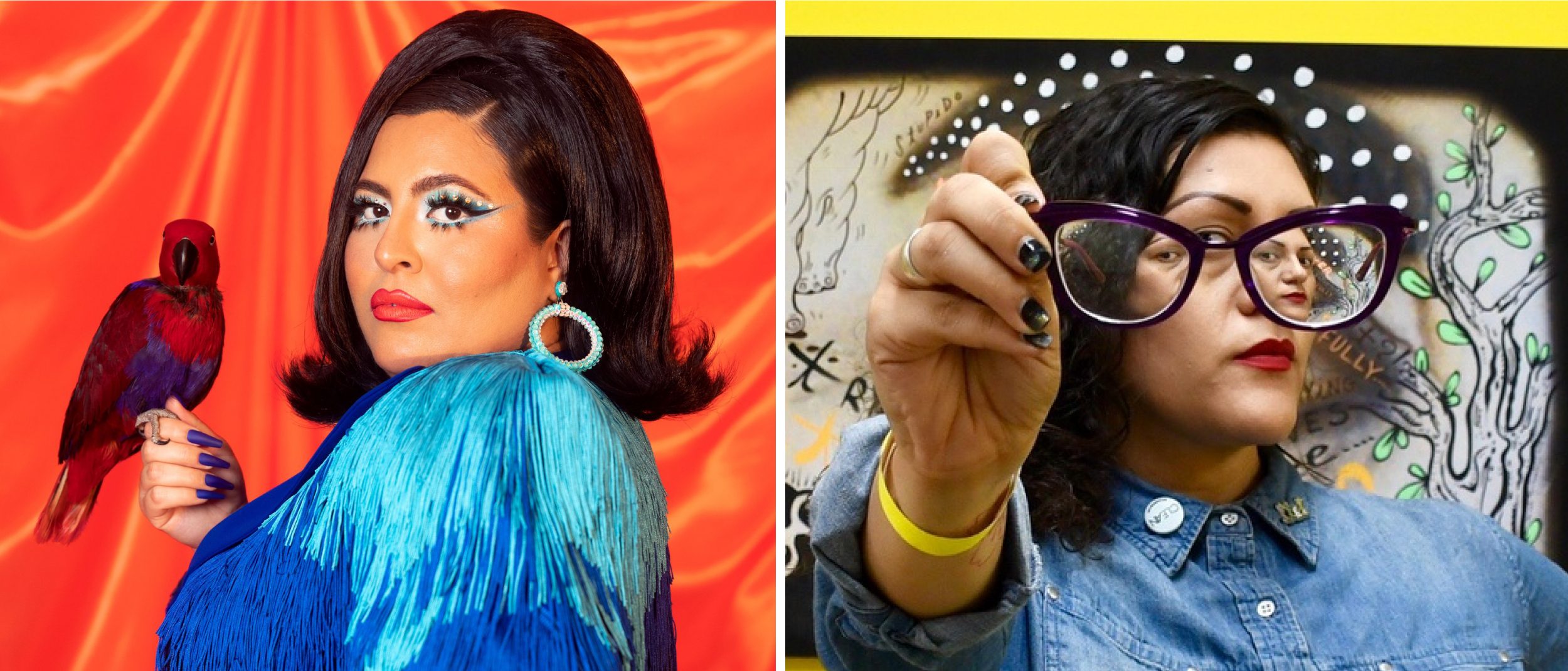 Off the Wall, the Armory's renowned biennial art auction and gala will return in person for the first time since the pandemic began at the Armory's Old Pasadena campus on April 8. The gala will feature open bars with fine wines, cocktails, and gourmet street food courtesy of some of the region's most popular food trucks. The gala's centerpiece is an online silent auction of over 60 contemporary artworks from well-known Southern California artists, including several works from the organization's beloved Teaching Artist faculty.

We are thrilled to announce that two special musical guests will complement the evening's festivities — the explosive, musical storytelling of LA-based performer San Cha, plus sets from KCRW DJ and Armory Alumni Ro "Wyldeflower" Contreras.

Using her Mexican American upbringing, San Cha channels a wave of cultures to beautifully collide in various genres. As eclectic in sound as she is in emotion and storytelling. At times haunting and full of ache and quickly thereafter an unstoppable dance force. By subverting the tropes of popular culture from her Mexican roots to make something new, San Cha has managed to impact the music world thanks to a highly original sound that encapsulates who she is.

San Cha first put out her demos in 2016. During this time, Red Bull took notice and approached San Cha to participate in Red Bull Music Academy's Bass Camp at Bonnaroo Music Festival — chosen as one of the up-and-coming producers and musicians from around the country. Her follow-up album was released with much critical acclaim, with Pitchfork writing "It's a work of art that took her entire life to make, the synthesis of years of struggle and growth, a style forged on the ranches of Jalisco and in the queer clubs of San Francisco." Since then San Cha has performed at prestigious venues such as The Music Center, The Getty, The Ford Theater, Hauser & Wirth, and the Vibiana Cathedral.

KCRW DJ Ro "Wyldeflower" Contreras grew up in Pasadena, took classes at the Armory, and remembers our Children Investigate the Environment program as an experience that is still "definitely bright in my mind." In college, Wyldeflower was a Getty Multicultural Undergraduate Intern at the Armory and became a teaching assistant shortly thereafter. During that time, she and Armory Teaching Artist Sergio Hernandez created what is now our popular screen printing program for teens.

Wyldeflower remembers the Armory as "one of the most special places I've ever worked... truly was one of the most fulfilling environments I've ever worked in." One of her fondest memories was "that glimmer in a student's eye when they are inspired when they've absorbed what you're teaching them and are motivated to begin to create."

Today, Wyldeflower continues to inspire thousands of listeners across Southern California with her weekly shows on KCRW, which the station frames as a "soulful rhythmic journey through time and space... sonic love notes from cities to mountain tops, to the heart of the tropics and into the cosmos."
Image (from left): Photo of San Cha by Yulissa Mendoza. Courtesy of the artist. Photo of Wyldeflower by Ani Yapundzhyan. Courtesy of KCRW.com.