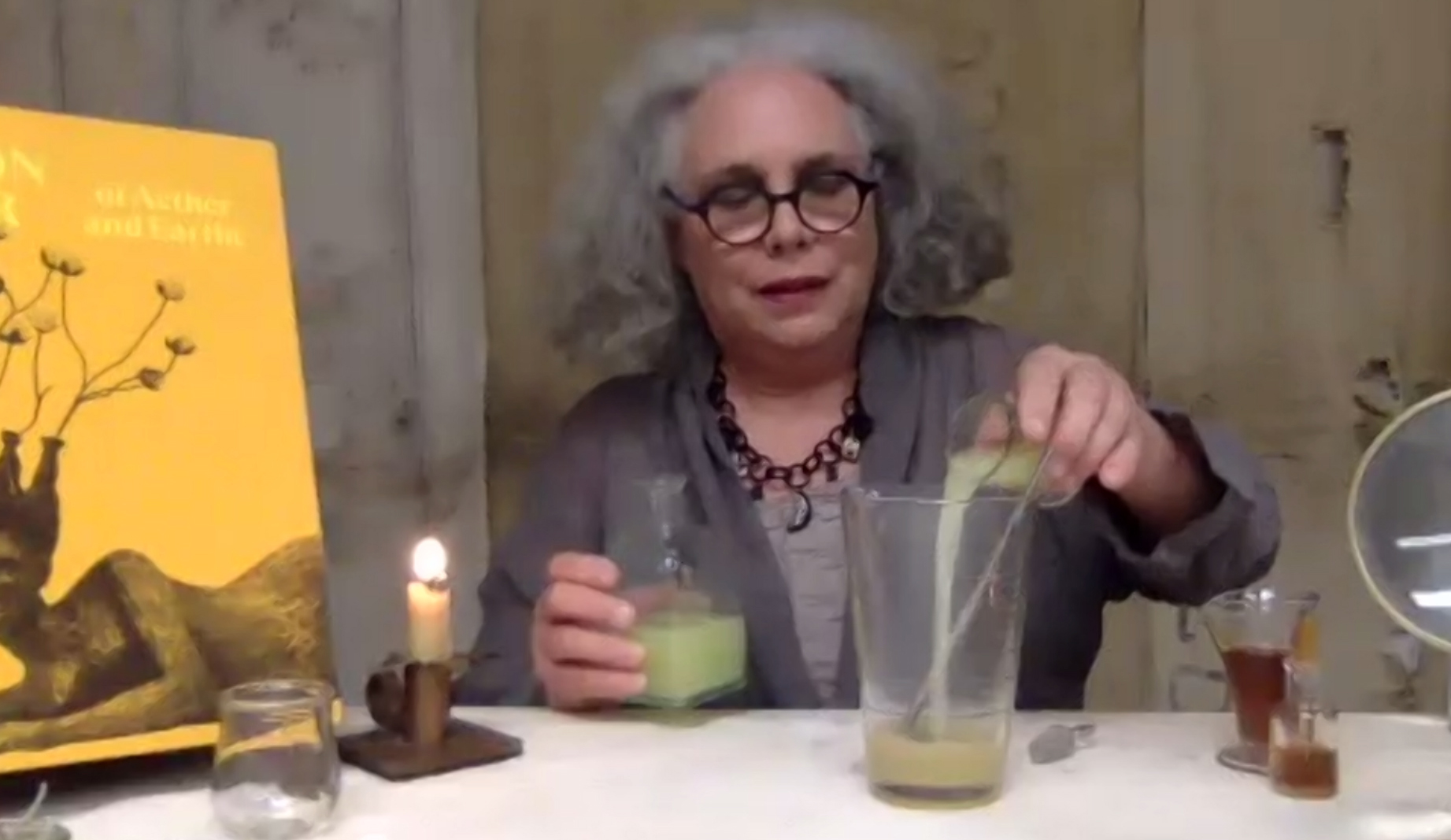 The Armory and the Benton Museum of Art at Pomona College virtual release of the exhibition catalogue Alison Saar: Of Aether and Earthe featured conversations with special guests, poetry readings, and a festive toast in celebration of the most comprehensive publication on Saar to date. Participants included Alison Saar, scholar Christina Sharpe and readings by key representatives from both institutions Saar concluded the event with a libation created live, followed by a ceremonial blessing. Scroll down for the libation recepie (fast forward to 46:58 to watch the preparation).
About the Catalogue
Accompanying the survey exhibition co-curated by Rebecca McGrew, senior curator at the Benton Museum of Art, and Irene Georgia Tsatsos, chief curator at Armory Center for the Arts, Alison Saar: Of Aether and Earthe is the first extended monograph on Saar. The book includes new essays by McGrew and scholar Christina Sharpe, an interview between Saar and Tsatsos, an autobiographical timeline by Saar, and poetry by Camille Dungy, Harryette Mullen, and Evie Shockley. Handsomely bound in cloth with embossed details, the publication also features never-before-published photographs from the artist's childhood as well as new full-color images of Saar's work from 1982 to 2020.

About the Exhibition
Alison Saar: Of Aether and Earthe appears at the Armory and the Benton Museum of Art at Pomona College. It is scheduled to open by appointment in 2021. Please check the Armory and Benton websites for more information about dates, upcoming events, and to schedule an appointment. Major support for the exhibition is provided by the Pasadena Art Alliance. An exhibition catalog will feature contributions by Camille Dungy, Rebecca McGrew, Harryette Mullen, Christina Sharpe, Evie Shockley, and Irene Tsatsos. It is being made possible with lead support from The Fellows of Contemporary Art, who awarded the 2020 Curator's Award to co-curators Rebecca McGrew at the Benton and Irene Tsatsos at the Armory. Exhibition public programs are supported in part by the California Arts Council, a state agency. Additional support is provided by Betsy Greenberg.
---
Alison Saar's Sage Elixir
This cocktail is a spicy and smokey variation on the classic Moscow Mule. If grating the fresh ginger juice is too much trouble you can substitute the ginger, honey, and soda water with a powerful ginger beer such as Reed's Extra Ginger Brew or Maine Root Ginger Beer, or for an extra kick, combine the fresh ginger and the ginger beer together. To create virgin version, simply omit the Mezcal and bitters to concoct a delightful drink for those wishing to abstain.

Ingredient
2 teaspoons fresh peeled and grated ginger***
1oz fresh squeezed lemon juice and peel for a twist garnish
6oz carbonated mineral water (Topo Chico or Jarritos Mineragua)
5 fresh sage leaves
1-2 teaspoons honey
1 to 1.5 oz Mezcal (I recommend del Maguey Vida or your favorite smoky brand)
2-3 drops bitters (I prefer a citrus bitters such as blood orange or grapefruit)


Preparation
In a chilled glass or copper tumbler muddle 3 sage leaves with grated ginger and honey. Add lemon juice, bitters and Mezcal. Stir well. Fill with ice and add agua mineral and stir. Take remaining 2 sage leaves and char the edges over a flame. Add the smoky leaves as a garnish along with a twist of lemon peel and serve.

*** Note: It is easier to grate the ginger if you peel and freeze it ahead of time. Use a fine grater to create a delicate ginger snow.