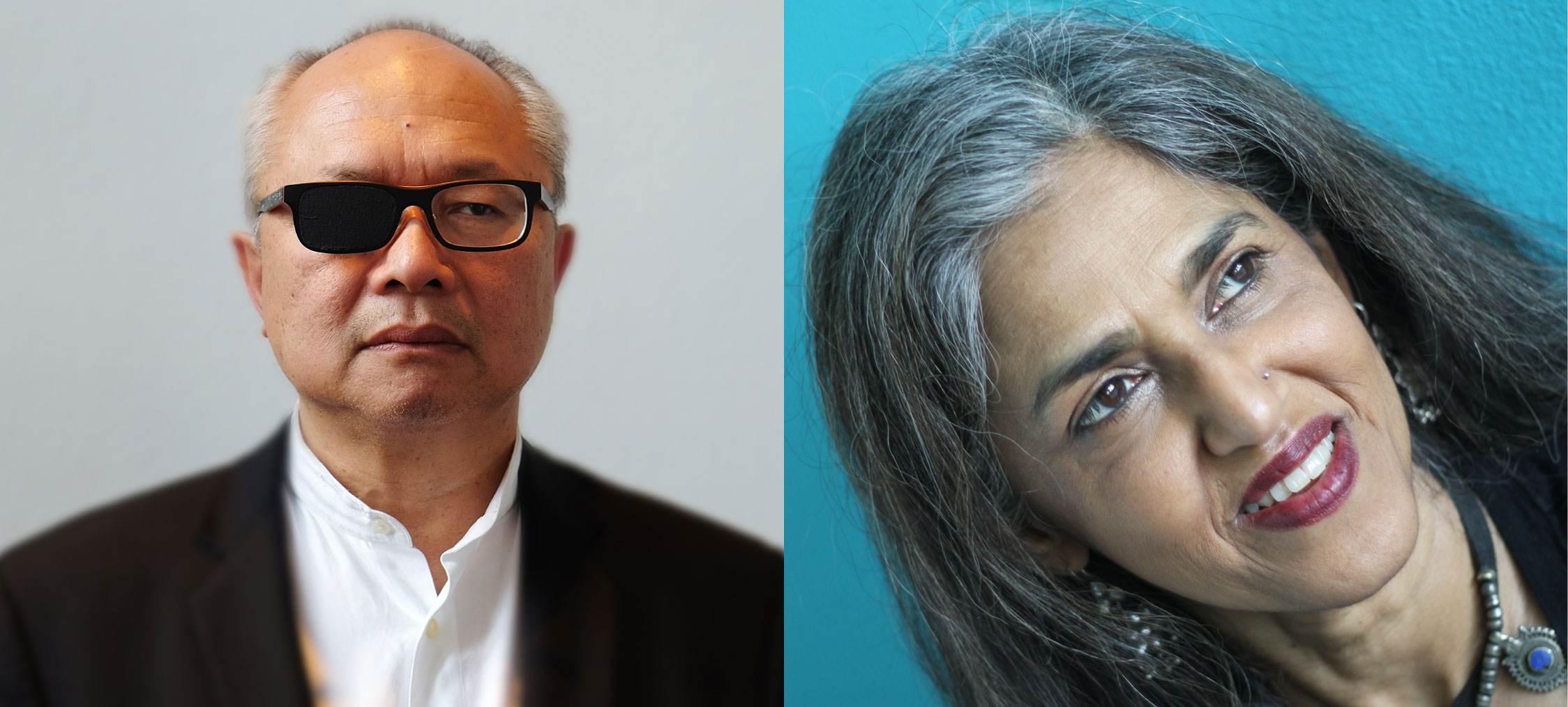 Thank you to all who joined us for the Armory's new literary reading series on racial justice, presented in conjunction with the ongoing exhibition Alison Saar: Of Aether and Earthe. This inaugural reading featured multidisciplinary artists Mel Chin and Sehba Sarwar reading new work tackling racism embedded in language and violence. This reading and community conversation was moderated by the Armory's Executive Director Leslie Ito.
Watch the Recording
---
---
About the Artists
Mel Chin, born in Houston, Texas in 1951, is known for the broad range of approaches in his art, including works that require multi-disciplinary, collaborative teamwork and works that can enlist science, history, politics as components or layers to developing complex ideas. Miranda Lash, curator of Chin's 2014 traveling retrospective exhibition Rematch, described his work as having a mutative strategy, depending on concepts to derive the materials of its realization, from actions, to films, to objects, as necessary.

In 1991, Chin created Revival Field, pioneering the field of "green remediation," the use of plants to remove toxic, heavy metals from the soil. From 1995-1998 he formed the collective the GALA Committee that produced In the Name of the Place, a public art project conducted on American prime-time television. Since 2008, his Fundred Project invests in actions to end childhood lead-poisoning through mass public engagement via the creation of art currency as a means for policy-maker education. All Over the Place, a 40-year survey exhibition at the Queens Museum, was named by Hyperallergic as the best New York City exhibition of 2018. Chin is the recipient of many awards, grants, and honorary degrees including a MacArthur Fellowship in 2019 and election into the American Academy of Arts and Letters in 2021.

Sehba Sarwar creates text and art that tackle displacement, transnationalism, and women's issues. Her essays and poems have appeared in the New York Times Sunday Magazine, Creative Time Reports, Asia: Magazine of Asian Literature, Callaloo, and elsewhere; her short stories are anthologized by Feminist Press, Akashic Books, and Harper Collins India; and a second edition of her novel, Black Wings, was released in 2019 (Veliz). In 2000, while based in Houston, Sarwar founded a social justice arts organization, Voices Breaking Boundaries, that was the recipient of multiple NEA and Andy Warhol Foundation awards for collaborative projects including Borderlines, Women Under Siege, Homes and Histories, and Third Worlds that explored race, gender, and immigration. Sarwar's papers are archived at the University of Houston.

Sarwar was born and raised in Karachi, Pakistan in a home filled with artists and activists and currently resides in Pasadena. She will read from her memoir-in-progress for which she was awarded a 2019-20 independent artist grant by the Pasadena Arts & Culture Commission. Part of Sarwar's project, On Belonging that was commissioned by the Menil Collection (Houston), includes site-specific installations at several Pasadena parks.
The reading is made possible in part by the Pasadena Arts & Culture Commission and the City of Pasadena Cultural Affairs Division and is cosponsored by Tuesday Night Project and Beyond Baroque Literary Arts Center.