Alison Saar: Of Aether and Earthe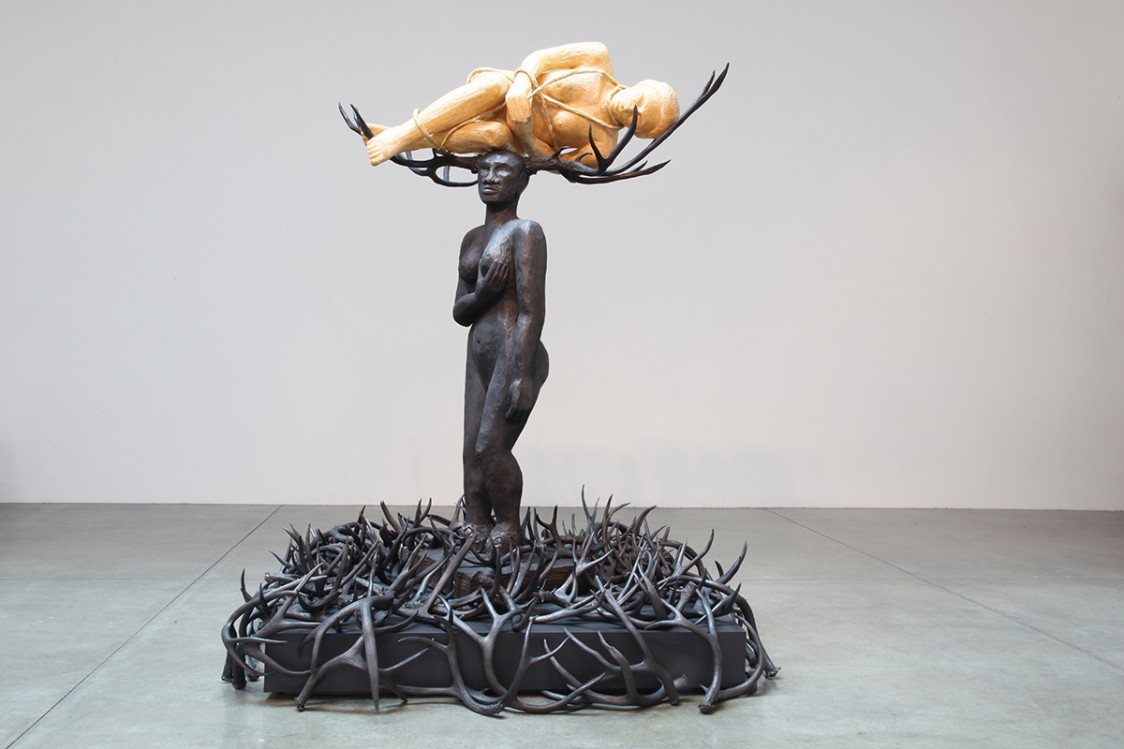 Dates: Friday, Jul 16, 2021 -
Sunday, Dec 12, 2021
Armory Center for the Arts and The Benton Museum of Art at Pomona College are pleased to announce the largest museum survey to date of the work of artist Alison Saar. Alison Saar: Of Aether and Earthe includes 29 of the artist's multi-media and mixed installation works in one exhibition installed across the two venues. This exhibition spans the broad spectrum of Saar's career, from her sculptures of the early 1980s to a new installation, Hygiea, to be unveiled at the Armory and the large-scale, site-specific commission Imbue, installed at the Benton in the summer of 2020.
Reservations
Both venues require an appointment to view the exhibition. The Armory will begin accepting online reservations on Tuesday, July 6 at 12:00 PM PST. The Benton exhibition is now open through December 19. Benton reservations can me made here. Admission is free at both venues.


Related Public Programs
Alison Saar will be in conversation with exhibition curators Irene Georgia Tsatsos and Rebecca McGrew on Thursday, July 15, from 6-7pm PST, via Zoom. Click here to RSVP.

The Armory is working with Alison Saar to recreate a public engagement, Catfish Dreamin', which will feature five online short films on themes of water and California waterways by Saar and others, along with a temporary outdoor sculpture in front of the Armory. Originally commissioned by The Contemporary in Baltimore in 1992, Catfish Dreamin' first consisted of a house-like structure with a hand-carved six-foot catfish mounted on a pickup truck, which traveled around the greater Baltimore area to sites where crowds gathered, such as parks, festivals, and schools. The piece was inspired by the history of Baltimore's "arabbers," the African-American fishmongers and fruit/vegetable sellers who would sell their wares from horse-drawn carts on the street, gathering customers with the call of their familiar song. In response to pandemic safety requirements, the themes and images of the original version are being transformed into a safe and engaging alternative format.
About the Catalogue
The exhibition is accompanied by a 164-page catalogue, co-edited by McGrew and Tsatsos and featuring contributions by Camille Dungy, McGrew, Harryette Mullen, Christina Sharpe, and Evie Shockley, as well as McGrew and Tsatsos. This first extended monograph on Saar is amply illustrated, featuring older and more recent works. Handsomely bound in cloth with embossed details, the book was designed by Kimberly Varella of Content Object (Los Angeles) and published by the Benton Museum of Art at Pomona College.
Media
Alison Saar on Transforming Outrage Into Art
(NY Times)


Major support for Alison Saar: Of Aether and Earthe at the Armory comes from Pasadena Art Alliance, with generous support for the Armory's public programs from the California Arts Council, a state agency, and additional support from Betsy Greenberg. Lead support for the exhibition catalogue comes from the Fellows of Contemporary Art.

Image: Alison Saar, Rouse, 2012, Wood, paper, bronze, found antler sheds, graphite. 90 x 60 x 60 inches. Image courtesy of the artist, and L.A. Louver.