Alison Saar: Of Aether and Earthe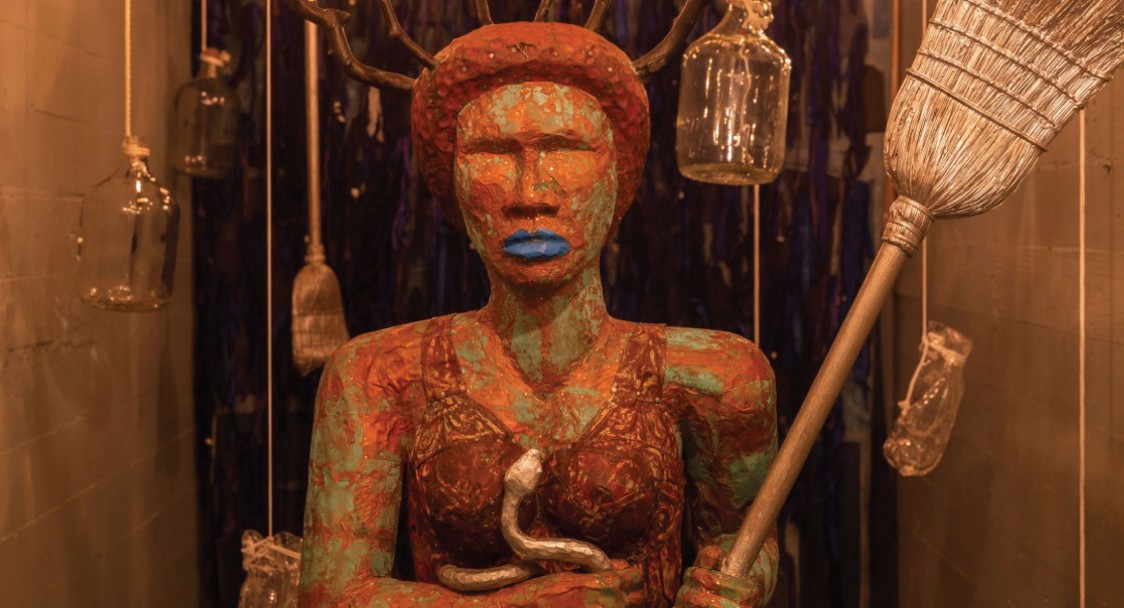 Dates: Friday, Jul 16, 2021 -
Sunday, Dec 12, 2021
Hours:
Galleries Open by Appointment:
Fridays 3:00 to 7:00 PM
Saturdays & Sundays 1:00 to 5:00 PM
---
"...among the finest American sculptors working today...it's hard to think of any recent art more salient right now." — Los Angeles Times

"...a bird's eye view of the intersection of blackness and femininity..." — Financial Times of London
---
The Armory is excited to open our doors and welcome you back for a safe, socially distanced, engaging art experience with the exhibition Alison Saar: Of Aether and Earthe. The Armory and the Benton Museum of Art at Pomona College in Claremont have partnered to present an exhibition of Saar's work connected to myths and archetypes, invisible bodies and hidden histories, and timeless paradigms of grounding and transformation.

Both venues require an appointment to view the exhibition. Armory reservations are available below. Benton reservations can be made here. Admission is free at both venues.


---
Book Your Reservation
Reservations are now being accepted through December 12.
COVID Safety - Masks are required for all Armory visitors and staff, regardless of vaccination status. With few exceptions, visitors must show proof of full COVID vaccination. All Armory staff members are fully vaccinated. Click here to review the Armory's COVID safety protocols prior to your scheduled visit.

Armory Members - Reservations are not required for current Armory members and their guests during regular gallery hours. Current members without reservations will be admitted so long as the gallery's capacity limit of 20 guests is not exceeded. Not sure if your membership is up to date? Email members@armoryarts.org to find out.
Group Tours - Contact us if you'd like to organize a tour outside of regular hours for up to 20 of your friends, students, or colleagues.
---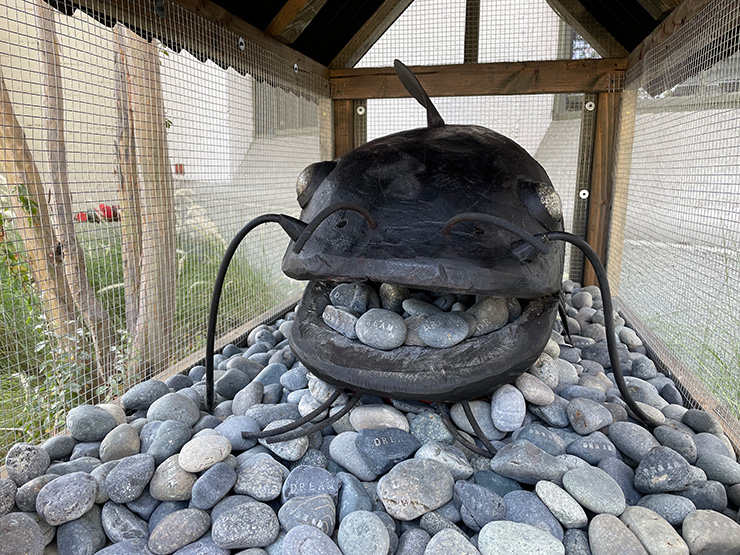 On View in Our Front Garden: Catfish Dreamin'
We are excited to present Alison Saar's Catfish Dreamin', an outdoor temporary sculpture and related online program.

One of Saar's earliest public projects, Catfish Dreamin' was originally commissioned in 1993 by The Contemporary in Baltimore. Inspired by the city's traditional African-American fish and produce vendors, Catfish Dreamin' featured a modified vintage pickup truck that housed a 6-foot catfish sculpture. Inside the catfish's mouth were river stones imprinted with the word "dream." Saar traveled the piece across the Mid-Atlantic in the early '90s, gifting the river stones to anyone who shared their dreams and memories with her.

This new iteration re-imagines the truck, sculpture, and stones as a temporary outdoor installation. It is presented alongside a selection of online artworks (chosen by Saar), and includes a map of recommended LA County waterways to enjoy these virtual works on your mobile device. Contributing artists include Neelanjana Banerjee, Carolina Caycedo, Carmina Escobar with Wesam Nassar, Kate Lain, as well as Saar. Access the online component via a QR code adjacent to the installation, or click the link below.
---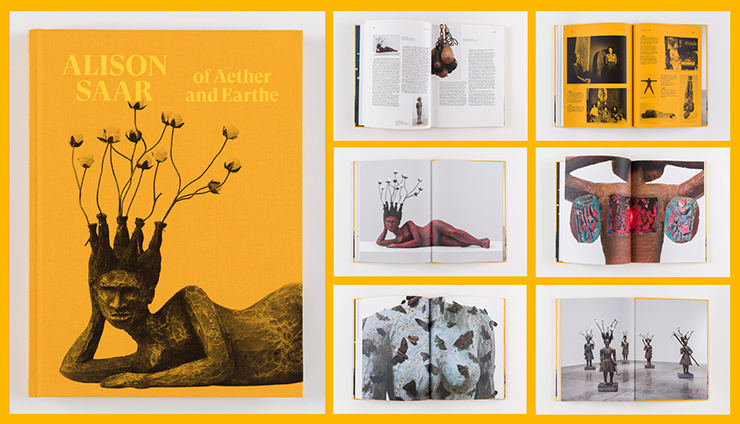 Exhibition Catalogue
The exhibition is accompanied by a 164-page catalogue, co-edited by McGrew and Tsatsos and featuring contributions by Camille Dungy, McGrew, Harryette Mullen, Christina Sharpe, and Evie Shockley, as well as McGrew and Tsatsos. This first extended monograph on Saar is amply illustrated, featuring older and more recent works. Handsomely bound in cloth with embossed details, the book was designed by Kimberly Varella of Content Object (Los Angeles) and published by the Benton Museum of Art at Pomona College.
---
Virtual Field Trips
Take your students (or yourself) on a virtual Armory field trip and make art with lessons designed by Armory Teaching Artists that meet National Arts Common Core Standards. These virtual field trips feature artworks Sea of Serenity and Sapphire from Alison Saar: Of Aether and Earthe.
---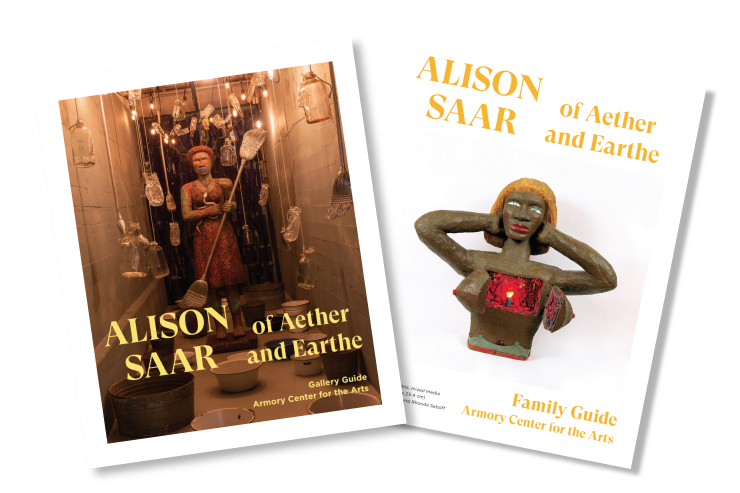 Exhibition Guides
To ensure our guests have a safe visit, all paper visitor guides have been replaced with downloadable, "no-touch" versions in PDF format. Prior to your visit, you can download the gallery guide with information about the exhibition and checklists of all artworks in the Armory's exhibition as well as the Benton's. You can also download our family guide with age-appropriate descriptions of artworks, activities, and questions you can ask your child to help them better understand Saar's artwork. Visitors can also access these PDFs during their visit via a QR code on the gallery attendant's desk.
---
Past Public Programs
Catfish Dreamin' Artist Talk with Neelanjana Banerjee and Kate Lain
oin us on Zoom for a presentation and conversation between author Neelanjana Banerjee and filmmaker Kate Lain. The artists will discuss their individual practices and their respective contributions to the online program connected to Alison Saar's Catfish Dreamin'.
WATCH: Alison Saar In Conversation with Irene Georgia Tsatsos and Rebecca McGrew
Join the Armory for a lively, virtual discussion with Alison Saar and co-curators Irene Georgia Tsatsos and Rebecca McGrew about the artist's work and her landmark, dual-venue survey.
Recorded on July 16, 2021.
WATCH: Alison Saar Exhibition Catalogue Release
The Armory and the Benton Museum of Art at Pomona College virtual release of the exhibition catalogue Alison Saar: Of Aether and Earthe featured conversations with special guests, poetry readings, and a festive toast in celebration of the most comprehensive publication on Saar to date. Recorded on October 22, 2020.

WATCH: Alison Saar Interviewed by Isabel Fernandez
Recorded during the Armory's annual Regional Convening of Arts Providers Serving System-Impacted Teens, this poignant interview between Saar and Armory Teen Apprentice Isabel Fernandez.
Recorded March 18, 2021
---
Media
Alison Saar in Los Angeles: rough, bloody and undaunted
(Financial Times of London)
Seeing the artist Alison Saar on both sides of the San Gabriel Valley
(Pasadena Star News)
Artist Alison Saar on Why She Gives Power to the Black Female Body
(LA Times)
Alison Saar: Of Aether and Earthe,' a Survey Spread Across Two Institutions, Presents Female Forms That 'Activate Legacies of Bodily and Spiritual Survival
(Culture Type)
Pasadena Here We Come
(Art Matters with Edward Goldman)
Review: Alison Saar's poetic chronicles of Black womanhood
(LA Times)
Review: Alison Saar: Of Aether and Earthe
(Visual Art Source)
Alison Saar on Transforming Outrage Into Art
(NY Times)
An Embodied Dialogue Between the Earthly and the Spiritual, The Work of Alison Saar Is Shown Together In Major Survey
(ARTFIXdaily)
No. 483: Alison Saar, Maria Antelman
(The Modern Art Notes Podcast)
Visions of Power and Hope: Three SoCal Art Institutions Showcase the Art of Alison Saar
(KCET.org)
SoCal Museum News, Pantone Color of the Year, and more.
(Artillery Shoptalk)
Alison Saar, the Alchemist
(NY Times)
Sculptures: The Good, The Bad and The...
(Art Matters with Edward Goldman)
'She's Challenging You': Alison Saar's Sculptures Speak To Race, Beauty, Power
(NPR)
Alison Saar: of Aether and Earthe
(California Art Review)
Betye Saar, Her Daughters, and the House That Never Stopped Making Art
(BAZAAR)
Art Agency, Partners highlights upcoming show "Alison Saar: Of Aether and Earthe," with the Armory Center for the Arts at the new Benton Museum of Art
(Art Agency)


Major support for Alison Saar: Of Aether and Earthe at the Armory comes from Pasadena Art Alliance, with generous support for the Armory's public programs from the California Arts Council, a state agency, and additional support from Betsy Greenberg. Lead support for the exhibition catalogue comes from the Fellows of Contemporary Art.

Banner Image: Alison Saar, Hygiea (detail), 2020. Mixed-media installation. Dimensions variable. Photo by Ian Byers-Gamber. Courtesy of the artist, and L.A. Louver.

Catalogue Images: Photographed by Ian Byers-Gamer, courtesy of Content Object.

Upcoming Public Programs Image: Alison Saar, Catfish Dreamin' (maquette), 1991. Toy truck, wood, roof tin, wire. Collection of George Ciscle.