Allan Kaprow's Fluids recreated in Pasadena (once again)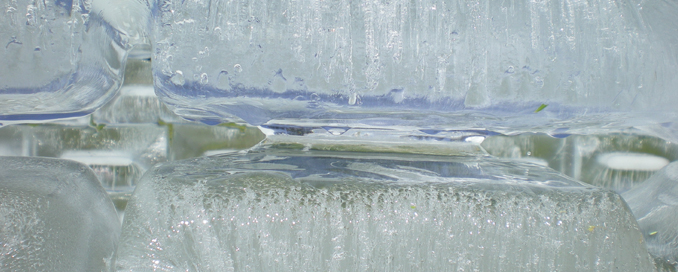 Dates: Friday, Apr 25, 2008 -
Friday, Apr 25, 2008
Hours:
Gallery Hours:
Fridays 2-6 PM, Saturday & Sundays 1-5 PM
Admission is always free.
Exhibition Opening:
Apr 25, 2008
During three days, about twenty rectangular enclosures of ice blocks (measuring about 30 feet long, 10 wide and 8 high) are built throughout the city. Their walls are unbroken. They are left to melt.
In conjunction with the exhibition Allan Kaprow - Art As Life organized by MOCA, on Friday, April 25, 11 a.m. - 4 p.m. the Armory Center for the Arts will recreate Allan Kaprow's famous Happening, Fluids, presented in Memorial Park. First realized at his 1967 exhibition at the Pasadena Art Museum, Fluids will be recreated by teams of volunteers and original participants.
The Armory's ties to this project run deep, as the original prototype for Fluids was built in Pasadena at the home of Armory Board Member and art philanthropist Peggy Phelps. During Kaprow's mid-career retrospective in October 1967 at the Pasadena Art Museum (from which the Armory Center for the Arts descended) the artist stayed at Phelps' home for three months and developed several projects including Fluids. Some of the original participants will be present during the restaging, including Peggy Phelps, Vaughn Rachel (Kaprow's ex-wife), and members of the Pasadena Art Alliance in the 1960s.
The ice structure will be comprised of hundreds of 20" x 10" x 10" ice blocks donated by The Union Ice Company, the original provider for the project in 1967. The structure will measure 30 feet long, 10 feet wide and 8 feet high and will be left to melt over the course of three days. This piece will be on display during City of Pasadena Greening the Earth Day and Armory Family Arts Festival and is free and open to the public for viewing.
The recreation of Fluids is coordinated by LACMA and supported in part by an in-kind donation from the Union Ice Company. Happenings are coordinated by The Museum of Contemporary Art, Los Angeles, and made possible by generous support from the Getty Foundation. The exhibition Allan Kaprow–Art as Life is organized by the Haus der Kunst, Munich, and the Van Abbemuseum, Eindhoven and is on view at The Geffen Contemporary at MOCA from March 23 to June 30, 2008.