A Pocket Full of Posies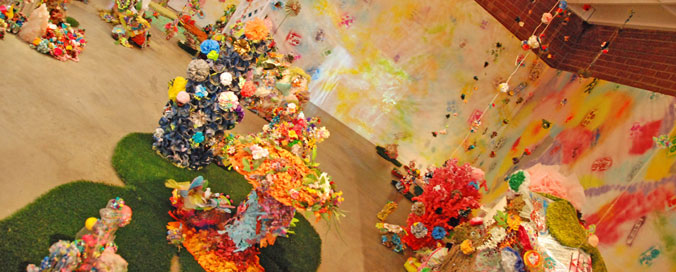 Dates: Tuesday, Jul 28, 2009 -
Thursday, Oct 15, 2009
Armory Center for the Arts and One Colorado are pleased to present Jennifer Vanderpool as the first Artist-in-Residence in an innovative program that unites commerce and culture at One Colorado.
Vanderpool is working and interacting with the general public from a dedicated space, The Artist Studio, which has been converted into a workspace and exhibition gallery at 24 Smith Alley.
Vanderpool is working on her art installation, A Pocketful of Posies, during workshop hours. A true art-in-the-marketplace concept, the public is invited to drop by to talk with the artist while she is creating her work. The public is also encouraged to become involved in the creative process. It's a rare opportunity for the community to both witness and share in the lifestyle of a contemporary artist. At the end of Vanderpool's three month residency, the public will be invited to view the completed work at a closing reception.
A Pocketful of Posies is a fantastical urban redevelopment garden consisting of flowering vegetation created from a bricolage of bejeweled recycled materials accompanied by audio and animation. Visitors are invited to create a flower from the selection of available recycled materials. Flowers may be planted in the community section of the garden or taken home as a remembrance. Visitors are also welcome to purchase ornately decorated and bejeweled terrarium and dish gardens to take home as a memento of paradise, a posey from their visit to the park.
Jennifer Vanderpool is a Los Angeles-based artist who works with experimental film, video, animation, and sound in her large-scale indoor and outdoor installations. Documentation of her work is available at www.jennifervanderpool.com/.
Open to the public Tuesdays and Thursdays, noon-8 p.m., and Saturdays, 10 a.m.-6 p.m. The space is located in the walkway behind Il Fornaio, next to J.Crew at One Colorado, located between Fair Oaks, Colorado Boulevard, Union Street, and Delacey in Old Pasadena. onecolorado.com