International Mail Art in Honor and Memory of Judith Hoffberg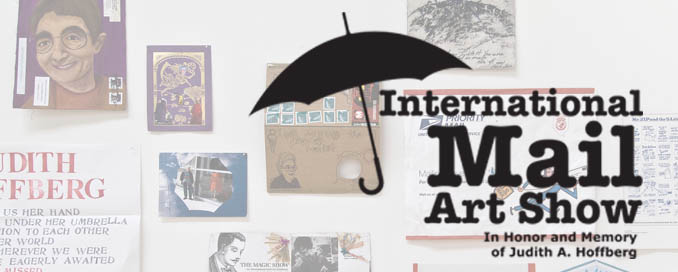 Dates: Sunday, Jun 27, 2010 -
Sunday, Sep 5, 2010
Hours:
Gallery open Fridays, 3 - 7 PM
Saturdays & Sundays, 1 - 5 PM
Free admission, donations appreciated
Exhibition Opening: Jun 26, 2010
7:00 PM to 9:00 PM
An exhibition of International Mail Art in Honor and Memory of Judith Hoffberg is being organized by the Armory Center for the Arts, where it will be on view in the Caldwell Gallery June 27 through August 22, 2010. A public exhibition opening will take place Saturday, June 26, 7-9 p.m. Mail art for the exhibition has been received from over 25 countries on almost all continents. The exhibition is organized by Jay Belloli, Director of Gallery Programs at the Armory.
Mail art is art which uses the postal system as a medium. Mail art is also known as postal art and is sometimes referred to as Correspondence/Mail Art. Mail artists typically exchange ephemera in the form of illustrated letters; rubberstamped, decorated or illustrated envelopes; artist trading cards; faux postage; and three-dimensional objects. This exhibition has allowed the inclusion of e-mail art, acknowledging one of the standard means of communication.
An international mail art network, involving thousands of participants in over fifty countries, evolved between the 1950s and the 1990s. It was influenced by other movements, including Dada and Fluxus. One theme in mail art is that of commerce-free exchange; early mail art was, in part, a snub of gallery art, juried shows, and exclusivity in art.
Judith A. Hoffberg (1934-2009) was an avid and active promoter of mail art and artists' books. She was editor and publisher of Umbrella, a newsletter devoted to all manner of art publishing and art exhibitions. In addition to Judith's work as a librarian, archivist, lecturer and curator, she gave unstintingly of her time and energy to promote artists through her encouragement and connections in the art world. All mail art included in the exhibition will be donated to the Judith A. Hoffberg Archive at the Library, University of California, Santa Barbara, with the permission of the artists.

Click HERE for a list of participants in this exhibition.
• See Exhibition Pics on Flickr