Kristi Lippire: Hybrid: Lombardi, Druid and the LA Zoo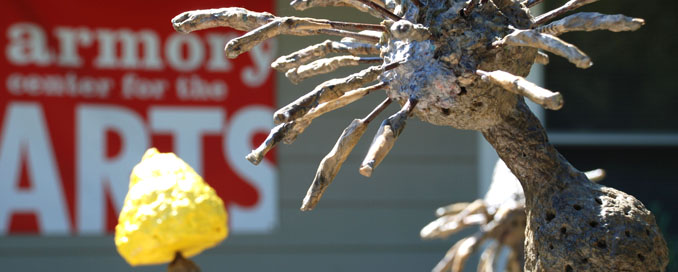 Dates: Monday, May 2, 2011 -
Wednesday, May 2, 2012
Hours:
Armory Center for the Arts is
temporarily closed to the public.
Kristi Lippire's temporary public sculpture at the Madison Neighborhood Casita entitled, Hybrid: Lombardi, Druid and the LA Zoo draws reference from three distinct plants found in her travels around Los Angeles, specifically her El Sereno neighborhood. The eight foot papier maché object is indicative of her aesthetic of creating objects which explore scale and material, and reference the visual culture that surrounds her every day. The dominant feature is an exaggerated representation of an agave plant equipped with lemons to cover the sharp tips - a facet that struck her as oddly appealing and amusing when she came across such an object in person. Distinctive features like this are testament to her skill at isolating moments in everyday life that she finds to be interesting in a manner that emphasizes the humor of a complex social culture. The piece genially sits in the Casita's garden setting.
Funding for Kristi Lippire's Hybrid: Lombardi, Druid and the LA Zoo comes from the National Endowment for the Arts.
• See Exhibition Pics on Flickr