Chris Burden: Small Skyscraper @ One Colorado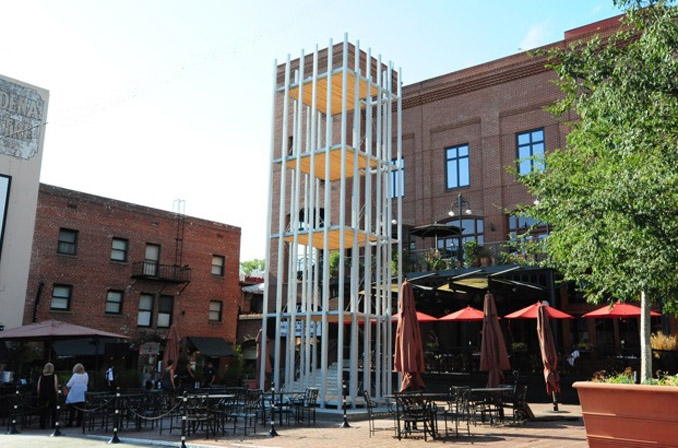 Dates: Saturday, Aug 11, 2012 -
Sunday, Nov 11, 2012
Hours:
Galleries are open by appointment Fridays 3:00 to 7:00 PM, Saturdays and Sundays 1:00 to 5:00 PM.
Admission is always free.
Exhibition Opening: Sep 29, 2012
4:00 PM to 6:00 PM
Armory Center for the Arts and One Colorado, in Pasadena, California, are pleased to present Small Skyscraper, a temporary, large-scale, outdoor sculpture by world-renowned artist Chris Burden. Small Skyscraper will be sited in the One Colorado Courtyard, located in Old Pasadena, and will be on display from August 11 - November 11, 2012. In conjunction with ArtNight Pasadena, a free, city-wide arts festival, a reception will take place on Friday, October 12th, from 6 -10pm. Generous funding of Small Skyscraper comes from One Colorado.
"A modern-day log cabin"
Small Skyscraper is a sculpture as well as a prototype for a hypothetical dwelling. Described by Burden as "a modern-day log cabin," Small Skyscraper represents a quasi-legal structure that exploits a loophole Burden discovered in the Los Angeles County building codes. This loophole, since closed, allowed small out buildings, like green houses and sheds, to be built without a permit if they stayed within 400 square feet and under 35 feet high. Small Skyscraper uses these legal size restrictions as a point of departure. The total structure, constructed with a prefabricated interlocking aluminum framework, consists of four rooms stacked one on top of the other, measuring 400 square feet and rising 35 feet in height. Even though Small Skyscraper strictly adheres to the County's spatial requirements, it continues to push the legal and physical parameters of architectural construction because of added design features, such as a low roof parapet, and because it functions as a hypothetical domestic dwelling.
According to Irene Tsatsos, Chief Curator at the Armory Center for the Arts, "The piece is a beautiful and provocative work of art that embraces and exploits tenets of architecture and design. Nearly ten years after its debut at LACE, Small Skyscraper continues to provoke consideration of the merits, conventions, and limitations of traditional dwelling spaces and serves as reminder of the growing and urgent need for affordable, portable shelter around the world."
About the artist
Chris Burden's large and diverse body of work has confronted and upended art world conventions throughout his career into the present. The website of Gagosian Gallery, which represents Burden, notes: "During the early seventies, Burden's first mature works were characterized by the idea that the truly important, viable art of the future would not be with objects; the things that you could simply sell and hang on your wall. Instead art would be ephemeral and address political, social, environmental and technological change.
Chris Burden was born in Boston, Massachusetts in 1946. He moved to California in 1965 and obtained a B.F.A at Pomona College, Claremont, California in 1969 and later an M.F.A at the University of California, Irvine in 1971. He has had major retrospectives at the Newport Harbor Art Museum, Newport Beach, California (1988) and the MAK-Austrian Museum of Applied Arts, Vienna (1996). In 1999, Burden exhibited at the 48th Venice Biennale and the Tate Gallery in London.
One Colorado
One Colorado is an outdoor shopping, dining, and entertainment destination spanning one city block in Old Pasadena, between Colorado Boulevard, Union, Delacey, and Fair Oaks. This award-winning property unites the urban environment of 17 historic buildings with over 30 contemporary fashion and dining attractions. The One Colorado Courtyard, designed in the tradition of European town squares, is Old Pasadena's main public space for film festivals, live music, fine art markets, children's programs, and site-responsive art installations organized by the Armory Center for the Arts.
Related articles and resources:

This project is funded by One Colorado, organized by Armory Center for the Arts, with additional support from National Endowment for the Arts.