Dawn Kasper: Music for Hoarders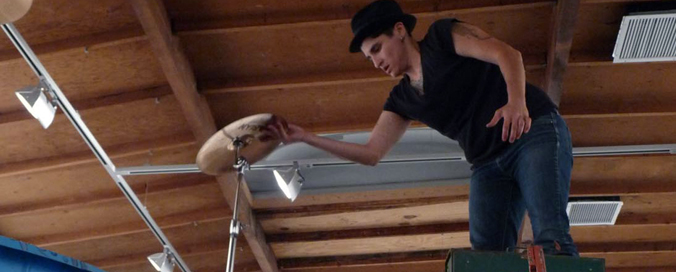 Dates: Sunday, Feb 12, 2012 -
Sunday, Jun 10, 2012
Hours:
Galleries are open by appointment Fridays 3:00 to 7:00 PM, Saturdays and Sundays 1:00 to 5:00 PM.
Admission is always free.
Exhibition Opening: Feb 11, 2012
7:00 PM to 9:00 PM
Armory Center for the Arts is pleased to present an exhibition entitled Music for Hoarders, a video projection and installation by Los Angeles-based artist Dawn Kasper that documents a live "visual poem performance action" of the same name. Music for Hoarders, organized by Armory curator Irene Tsatsos, will be on display from February 12 – May 13, 2012 in the Armory's Pasadena Art Alliance Gallery. A public opening reception will take place on Saturday, February 11 from 7-9pm in conjunction with Armory's opening of simultaneous solo exhibitions by Richard Jackson, Nicolas Grider, and Jocelyn Foye. The exhibitions by Kasper, Grider, and Foye coincide with the Armory's lead exhibition, Richard Jackson's Accidents in Abstract Painting, the Armory, creating an opportunity for visitors to reflect on the shared conceptual and/or formal considerations between and among the works.
Originally performed in 2010 at Honor Fraser Gallery in Culver City, California, the performance Music for Hoarders featured a unique musical score designed specifically for the gallery environment. The structure of their composition was determined according to a performer's spontaneous interactions with a large and unwieldy set of found everyday objects that had been stacked in the middle of the space. Musicians employed an aleatoric technique; they played whenever an object was touched, each musician assigned a sound to that object, each sound was performed during the duration of the object's use, and the sound assisted in informing the performer's movements during the duration of the performance. The improvised musical interpretations of everyday objects compounded throughout the performance; the resulting full, layered sound, "hoarded" in the gallery, was meant to invoke the idea and physical sense of the hoarding of human emotions. The Armory will present documentation of this performance in a single-channel video installation with chairs and a new painting directly on the wall.


About the Artist

The work of Los Angeles-based performance artist Dawn Kasper addresses a deep fascination with the subjects of vulnerability, desire, process, and the construction and location of meaning. She critiques the corporate aspects of our culture by examining emotions – such as fear, panic, hate, envy, lust – through which advertisers, news media, and other commercial entities, manipulate us, and in doing so strives to create a place of shared camaraderie. Kasper often performs in a premeditated yet spontaneous manner, generally using props, slapstick comedy, and monologue to ask fundamental questions such as What is existence? or What is a physical object?. She then attempts to answer these life questions, and more, while inhabiting different characters and personas, each differentiated through costume and costume changes, with all shifts taking place before the audience.
The environments in which Kasper performs, created through the use of props, musical instruments, and diverse personae, provide what she calls an "open-air laboratory (of thought)," creating a theatrical space while also doubling as a platform for living sculpture. "Everything is in play," she says, "and everything is mobile." Kasper often repeats actions and gestures in her performances, invoking a feeling of ritual or ritualistic behavior. Kasper's performances are often extremely physical – her various characters often construct a sculpture or installation, marking her study into being and process, and serving as an illustration of her findings.
Dawn Kasper has performed and exhibited internationally at galleries and institutions including the Migros Museum Für Genenwartskunst in Zurich and LISTE Basel, both in Switzerland; Art Basel Art Positions and David Castillo Gallery, both in Miami; Newman Popiashvili Gallery, Leo Koenig Inc., Projekte, and Art in General, all in New York; Copy Gallery, Philadelphia; and Anna Helwing Gallery, Circus Gallery, J. Paul Getty Museum, Los Angeles County Museum of Art, Los Angeles Contemporary Exhibitions, Hammer Museum, and Museum of Contemporary Art, all in Los Angeles. Kasper is one of the acting co-directors of the performance and experimental art venue Human Resources in Los Angeles.
Dawn Kasper: Music for Hoarders is on view in the Pasadena Art Alliance Gallery at the Armory at 145 North Raymond Avenue, Pasadena. Gallery hours are Tuesday – Sunday, noon-5pm. $5 suggested donation. Armory members, students, and seniors are free. The Armory is easily accessible from the Gold Line Memorial Park Station in Pasadena. For information about Armory exhibitions and events, the public may call 626.792.5101 x122. or visit the Armory website at www.armoryarts.org.