The Full Dollar Collection of Contemporary Art on York Blvd. by X. Andrade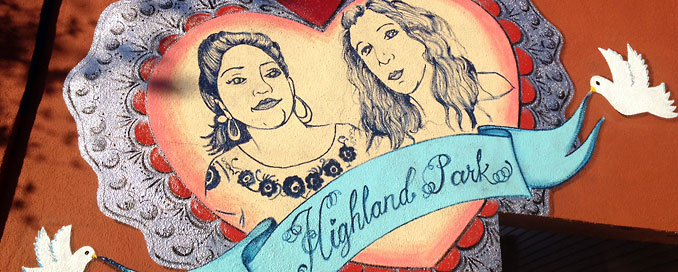 Dates: Thursday, Nov 15, 2012 -
Wednesday, Dec 31, 2014
Hours:
Galleries are open by appointment Fridays 3:00 to 7:00 PM, Saturdays and Sundays 1:00 to 5:00 PM.
Admission is always free.
Outpost@Armory is pleased present The Full Dollar Collection of Contemporary Art, an ongoing, neighborhood-based public art project conceived and launched by X. Andrade, an artist and anthropologist based in Ecuador. Andrade reconsiders the traditions of public art, signage, and murals by inviting collaboration between teams of artists, sign painters, and business owners. In the process he reveals and celebrates the inherent challenges of translation that occur within collaborative undertakings. This iteration of Full Dollar, realized for the first time in the United States, features four collaboratively produced images, hand painted by professional sign painters and inspired by the work of visual artists, on the storefronts of partnering businesses along York Boulevard between Avenues 50 and 52.
The resulting signs will be on display for one year and are made by the following teams:

Sign painter Rodolfo Cardona ("Kardona"), visual artist Ruby Osorio, and Awesome Playground, an indoor/outdoor children's play area.

Sign painter Anna Ialeggio, visual artist Martin Durazo, and Digicolor, a digital image lab.

Sign painter Kimberley "The Window Goddess" Edwards, visual artist Shizu Saldamando, and Mi Vida, a lifestyle boutique.

Sign painter Rodolfo Cardona ("Kardona"), artist Sandow Birk, and The Nogueira Building, a leading proprietor in the community since the 1960s.
Presented by Pop-Hop Books & Print. The Full Dollar Collection of Contemporary Art in Highland Park is produced by Outpost@Armory with support from the Los Angeles Department of Cultural Affairs and the Los Angeles County Arts Commission.
Media
Click here to see images of the exhibition on Flickr

About X. Andrade
X. Andrade (Otavalo, Ecuador, 1963) currently lives and works in New York City by way of Guayaquil and Quito, Ecuador where he was the Chair of the Visual Anthropology Program at the Latin American Graduate Faculty for Social Sciences (FLACSO-Ecuador). He defines himself as "an urban anthropologist and Chairman-for-Life of Full Dollar Inc., a company that traffics in anthropology and contemporary art." His work is informed by his interest in casting an ethnographic look on the social life of objects, images, and ideas in an urban context.

Full Dollar Inc. is a company created by Andrade that involves collaboration with artists and serves to explore the fringes between anthropology and contemporary art. Its preferred strategy is appropriation, ranging from buildings, pieces or parts of generic landscapes to commercial logotypes, works and/or texts on art history, and cultural-management initiatives. Full Dollar parodies the authorized languages of art and the dominant discourse on public spaces.

About Outpost@Armory
In late 2011, the celebrated artist- and neighborhood-centered organization Outpost for Contemporary Art was at a critical financial and administrative juncture. Rather than see the organization close, Armory Center for the Arts invited Outpost into the Armory fold with the aim of maintaining Outpost's well-regarded programmatic vitality while augmenting Armory's spirit and capacity to invent. Through focused planning and collaboration, a vision is emerging for melding Outpost's international and community-based programs with Armory's respected gallery and arts education programs.