A Far Country: Gaman Birds of Masato Wayne Sumida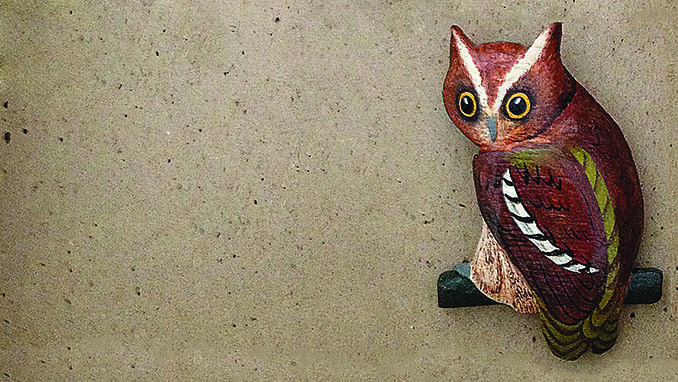 Dates: Sunday, Oct 13, 2013 -
Sunday, Jan 26, 2014
Exhibition Opening: Oct 12, 2013
7:00 PM to 9:00 PM
The Armory Center for the Arts is pleased to present a collection of hand-carved, hand-painted birds and other animals, made by Japanese national Masato Wayne Sumida while interned at Poston War Relocation Center in La Paz County, Arizona. The exhibition, in the Armory's Mezzanine Galleries, opens on Sunday, October 13, 2013 and runs through Sunday, January 26, 2014. A reception, free and open to the public, will take place on Saturday, October 12, from 7-9pm. A Far Country: Gaman Birds of Masato Wayne Sumida has been organized by Armory's Gallery Director / Chief Curator Irene Tsatsos.

Poston War Relocation Center was located on a reservation three miles east of the Colorado River, was the largest Japanese internment camp, and was known for its poor sanitation and the unsettling relations between the interned Japanese and Japanese-Americans and the Colorado Native Americans who remained on the land after its repurposing. Masato Wayne Sumida lived at Poston for nearly 4 and a half years, from May 27, 1941 to November 20, 1945.

Sumida's exquisite carvings – between 1" and 5" – depict a variety of brightly colored small animals, including fish and squirrels, but most are ornately painted birds. He made numerous carvings of mallards, cardinals, swans, owls, and more – each similar, yet with its own unique personality.

Sumida's practice was associated with gaman, the Japanese Zen Buddhist term that refers to the idea of bearing through suffering with dignity and patience. During WWII, it also became synonymous with the objects made by the men and women who were held in the internment camps. Following the Pearl Harbor attack, ethnic Japanese were notified that they would be relocated within a week and that they were to carry everything they would need with them. Upon arrival at the camps, men, women, and children were housed in small rooms scantily furnished with a single light bulb, a wood burning stove, and cots. At first, people met their basic needs making chairs, knives, and posts on which to hang laundry. As their internment persisted, their production turned away from everyday practicalities and developed into an art form that symbolized their resilience and composure.

Masato Wayne Sumida's beautiful carved and painted objects had been in safekeeping by his granddaughter Wendy Al and her husband, the artist Billy Al Bengston, after being found stored in a large trash can in her grandparents' garage. Many Japanese-Americans of the era neglected to speak of the period, and the gaman made during internment were often given away, some sold at garage sales, or forgotten in storage spaces waiting to be rediscovered by the artists' descendants decades later. Sumida's son, Paul, recalls giving the birds, which were fashioned into earrings, brooches, and lapel pins, to his teachers as gifts.

Masato Wayne Sumida was born in Hiroshima Prefecture on October 13, 1903 and was orphaned at an early age. When he was 14 years old he took a boat to Mexico, arriving there illegally. He later swam across the Rio Grande River to enter the US. Before being interred Sumida lived in Boyle Heights, CA, where he worked as a gardener. After his release, he settled in Gardena, CA and took work as a sign painter. He was married to Hisako Sumida, who survived him. Masato Wayne Sumida died on September 12, 1995. The Sumida family members rediscovered the objects following Hisako's death in 1999. Billy Al, seeing the objects for the first time, was overwhelmed by their creativity and beauty and launched the family's efforts to preserve the collection.

The title of this show, A Far Country: Gaman Birds of Masato Wayne Sumida, quotes a line of haiku from Yajin Nakao, a poet interned at Rohwer War Relocation Center in Desha County, Arkansas:

Autumn foliage
California has now become
a far country

The tradition of haiku and other forms of poetry and writing persevered in the camps, where writers were able meet to discuss their works.

A Far Country: Gaman Birds of Masato Wayne Sumida runs in conjunction with the group exhibition Home Away, organized by Los Angeles-based independent curator Kris Kuramitsu, which highlights and contextualizes a group of artists that work in Los Angeles as well as other locations in Asia and Latin America, among them Ho Chi Minh City, Tokyo, Mumbai, Tijuana, Guadalajara, and Mexico City.


Review: Masato Wayne Sumida's intricate carvings lift the spirits
LA Times, Sharon Mizota
Click here to view images of the exhibition on Flickr

About the Armory
Armory Center for the Arts, in Pasadena, California, believes that an understanding and appreciation of the arts is essential for a well-rounded human experience and a healthy civic community. Founded in 1989, the Armory builds on the power of art to transform lives and communities through presenting, creating, teaching, and discussing contemporary visual art. The organization's department of exhibitions mounts over 25 visual arts exhibitions each year at its main facility and in locations throughout the City of Pasadena. In addition, Armory offers studio art classes and a variety of educational outreach programs to more than fifty schools and community sites.

Parking is available on the street or in the Marriott garage directly north of Armory for free for 90 minutes. Armory is off the Gold Line at Memorial Park – walk one half block east to Raymond and one half block north to Armory. For more information please visit www.armoryarts.org.