Joshua Callaghan: Ladder at Full Reach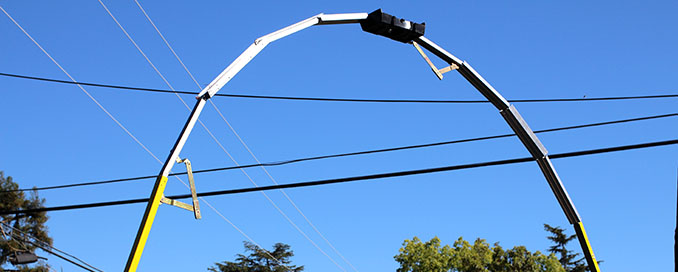 Dates: Saturday, Jul 6, 2013 -
Thursday, Jul 31, 2014
Joshua Callaghan: Ladder at Full Reach extends a welcome to visitors at the Armory Center for the Arts' Madison Neighborhood Casita
The Armory Center for the Arts is proud to present Joshua Callaghan: Ladder at Full Reach, a large-scale outdoor sculpture by Los Angeles-based artist Joshua Callaghan. The sculpture is cited at the Madison Neighborhood Casita, a neighborhood center maintained by the Armory Center for the Arts, which features rotating public art exhibitions. Joshua Callaghan: Ladder at Full Reach opens on Saturday, July 6, 2013. It has been organized for the Armory by Sinéad Finnerty-Pyne, Gallery Manager / Assistant Curator.
Joshua Callaghan's work explores how ordinary objects can be transformed through simple gestures into something quite unexpected. With a combination of humor and admiration, Callaghan manipulates common forms in an attempt to "find their humanity." In doing so he isolates unexpected aspects of the objects, unleashing their alternative potential. "This strategy in art is pervasive," Callaghan says, " so it comes down to what you make and how you make it."
Ladder at Full Reach, an outdoor sculpture at the Madison Neighborhood Casita is comprised of a standard 6-foot ladder that has been taken apart, with all the parts placed end-to-end into a single line. Each of the two tips is planted into the ground to create an arc that curves over the entrance walkway of the Casita, acting as a gateway. The arrangement of the deconstructed parts is not symmetrical or ordered in any way, but alludes to the composition of a ladder to subtly remind us of what we are viewing – i.e. the legs (or spreaders) placed at the the base of both sides and the top cap centered at the apex, like a keystone. The hinges are detached from the continuous span, giving dimension to the essentially flattened three-dimensional form.


For images of Ladder at Full Reach, click HERE.
Visitors to the neighborhood center, which offers a variety of programs and studio courses to Pasadena's Madison neighborhood community, will pass under this buoyant threshold – comprised of plastic and aluminum – that ironically carries a lot of weight, metaphorically. One may ask if walking under a deconstructed ladder still provokes the same level of apprehension as its functional counterpart? Callaghan encourages questions like these, as he continues to explore how by altering an object's form one can suddenly highlight its cultural properties, suggest narratives, and be comic or disturbing.
Joshua Callaghan: Ladder at Full Reach was created with generous assistance from Brett Goldstone.
About the Artist
Born in Doylestown, Pennsylvania, in 1969, Joshua Callaghan earned an MFA from the University of California, Los Angeles in 2005 and a BA in Cultural Anthropology from the University of North Carolina at Asheville. His work has been exhibited at Haas & Fischer Gallery, Zurich; Bank Gallery, Los Angeles; Galleria Fortes Vilaça, São Paulo; the Sweeney Gallery at University of California, Riverside and LA Louver in Venice, CA.
About La Casita
La Casita is a vibrant neighborhood center, maintained by the Armory Center for the Arts, which offers a variety of programs and studio courses to the Madison neighborhood community. Community partners include the Arroyo Time Bank, Centro de Educación del Pueblo, CEP Teens, Hombres Unidos, Latino Heritage, Madison Elementary, Pasadena Youth Center, and the San Gabriel Valley Literary Council. Madison neighborhood residents of all ages take part in Armory-led art classes, such as digital art and silk screening, and participate in programs such as parental training, after school tutoring for middle school and teen students, English language classes for adults, job preparation training, as well as pre-school classes. Since 2010, the Armory Exhibitions Department has produced a temporary public art program in the garden in front of La Casita.
• See Exhibition Pics on Flickr