Karen Lofgren: Stabilizers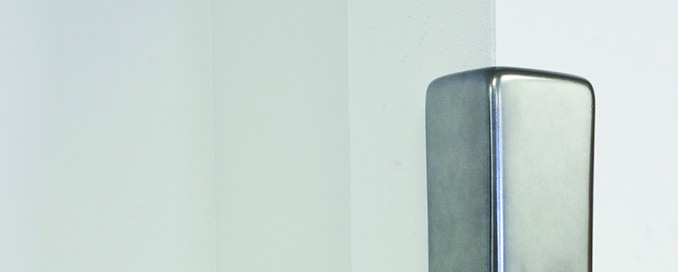 Dates: Wednesday, Jul 10, 2013 -
Thursday, Jul 31, 2014
Exhibition Opening: Jul 13, 2013
7:00 PM to 9:00 PM
Artist Karen Lofgren Launches Architectural and Metaphysical Inquiry in a Staircase at Armory Center for the Arts
Armory Center for the Arts is pleased to present Karen Lofgren: Stabilizers, a temporary, site-responsive installation by Los Angeles-based artist Karen Lofgren. The installation, cited in the Armory's central stairway, opens on Wednesday, July 10, 2013. A reception, free and open to the public, will take place on Saturday, July 13, from 7-9pm. Karen Lofgren: Stabilizers has been organized for the Armory by Sinéad Finnerty-Pyne, Gallery Manager / Assistant Curator.
Karen Lofgren's sculptural work, Stabilizers, calls attention to an unspoken sensation of uncertainty that resides within, and uses our vulnerability in architecture as a metaphor to address larger, existential uncertainties. Entering the Armory's stairway, the viewer is met by subtle, ambiguous, exquisitely finished shapes that resemble freshly poured liquid metal. Bracket-like in their reference and sensuous and minimal in their appearance, the objects nestle into the corners and edges of the walls, guiding our attention to spaces that are rarely regarded and generally overlooked. They awaken our spatial awareness and invite our consideration of architectural infrastructure, what we presume is there to protect us.
In Lofgren's playful yet cerebral approach to artmaking, she uses soft organic forms as stand-ins for stalwart angularity, serving up a quiet yet pointed criticism of the authority of architectural infrastructure. The purposeful ambiguity that exists within Lofgren's work allows the viewer to call into question the difference between belief and illusion, and expose what we presume is fixed. Her work references recent ideological points of view including feminism and self-actualization, as well as early traditions such as medieval alchemy and ancient mythology. In Lofgren's work, historical and philosophical content is transformed to create objects and environments that reflect and then dissolve the familiar.


About the Artist
Karen Lofgren is a Toronto-born and LA-based artist who completed her MFA at California Institute of the Arts in Valencia. Recent solo projects in California include Believer at Machine Projects and Signs Point to Yes at Los Angeles Contemporary Exhibitions, both in Los Angeles; Gold Flood at Pitzer Art Galleries in Claremont; and Blood Sister at Royale Projects in Palm Springs. Lofgren's work has been featured in Critic's Picks of artforum.com, LA Weekly, and Los Angeles Times, as well as books, catalogues, and album covers, and she has received awards from Canada Council and Durfee Foundation.