The Armory Show and Tell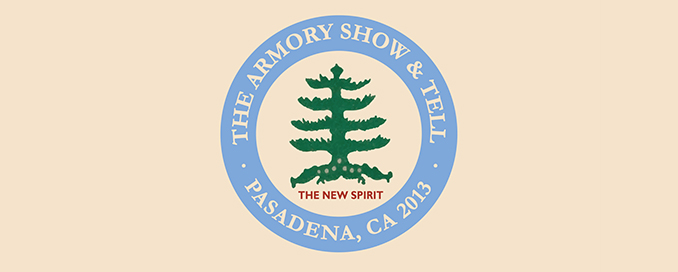 Dates: Wednesday, Jul 10, 2013 -
Sunday, Sep 22, 2013
Exhibition Opening: Jul 13, 2013
7:00 PM to 9:00 PM
Armory Center for the Arts examines the past, celebrates the present, and informs the future in The Armory Show and Tell, a group exhibition comprised of artists invited to "perform your practice."
The Armory Show and Tell is a series of 35 events that comprise a group exhibition. An event will occur in the Caldwell Gallery each Wednesday through Saturday from July 10 through August 31, from 12:45pm to 1:45. Two additional events fall outside this schedule: art Bingo with Justin Lowman on Saturday, July 13, 7–9pm and a petting zoo and presentation on "cute" with Micol Hebron on Saturday, September 21, 7–9pm. Events are free and open to the first 20 participants; no reservations are required. Remnants from each event will accrue and be displayed during the course of the exhibition, which will culminate in a closing reception on Saturday, September 21, 2013 from 7-9pm. The exhibition will be on display through Sunday, September 22.
• Event Schedule

• See Images of Flickr

• See Performance Videos
The Armory Show and Tell coincides with the launch of the Armory's 25th season of exhibition programs as well as the 100th anniversary of the 1913 Armory Show, the first exhibition of modern art in the US. For the past 25 years, Armory Center for the Arts has distinguished itself through its commitment to the notion of artist as educator. Today, The Armory Show and Tell has invited current and former Armory teaching artists and audiences to interrogate that idea; it centers around daily public presentations by 35 of more than 300 current and former Armory teaching artists who responded to an invitation to "perform your practice" in the Armory's Caldwell Gallery. These artists have been further invited to leave behind a remnant of or detritus from their events, to be incorporated into an exhibition that expands over its 11-week duration.
The Armory Show and Tell's projects surprise, amuse, delight, and enlighten: they include a game of art Bingo, conceived of by Justin Lowman and inspired by the famous chess match between Duchamp and Eve Babitz at the Pasadena Art Museum; a petting zoo and analysis of "cute" by Micol Hebron; an improbable mash-up of line dancing, the work of Jean Arp, and spiritual music, connections among which are drawn by Elizabeth Harvey; and an example of "paying it forward" by Mary Weatherford who, in the spirit of generosity shown to her nearly twenty years earlier by Armory Teaching Artist Georgia Fee, regifted her invitation to participate in The Armory Show and Tell to Lauralee Pope (the only artist involved who has never taught at the Armory). Taking an unexpected approach to the invitation, David P. Earle responded by devising a method for managing the detritus from each event and its subsequent integration into the exhibition.
Collectively, the entire program embraces a dynamic range of conversations, demonstrations, and interactions around ideas that inform the practices of the 35 participating artists, including: risk analysis, Hawaiian haku leis, silent walking, the connection between painting and cooking, immigration and parallel universes, sweatshop labor, fringe sciences, group identity, growing crystals, mapping hypothetical landmarks, and more. Conceptually, The Armory Show and Tell pivots around ideas of "display" and "production" and considers the biases inherent in what we choose to make public, and how.
The following artists, some of whom will be collaborating with each other, are participating in The Armory Show and Tell: Stephanie Allespach, Edgar Arceneaux, Quinton Bemiller, Molly Cleator, Eileen Cowin, Denise & Scott Davis, David Earle, Simone Gad, Bia Gayotto, Michelle Glass, Emilie Halpern, Elizabeth Harvey, Micol Hebron, Robby Herbst, Robert S. Hilton, Hugo Hopping, Alice Könitz, Olga Koumoundouros, Nery Gabriel Lemus, Julie Lequin, Justin Lowman, Nuttaphol Ma, Matt MacFarland, Tracy Nakayama, Ruby Rose Neri, Jill Newman, Elonda Billera Norris, Ruby Osorio, Gina Osterloh, Anna Oxygen, Josh Peters, Lauralee Pope, Elena Rosa, Shirley Tse, Hataya Tubtim, Matt Wardell, Mary Weatherford, and Jacob Yanes.
The Armory Show and Tell is organized by Gallery Director / Chief Curator Irene Tsatsos with Gallery Manager / Assistant Curator Sinéad Finnerty-Pyne. The Armory Show and Tell and its accompanying publications, which announce and document the exhibition and events, are made possible by a generous grant from the Pasadena Art Alliance.