Caught Looking: Simone Gad, Tracy Nakayama, Ruby Neri, Lauralee Pope, Mary Weatherford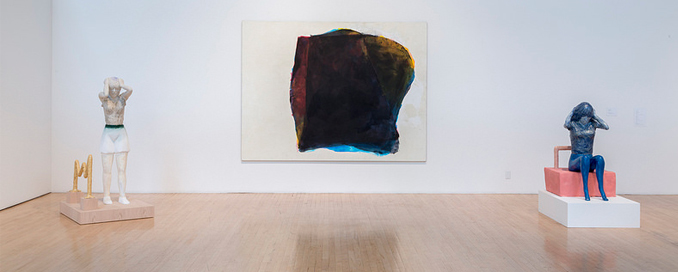 Dates: Sunday, Feb 16, 2014 -
Sunday, Jun 8, 2014
Hours:
Galleries are open by appointment Fridays 3:00 to 7:00 PM, Saturdays and Sundays 1:00 to 5:00 PM.
Admission is always free.
Exhibition Opening: Feb 15, 2014
7:00 PM to 9:00 PM
In conjunction with its 25th anniversary, Armory Center for the Arts presents Caught Looking: Simone Gad, Tracy Nakayama, Ruby Neri, Lauralee Pope, Mary Weatherford, an exhibition of works by five painters who have taught or led workshops at the Armory during its tenure as one of Pasadena's leading arts institutions. The exhibition includes painting, collage, and sculpture by Simone Gad, Tracy Nakayama, Ruby Rose Neri, Lauralee Pope, and Mary Weatherford, five artists working at different stages of their careers. The exhibition opens in the Armory's Caldwell Gallery on Sunday, February 16 and runs through Sunday, June 8th, 2014. A reception, free and open to the public, will take place on Saturday, February 15 from 7-9pm. Caught Looking: Simone Gad, Tracy Nakayama, Ruby Neri, Lauralee Pope, Mary Weatherford has been organized by the Armory's chief curator Irene Tsatsos.
The title of the show references a feminist catalogue, published 25 years ago, that challenged the existing assumptions of second-wave feminists around the relationship of provocative imagery to the objectification of women. Caught Looking engages with the expectations of the gaze and focuses on the way that the artists simultaneously meet, and defy those expectations. The viewer is challenged to consider their relationship to the image, whether provocative, provisional, or deeply personal, in an attempt to preempt the automatic nature of "looking." The show title suggests that though looking may be an mostly involuntary act, if a viewer is able to maintain awareness, new avenues for understanding an image can arise.

Image: Mary Weatherford, Bonnard colors cave, 2011. Flashe on linen, 64 x 78 inches. Courtesy Brennan & Griffin, New York