Expanding on an expansive subject, Part 1: Margie Livingston, Paint as canvas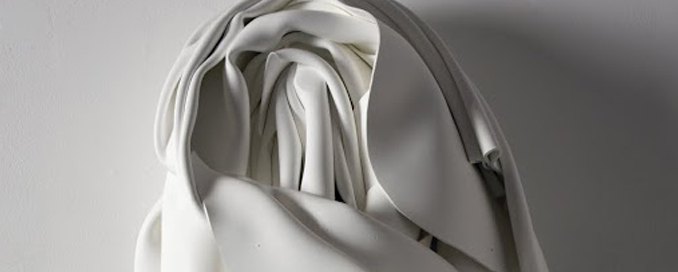 Dates: Sunday, Jul 13, 2014 -
Friday, Aug 29, 2014
Hours:
Gallery Hours:
Fridays 2-6 PM, Saturday & Sundays 1-5 PM
Admission is always free.
Exhibition Opening: Jul 12, 2014
7:00 PM to 9:00 PM
Armory launches Expanding on an expansive subject,
a year-long, nine-part exhibition comprised of
a sequence of intimate solo shows
that collectively explore
the cross-disciplinary aspects of painting.
Part 1 features work by Margie Livingston.
Armory Center for the Arts presents Expanding on an expansive subject, an exhibition about contemporary painting that unfolds in nine parts over the course of a year. Expanding on an expansive subject launches with an exhibition by Margie Livingston, entitled Paint as canvas, in the Armory's Pasadena Art Alliance Gallery. A reception, free and open to the public, will take place on Saturday, June 12 from 7-9pm. The show runs from Sunday, July 13 through Friday, August 29, 2014***. Expanding on an expansive subject has been organized by the Armory's Gallery Manager / Assistant Curator Sinéad Finnerty-Pyne.
In order to explore new meaning in a centuries-old artistic pursuit, Expanding on an expansive subject features nine artists' investigations of painting's range and potential as a cross-disciplinary medium and its relationships to the disciplines of sculpture and performance. The show asserts a unique model as a group exhibition displayed as individual solo projects in the Armory's intimate Pasadena Art Alliance Gallery, located on the building's second floor. Expanding on an expansive subject will open with work by Margie Livingston, followed by Analia Saban, John Burtle, and others to be announced. Each of the nine parts of Expanding on an expansive subject will run for approximately six weeks.
After a series of deaths and rebirths, painting has emerged in recent decades in an expanded form: as a medium, material, process, object, concept, and discourse. This exhibition examines nine artists' responses to the materiality and fluidity of the ever-evolving practice of painting through an engagement with multiple disciplines. The artists in Expanding on an expansive subject embrace contemporary painting's lenient disciplinary boundaries as they embrace a newfound freedom with the medium.
Margie Livingston, the first in the series of artists, is a painter that engages in a conversation with painting and sculpture. In 2009, she abandoned the canvas to create self-contained objects with pure paint. Her process involves the use of large quantities of acrylic paint poured onto her studio floor; the paint eventually becomes building blocks to construct layered abstract sculptures called paint-objects. Through a gesture of expression and spontaneity in the spirit of action-painting and the poured paintings of Lynda Benglis, Livingston drizzles paints to create lines and patterns that are then cut, folded, smeared, and assembled into multiple two and three-dimensional forms.
In her forthcoming project in Expanding on an expansive subject, Livingston will exhibit an intimate selection of recent paint-objects, which both isolate and combine various elements of her laborious process. Her draped paintings, for instance, are created from a single layer of poured paint, which is swathed like a coat over a hook. These sculptures suggest various ideas, from the corporal semblance of paint as skin that sags with the force of gravity over time, to the drapery that has covered flesh throughout the history of art. The fabric-like appearance also brings the conversation back to the canvas on which paintings are traditionally made. Livingston asserts that by abandoning the canvas she is able to push the idea of painting as a "flexible" medium that can be expanded upon while still engaging with the traditions that have come before.
Margie Livingston is a Seattle-based artist who earned her MFA in Painting from the University of Washington, Seattle (1999). Recent exhibitions include Twenty Gallons, Los Angeles Contemporary Exhibitions; Fresh Impressionism, Seattle Art Museum; Chamber Music, Frye Art Museum, Seattle; and Splash! Liquid Energy Spattered, at Carnegie Art Museum, Oxnard, CA. Her artwork is in the collections of 4Culture, Henry Art Gallery, and Seattle Art Museum, all in Seattle; Tacoma Art Museum and the Whatcom Museum in Bellingham, WA; and the Shenzhen Fine Art Institute in China. Livingston is represented in Los Angeles by Luis De Jesus Gallery and Greg Kucera Gallery in Seattle.

*** EARLY CLOSURE: Due to previously unscheduled maintenance, the Armory will be closed Labor Day Weekend (Saturday, August 30 - Monday, September 1). Margie Livingston's exhibit will close on Friday, August 29th @ 5pm — two days earlier than initially advertised. We apologize for any inconvenience.

Image: (Detail) Margie Livingston, Draped Painting #6, 2014, Acrylic paint on wooden dowel, 25 x 12 x 9 inches.
• See Exhibition Pics on Flickr