Nery Gabriel Lemus: Until the Day Breaks and Shadows Flee #3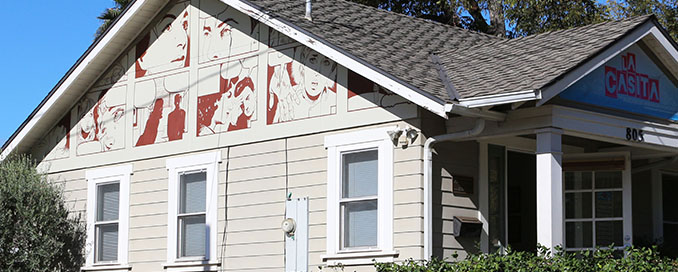 Dates: Saturday, Oct 11, 2014 -
Monday, Nov 30, 2015
Hours:
Galleries are open by appointment Fridays 3:00 to 7:00 PM, Saturdays and Sundays 1:00 to 5:00 PM.
Admission is always free.
Exhibition Opening: Oct 19, 2014
1:00 PM to 3:00 PM
The Armory Center for the Arts presents Nery Gabriel Lemus: Until the Day Breaks and Shadows Flee #3, a mural project by Los Angeles-based artist Nery Gabriel Lemus. The mural is sited on the exterior of La Casita, a neighborhood center in a repurposed bungalow maintained by the Armory.
Until the Day Breaks and Shadows Flee #3 uses the imagery of novelas graphicas -- graphic novels from Mexico that tell stories of la vida real, or "the real life," with topics that range from adventure to passion crimes and often portray darker states of uneasiness, hate, and death. Lemus uses appropriated imagery from the novela, with the omission of text, and deliberately displaces the chronological order of the narratives to allow viewers to navigate the imagery and form their own conclusions. Positioned on the outside of a house, Until the Day Breaks and Shadows Flee #3 reflects on domestic violence and exposes the complexities of intimate private settings and circumstances that are generally kept inside.
This project was initiated by Project Row Houses, an arts-based community center in Houston, where Lemus transformed the interior of a renovated shotgun-style house in the city's historic Third Ward, and additionally featured t-shirts created by domestic abuse survivors of Five Acres' Grace Center in Pasadena. A second version appeared at the inaugural Made In L.A. exhibition at Los Angeles Municipal Art Gallery in Barnsdall Art Park in 2012. The upcoming project with Armory builds on this previous work. The opening of the show at La Casita on October 19 coincides with Domestic Violence Awareness Month.
• View Press Kit

• View Flickr Photos

About the Artist
Nery Gabriel Lemus (b. Los Angeles, 1977) received a BFA from Art Center College of Design (2007), an MFA from California Institute of the Arts (2009), and attended Skowhegan School of Painting and Sculpture (2008). The subjects in his work range from issues of stereotype and immigration to social conditions that can lead to the failure of families such as poverty, abuse, and neglect. His work has been featured in Fútbol: The Beautiful Game, Los Angeles County Museum of Art; Made in L.A. 2012, organized by the Hammer Museum in collaboration with Laxart, Los Angeles; Día a Día/ Day by Day, The 9.99 Gallery in Guatemala City, Guatemala; OZ: New Offerings From Angel City at the Museo Regional Guadalajara, Jalisco, Mexico; 2010 Border Art Biennial at the El Paso Museum, El Paso, Texas; and Common Ground at the California African-American Museum, Los Angeles, among others.