Parlor at the Armory: The World That Begins Where Our Skin Ends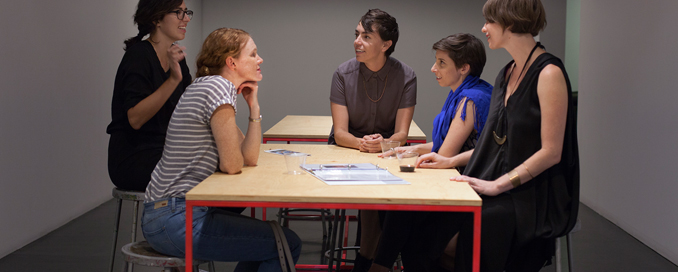 Dates: Saturday, Sep 26, 2015 -
Sunday, Jan 3, 2016
Exhibition Opening: Sep 26, 2015
6:00 PM to 8:00 PM
Parlor at the Armory is a multi-artist residency organized by the Women's Center for Creative Work (WCCW). Founded by designer Kate Johnston and producer Sarah Williams, WCCW is a network of Los Angeles-based women engaged in conversations about contemporary feminisms and creative practices. WCCW will be in residence at the Armory through January 2016, mounting an exhibition and related events in the Armory's Mezzanine Galleries. This process-based residency will take the form of a parlor work-center, occupied by ten WCCW residents over the course of the program. A riso-printed broadsheet publication delineating the residency participants and projects will be created and distributed in the area.

• View Press Release

WCCW's Johnston and Williams starts the residency by installing a worktable, calendar, and some simple shelves to serve as sites for the production of a daily practice. Nine additional residents will then spend a week working in this public space, layering it with their own materials and work. The process materials from each residency will accumulate on the walls and in the space as a collaged archive—the remnants of each residency building on the last. Each week-long residency culminates in a workshop, lecture, performance, screening or other public program led by the resident.

This project is funded as a part of the NEA Our Town Public Art Project My Pasadena, a City of Pasadena public art project with Side Street Projects as a partner. The project received additional support from The Andy Warhol Foundation for the Visual Arts.

Read More About This Exhibition:

• Elephant Magazine

• Hyperallergic

• ArtSlant


WCCW Residency Artists + Events
All events are at Armory Center for the Arts unless otherwise noted.
---



From Mother to Daughter to Daughter
October 6 - 11, 2015

Soyoung Shin explores her Korean-American heritage and specifically her relationship to her mother and grandmother through traditional hair styling, food, and textile and clothing-making. Her residency will conclude with an Intergenerational Fash Mash—a clothing swap, re-working, and alteration event for all ages. Korean food will be prepared by the artist each morning, and brought to the Armory for guests.
---
Intergenerational Fash Mash
Sunday, October 11, 12-3pm
Pasadena Senior Center,
85 E. Holly St. Pasadena, CA 91103

Bring a few pieces of clothes you'd like to repurpose, and we will modify garments destructively and non-destructively. Reimagine your shirt as a skirt! Turn your skirt into a winter cape! There will also be a clothing swap, so bring a couple pieces you are ready to say bye-bye to!
---

About the Artist
Soyoung Shin is a visual artist who explores experiences of subjectivity in a intersectional context. Working in video, photo, performance, and installation, she asks the audience to bring awareness to the ways in which first person narrative informs our overall perception. By situating the viewers in relation to the work, she opens conversations about cultural undertones that exist within our society. These conversations invite viewers to investigate their assumptions in a personal manner. Many of her works are staged and restaged over long durations which allows themes to emerge gradually. Her practice is informed by her identity as a first generation Korean­American woman. Soyoung was born and raised in a suburb of Seattle, and is currently based in Los Angeles. She studied computer science at the University of Washington.
---


t.field
October 13 - 18, 2015

Stephanie Newcomb, Katherine Kokoska, and Feyza Koksal of lux collaborative will create t.field, an installation inspired by the architectural typology of Turkish harem or "women's quarters" rooms, an intervention which strives to create tension between public and private space. Their residency will culminate in a conversation series accompanied by tea in the installation.
---
t.time
Saturday, October 17th, 2-5pm

An afternoon tea in the tfield, accompanied by a conversation on the relationship between architecture and the social structures of gender.
---

About the Artists
Lux is a network of designers operating in a territory between architecture, art and urbanism. Through the synergy of collaboration we use our different skills and interests to create a critical and engaging approach to spatial thought. Our work aims to heighten the sensation of the senses through the use of standardized high-tech and architectural manufactured products re imagined to create playful compositions. Using a hands-on design approach through materiality and assemblage our work sculpts the perception of the environment in relation to the spectrum light, sound, touch and taste.
---


WHERE ARE YOU FROM? - An Interactive Dissection and Re-imagining of Geography, Borders, and Home
October 20 - 25, 2015

Melanie Griffin will create a textile map that repurposes the political and earth-made lines of continents and uses the hand-made to create new spaces. Imbued with an emotional, socio-political, and fantastical context, the "map" will have space for people to draw and write their responses to questions and conversations around a theme of "Where Are You From? The project will come to a close with a conversation and group involvement with the piece exploring ideas and feelings around ancestry, personal and family history, diaspora, belonging, uncertainty, and displacement amongst others, that will hopefully create a dialogue around intersectional issues of race, class, gender, sexuality, ability and the ways capital and settler-colonialism/ imperialism shapes the stories of "where we are from" and how we define home.
---
A Conversation about Origins, Home, History and Power
Sunday, October 25th, 7-9pm
Neighborhood Unitarian Universalist Church
301 North Orange Grove Blvd, Pasadena, CA 91103

A facilitated conversation with members of various LA social justice organizations about how structural power, history, and culture influence the question, "Where are you from?" Concludes with an interactive art happening!
---

About the Artist
Melanie Griffin was born in Augusta, Georgia in 1981 and now lives in South Pasadena, California. She received a BA from Antioch College, where she studied Cultural Studies and Visual Arts. She has created using music, painting, drawing and collage. Currently, she is reflecting on what she believes is a false binary between art and craft. Melanie uses loud vibrant colors, geometric shapes, and symbolism to meditate on ideas around gender, race, spirituality, mysticism and liberation through quilts, embroidery and other textile expressions.
---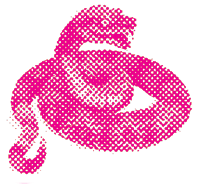 We Love Our Parents, We Fear Snakes
October 27 - November 1, 2015

Johanna Breiding will build an intimate gathering space — the foyer/drawing room/death room/living room — for invited queer-identified performers to explore traditionally familial spaces and experiences of mourning. The project will include a collectively imagined installation, and will culminate with a public performance in the space.
---
Public Opening
Saturday, October 31st, 6-9pm

The program will culminate with a durational, public performance in the space with movement by Marbles Jumbo Radio and sound by Yann Novak.
---

About the Artist
Johanna Breiding's practice stems from photography, considering the medium's history, its representational role and its limits. Expanding to video and installation, to emphasize voice, movement and experiential pathos, Breiding locates her work within the intersection of analog and digital technologies, the construction of gender and cultural identity, and a critique of heteronormative ideologies within the privatized/personal and public/social space. Her recent solo show, Epitaph for Family, addresses notions of queer family-making, exploring love, intimacy and loss through the image and connotations of the horizon line and the dinner table. Breiding currently teaches undergraduate and graduate courses in New Genres at the San Francisco Art Institute. She is based in Los Angeles and San Francisco, and is originally from a small village in Switzerland.

---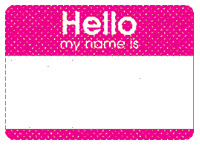 You May Call Me
November 3 - 8, 2015

Kate Figgins will spend her residency in a self-guided writing practice exploring the decision to change her name, reclaiming a Peruvian family name that was lost "after years of silent, smiling colonialism." She will delve into the full history of the her given name (interviewing members of her extended family), the social implications of her identifier up to this point, and keep watch of the effects of a daily confrontation with the city, state, and federal systems inconvenienced by such a decision. At the end of the project she will host a performance and zine-launch of her feature-length nonfiction piece detailing the internal and external struggles of this journey.
---
To Tutaya
Saturday, November 9th, 3-5pm
A zine; a reading; some questions you may not have asked, answered. Kate samples some of the multi-media pieces she's created to understand this question of name.
---

About the Artist
Kate Figgins was born in Miami, Florida. She is predominately a writer and poet working on race, gender, and class politics as they intersect in her corner of Los Angeles. Kate also works as a research and production assistant and is currently writing a documentary series about the narrative creation of American nationalism.
---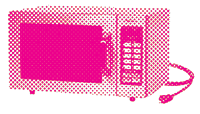 Studio Cooking
November 10 - 15, 2015

Studio Cooking with Arden Ellis Surdam and Meghan Gordon will create a temporary studio kitchen using cooking equipment borrowed from artists' studios. Each day of the residency, a different chef-artist, -writer, -curator, or -performer will present a unique meal-event. Performers and guests will assemble over mini fridges, toaster ovens, hot plates, coffee makers, rice cookers, blenders, and microwaves, and will eat from Orr Herz's handcrafted ceramic bowls, all while enjoying performance and discussions. Meal-events will be prepared by Páll Haukur, Eric Kim, David Bell, Lisa Jugert, Amanda Katz, and Studio Cooking. All meal-events will take place in the Armory Mezzanine. RSVP to and make inquiries at: studiocookinginfo@gmail.com.
---
Events throughout the week with a
Public Three Course Meal-Lecture-Performance Delivered by Surdam and Gordon
Sunday, November 15th, 12-5pm

RSVP required to studiocookinginfo@gmail.com
---

About the Artists
Arden Ellis Surdam (b. 1988, New York, NY) graduated this spring from CalArts with an MFA in Photography & Media. Her practice investigates the relationship between food, sexuality, and feminism through mediums like sculpture, collage, and alternative photographic processes. While the subject of food and gender has always been instrumental in her practice, they have become increasingly present since moving to Los Angeles. Surdam completed her BA in Visual Arts at Oberlin College in 2010 and has attended residencies in New York, Nebraska, and California. She was most recently named the winner of Focus Photo L.A. for Photo Basel and a finalist for Paris Photo LA: INTRODUCING! Young California Photographer's Award 2015.

Meghan Gordon (b. 1985, New York) is a Los Angeles-based artist whose recent projects explore thoughts on subjectivity, collaboration, and performance documentation. In addition to a studio based practice, Gordon operates a bar sometimes called some times, organized a lecture+dinner series called In-n out, and co-directed an unofficial residency program at a private art school called locksmith, Inn. She is a member of neverhitsend, a collective that performatively researches communications ideology, and a regular at Clay Night. Gordon studied at Rhode Island School of Design and California Institute of the Arts. She has received support from several organizations including: New York Foundation for the Arts, Victorian Society of America, Sculpture Space, Lower Manhattan Cultural Council, Dieu Donné Papermill, Wave Hill, MacDowell Colony, Seven Below Arts Initiative, and the Fine Arts Work Center.

---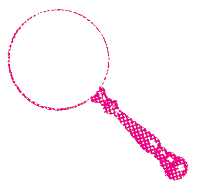 An Incomplete and Personal History of Old Town Pasadena
November 17 - 22, 2015

Maryam Hosseinzadeh will spend her residency producing a neighborhood walk, centering on the Old Town area of Pasadena as a segment of an ongoing project incorporating community-based and word-of-mouth histories of Pasadena and Altadena. Her residency will end with a public walking tour of the neighborhood, fueled by information culled from her research, conversations, and personal experience.
---
Walking Tour of Old Town
Saturday, November 21, 11:30am - 2:30pm
Meet the corner of South Orange Grove and West Colorado Boulevards by the Memorial Flagpole

Join Maryam and guest contributors for a non-traditional, experiential historical district walk delving into personal/social narratives, levels and layers of histories, taste memory and more.
---

About the Artist
Maryam Hosseinzadeh is a native Angeleno interested in the layered sites, memories, places and histories encountered individually and created collectively by all people, everyday. She creates original projects connecting people, place, and history, with a focus on developing microhistories through site-investigation, archival research, personal reflection, and everyday conversation. Originally from Altadena, she has lived in Northeast Los Angeles most recently for the past nine years. Some of her past projects include walks for the Craft and Folk Art Museum, the MAK Center, and Machine Project's Guide to Modern Architecture in LA as part of Pacific Standard Time.

---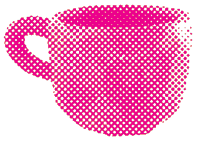 Vessel
December 1 - 6, 2015

Timed with the one year anniversary of her father's death and her 6 month anniversary as a mother, Lake Sharp will set up her ceramics wheel and other clay tools, as well as an altar for her father and daughter, who will also join her for a portion of the time. She will let the experiences of death and birth guide and shape a series of sculptural vessels, inviting anyone to join her at any time during the gallery hours, to share their own birth and death stories or to sit in quiet contemplation. At the end of the week, when the vessels are still unfired, she will apply a coat of colored slip and let the public carve into them while recalling their own stories.
---
The Space Between Breaths
Sunday December 6th, 2-5pm

All are invited to come with their own experiences of birth and death, to carve into Lake's unfinished pieces, leaving a collection of indelible marks. What we share: the first and the last breaths.
---

About the Artist
Lake Sharp is a multi-disciplinary artist who recently started working with clay. She is an actor, storyteller, dancer and designer who began making ceramics in 2013. She launched LAKE SHARP CERAMICS in 2014, a line of ceramic objet d'art and household goods. Her work is carried in several local boutiques in Los Angeles as well as by stockists in New York, Tennessee, Missouri, and soon Kuwait! She had her premiere solo show at local shop & gallery, Matrushka Construction, in Silver Lake, LA, in November, 2014. OTHER DESERT CITIES was a meditation on the California drought, making planters for the changing landscape. Lake holds a bachelor degree in theater with minors in studio art and gender studies from Occidental College. She graduated magna cum laude and Phi Beta Kappa.

---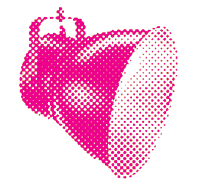 One Axe Plays the Armory
December 8 - 13, 2015

Each day of their residency, One Axe Plays will bring in a new team—one writer, one director, and two actors—who will create a brand new piece and rehearse and rewrite in real-time, using items left in the space as catalysts for stories. By the end of the week, One Axe will have 4 shorts or scenes, with the final day culminating in the performance of the pieces.
---
Public Showcase
Sunday, December 13, 4 - 6pm

Be entertained by five new plays and scenes created by writers, directors, and actors who were teamed up, thrown into a room, and asked to use the Armory's atmosphere to make something new. Emceed by Becky Thyre.
---

About the Artist
One Axe Plays is an LA-based incubator and live showcase of emerging and established women writers and directors. Ranging from absurdist comedies and serious monologues to tragedies and melodramas, the "staged films" and plays we produce pride themselves on high-quality innovation with a low budget. We strip down to the barest and most essential elements—writers, actors, and directors—to allow our writers and directors room to experiment and workshop their ideas. This is an important element, as those who are expecting high production should go elsewhere, but those expecting quality writing, acting, and directing will be at home here.

One Axe is the brainchild of writer/director A Wolfe but doesn't get shit done without the hard work of volunteers and dedicated women artists.

One Axe is a node of the Women's Center for Creative Work.

A Wolfe is a writer, editor, filmmaker, and performer in Los Angeles. She's an Emerging Writer Fellow for A Public Space and the founder and producer of One Axe Plays. She's told stories for NPR's Snap Judgment and published in Marie Claire, Vice, Golly, Good, Bust, Bullett, Flaunt, Dame, xoJane, TakePart, ATTN, and many others. Her debut novel is forthcoming.
---
This project is funded as a part of the NEA Our Town Public Art Project "My Pasadena," a City of Pasadena public art project with Side Street Projects as a partner. The project received additional support from The Andy Warhol Foundation for the Visual Arts.