Martin Kersels: Tossing a Friend (Melinda) (1, 2, and 3)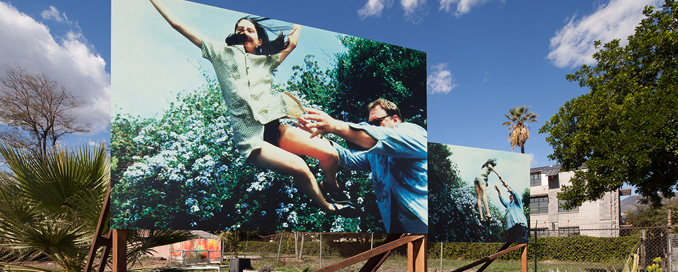 Dates: Saturday, Nov 7, 2015 -
Friday, Sep 30, 2016
The Armory presents an outdoor exhibition featuring three photographic works by Martin Kersels on display at Roadside Attraction, the Armory's open-air gallery in Northwest Pasadena.

Kersels's color triptych depicts a close-up image of a large man (the artist himself) throwing a young woman into the air (Kersel's long-time collaborator Melinda Ring). Kersel's childlike actions are recorded in three images against a flourishing background of purple lilacs. The work is part of a larger series which depicts the artist in the consensual act of tossing, holding, and spinning friends. What at first may seem like an awkward or uncomfortable act appears innocent and jovial both for Kersels and the friend who is being tossed in mid-air.

About the Artist
Martin Kersels (b. 1960, Los Angeles) has applied the principles of performance and humor to his photography, audio works, and sculptures since the 1980s—first as a member of the performance group SHRIMPS, and later as a maker of sculptures that move, generate sounds, and function as unusual stand-ins for the artist himself. Since 1994, Kersels's objects and projects have been exhibited at museums both nationally and internationally, including the 1997 Whitney Biennial, the Centre Pompidou, MOCA Los Angeles, the Museum Tinguely, Kunsthalle Bern, and the J. Paul Getty Museum. A survey of his work, Heavyweight Champion, was organized and exhibited by the Tang Museum in 2007 and the Santa Monica Museum of Art in 2008. His room-sized sculpture 5 Songs, and an accompanying performance series, Live on 5 Songs, was on view in the 2010 Whitney Biennial. Before joining the faculty at Yale University School of Art, where he is a professor and director of graduate studies in sculpture, Kersels was a faculty member and co-director of the art program at the California Institute of the Arts. He attended University of California, Los Angeles, receiving a B.A. in Art in 1984 and an M.F.A. in 1995.

About Roadside Attraction
Roadside Attraction is a temporary outdoor gallery at 733 North Fair Oaks Avenue. Sited on a traffic-heavy, vehicular corridor, Roadside Attraction consists of three vinyl, 8 x 12' panels mounted on a wooden framework, resembling an oversized, z-fold screen. The structure was designed to be visible to commuters and pedestrians moving north and south along North Fair Oaks Avenue, offering a friendly encounter with art along a public thoroughfare.