Harry Dodge: The Inner Reality of Ultra-Intelligent Life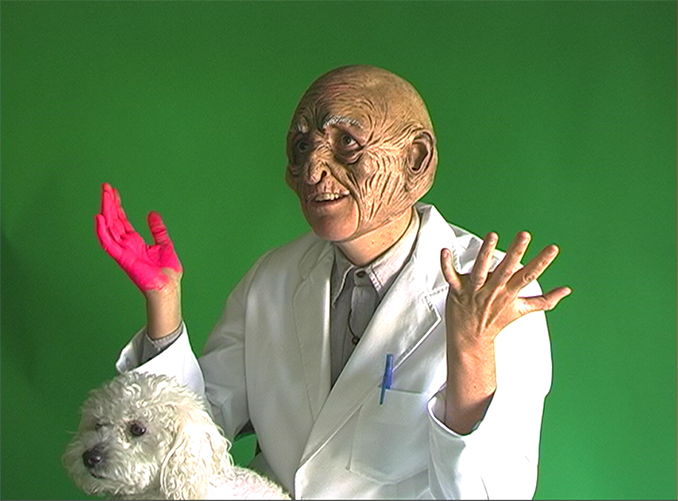 Dates: Sunday, Oct 2, 2016 -
Sunday, Jan 8, 2017
Hours:
Gallery Hours:
Fridays 2-6 PM, Saturday & Sundays 1-5 PM
Admission is always free.
"The works here, including older drawings and sculptures, absorb a viewer into the drama of Dodge's world: a zone neither here nor there, nor anywhere."
— Artforum

The Armory is proud to present the first solo exhibition in Los Angeles of the acclaimed, interdisciplinary artist Harry Dodge. For the past two decades, Dodge has been a pioneer in a variety of spheres, including video art, sculpture, drawing, performance, screenwriting, feature film production, and DIY queer community-making. The Inner Reality of Ultra-Intelligent Life features the premiere of two new video works made especially for the exhibition, Mysterious Fires and Big Bang (Song of the Cosmic Hobo), paired with an array of earlier work, including sculptures and drawings, which showcase the evolution of Dodge's interests and trajectories over the past decade.

In his new video work, Mysterious Fires, Dodge plays a human-level machine intelligence being interviewed by a concerned interlocutor (played by Cay Castagnetto); the video reflects the artist's interest in the fast-moving, ethically-charged field of robotics and machine intelligence. The conceptual, pedagogical discussion in which the two characters engage is faceted throughout by their amusing interpersonal dynamic and idiosyncratic means of verbal delivery, which extends to include other members of the filming crew, breaking the proverbial "fourth wall." In short, while performing a script primarily concerned with the terrifying gloom of absolute instrumentality (the future of machine intelligence), the characters and crew frequently interrupt themselves with wit, affection, delight, error, flattery, and absurdity.

Through disruption and play, Mysterious Fires asks its audience to consider where fallibility, care, love, and laughter (affect) belong in a situation of absolute, super-charged intelligence—especially if intelligence is defined as the virtuosic mastery of goal-achievement. The work's methodology also relates to contemporary conversations about the relationship between sociality and making, as crystallized in poet and critical theorist Fred Moten's remarks: "Form is not the eradication of the informal. Form is what emerges from the informal. So, the classic example. . . . is "What's Going On?" by Marvin Gaye – and of course the title is already letting you know: goddamn it, something's going on! This song emerges out of the fact that something already was going on. . . . What emerges is a form, out of something that we call informality."

The artist appears once again in Big Bang (Song of the Cosmic Hobo), here as a low-rent automaton in an urgent quest to launch a small group of cosmic particles back into a state of pure potentiality. In this film—created via a series of in-camera edits—a cyborg (a shirtless Dodge with a Chroma key green cardboard-box robot head) purchases a particle board cabinet at IKEA and, after gloriously smashing it to bits with a sledgehammer, scatters the dust at a Grand Canyon scenic overlook. In swift order, the work invokes questions about consumerism, materiality, and the possible fecundity of dissolution or destruction.

The sculptures and drawings that accompany these video works, which stem from different points in the artist's career, have been curated for their poetic discussion of the possibilities for moving beyond a desire for purity—primitivism, neo-Luddism—and into a state of ecstatic contamination, be it machinic, affective, or intersubjective.
Events
• Harry Dodge Talk & Screening
Media
• Read Press Release

• View Installation Pics on Flickr

• Art in America Review

• Three Unique Shows at the Armory in Pasadena
(Art and Cake)


Harry Dodge: The Inner Reality of Ultra-Intelligent Life is made possible with support from The Andy Warhol Foundation for the Visual Arts. This exhibition was curated by Suzy Halajian.

Image: Harry Dodge, Mysterious Fires, 2016, video still, color, sound, 24:30 min.