Jessie Homer French: Mapestries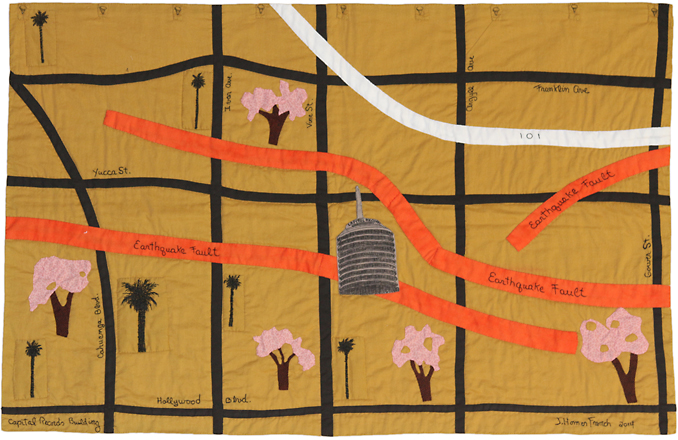 Dates: Sunday, Jan 24, 2016 -
Sunday, May 15, 2016
Hours:
Gallery Hours:
Fridays 2-6 PM, Saturday & Sundays 1-5 PM
Admission is always free.
Jessie Homer French's exquisite needlework outlines the landscape of the West, with its mountain ranges, state parks, rich flora and fauna, and sea life. Revealing a quirky and charged sense of humor, the maps also depict manufactured landmarks, such as the Capitol Building in Hollywood, a marijuana leaf in Northern California, and stealth bombers flying in the Southern California desert. The pieces, made entirely by hand, combine aspects of traditional, gendered craft with a contemporary social and political sensibility. French offers a personal form of storytelling, one made evident in shifting narratives that reveal travels to various regions, such as California's Coachella Valley to upstate New York and Vancouver Island. Sensible as well as visionary, the artist describes the work as "safe art for above one's bed in case of temblors.
Media
• California's fault lines, stitched by hand:
One artist's tweaking of a homespun craft
(LA Times)

• View Press Release

• View Exhibition on Flickr

This exhibition made possible by a grant from the Andy Warhol Foundation for the Visual Art.