Star Choir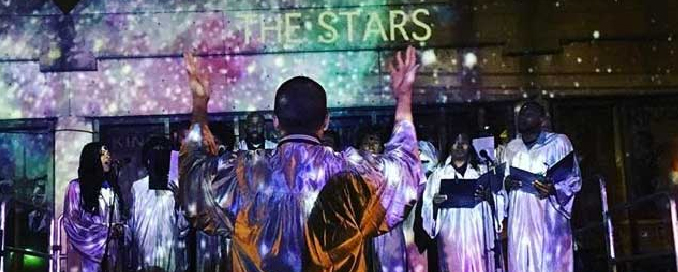 Dates: Saturday, Oct 1, 2016 -
Saturday, Oct 1, 2016
Hours:
Gallery open Fridays, 3 - 7 PM
Saturdays & Sundays, 1 - 5 PM
Free admission, donations appreciated
Malik Gaines and Alexandro Segade will collaborate with local singers to create a live multimedia musical performance based on texts drawn from Octavia E. Butler's novels and archive. The event will take place at the Armory-adjacent Levitt Pavilion in Memorial Park immediately following the the opening of the Radio Imagination: Artists in the Archive of Octavia E. Butler exhibition.

There will be 2 performances of Star Choir, each 20 minutes in length. The first will be at 8 pm, and the second at 8:40 pm. Both performances are free and open to the public.

Star Choir is part of Clockshop's Radio Imagination, a series of programs and artist commissions exploring the legacy of Octavia E. Butler.
About the Artists
Known for their collaboration with Jade Gordon in the Los Angeles-based My Barbarian, Malik Gaines and Alexandro Segade also produce work as a duo, exploring the emotional resonance of song. Working with large casts of artists, musicians, and community groups, Gaines and Alexandro have created performances for the New Museum, Studio Museum, P.S.1 MoMA, The Kitchen, and Recess in New York, at Fluxnight, Atlanta, and other institutions and festivals. As My Barbarian, Gaines and Segade were 2012 Creative Capital Fellows, and their work was presented at the Whitney Biennial, Los Angeles County Museum of Art, and Museum of Modern Art (San Francisco).
Image: Malik Gaines and Alexandro Segade

Star Choir is made possible with support from the Mike Kelley Foundation for the Arts