THEMODELINGAGENCY: TEKTITE –reflux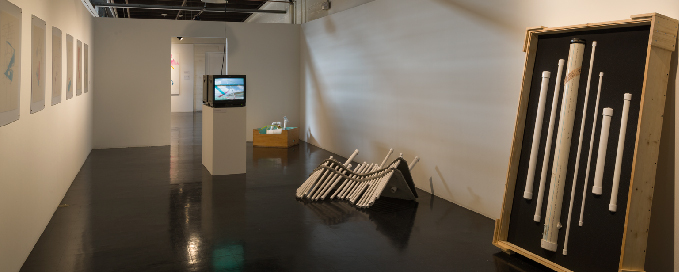 Dates: Sunday, Jun 5, 2016 -
Sunday, Sep 11, 2016
THEMODELINGAGENCY: TEKTITE –reflux features an exhibition of new works by THEMODELINGAGENCY, a collaboration between artists Nick Herman and Christopher James. Conflating experimental art with scientific method, the drawings, paintings, sculptures, and video displayed here utilize the environment of the lab and strategies familiar to field work to produce alternative results to an existing body of scientific research. In doing so, these objects and images (re)frame the oppositional relationship between utility and art, the objective and subjective, and aesthetics and knowledge.
Media
Made possible by the generous support of The Andy Warhol Foundation for the Visual Arts.

Image: (left to right) Technical Illustrations, 2013-14 Ink, tape, white-out, and colored gel on glassine. Report from TEKTITE -reflux B, 2016 Sound, color, 2 minutes, 8 seconds. Manifold, 2016 PVC pipe and fittings, nylon rope, plastic tubing, pipe cement, pulley, marine plywood crate, paint and varnish. Recliner, 2016 PVC pipe, fiberglass reinforced plywood. Periscope, 2016 PVC pipe, polyethylene foam, wood crate., 2014, video still (detail), 18 min., 39 sec.