Ellen Lesperance, Helen Mirra, Traversing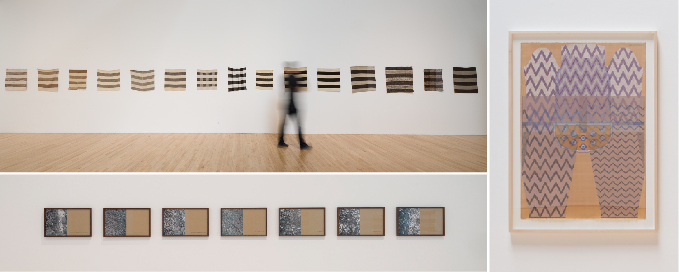 Dates: Sunday, Jun 5, 2016 -
Sunday, Sep 11, 2016
Hours:
Gallery Hours
Fridays, 2-6 PM
Saturday & Sunday, 1-5 PM
Admission is always free
"... a quietly powerful network of ideas around work, bodily presence, and activism"
— Los Angeles Times
The exhibition Ellen Lesperance, Helen Mirra, Traversing features new paintings and a recent interactive project by Lesperance, and an international, intergenerational weaving project* organized by Mirra. Through their works, Ellen Lesperance and Helen Mirra both consider the complex relationships we as individuals have to the physical and political landscapes we navigate. Each approaches her practice with a similarly poetic tone and critical consciousness. They share an interest in the material of textiles and the structural grid as well as a tendency to create work within carefully derived conceptual systems and parameters.

We also invite you to participate in Congratulations and Celebrations, the interactive project by artist Ellen Lesperance which invites participants to engage with a sweater designed and knit by the artist and exhibited in the show. The sweater is emblazoned with a battle axe and it is to be worn by any member of the public who wishes to engage in a solo performance which promotes personal agency. More information is available on Instagram.
Media
• FAD Magazine: Virtual Walk-through
* Standard Incomparable weavers: Abigail Ahlberg, Sunetra Banerjee, Hilde Blank, Scott Bodenner, Anneke Bosch, Lauren Broom & Jo Rhodes, Danielle Burke, Francesca Capone, Leah Rafaela Ceriello, Mette Clausen, Dallin Public Elementary School, Helen Dawson, Lamine Diouf, Matilda Dominique, Shenja Leonie Eckhardt, Anthony Embrey, Marianne Fairbanks, Tami Garrard, Trey Gehring, Gemeinschaft in Kehna, Alexandra Giarraputo-Pym, Liz Gipson, Birgit Götz, Jungil Hong, Janis Huisman, Kelly Jones, Kira Keck, Pamela Koehler, Jasmine Kornel, Nina Lawrin & Carol Mason, Lily Martina Lee, Janice Lessman-Moss, Frances Logan, Joanna Louca, Patricia Lovegreen, Anne Low, Margaret Lowndes, Marie Claire Macadar, Laura Magdycz, Victoria Manganiello, Maple Grove School, Carol J Mason, Kayla Mattes, Brittany McLaughlin, Sue Mitchell, Ulrikka Mokdad, Annie Nickerson, Kate O'Brien, Hannah O'Hare Bennett, Renee Obrecht-Como, Mary Odom, Sue Otsuka, Oenone Oxlade, Aikaterini Papadopoulou, Marianne Poulsen, Vankar Purushottam, Amy Putansu, Alayna Rasile Digrindakis, Charlene Schurch, Connor Shumaker, Meghan Spielman, Anastasia Starostenko, Allison Taylor, Jasmine Valandani, Jennifer Warren, Misao Watanabe, Ayumi Watase, Emma Welty, Hermann Jülich Werkgemeinschaft, Kristine Woods, Samantha Yang, Haylie Zapantis, Callen Zimmerman

Made possible by the generous support of The Andy Warhol Foundation for the Visual Arts and the Pasadena Art Alliance.

Top Image: Standard Incomparable (partial), 2016
Right Image: Ellen Lesperance, Land of Feminye III (Lilac), 2016, gouache and graphiteon tea-stained paper, Courtesy the artist and Adams and Ollman, Portland, OR
Bottom Image: Helen Mirra, Walking commas, 28 June, Cape Breton, 2014, black and white photographs and text in seven framed parts, Courtesy the artist and Peter Freeman Gallery, Inc. New York/Paris