Below the Underground: Renegade Art and Action in 1990s Mexico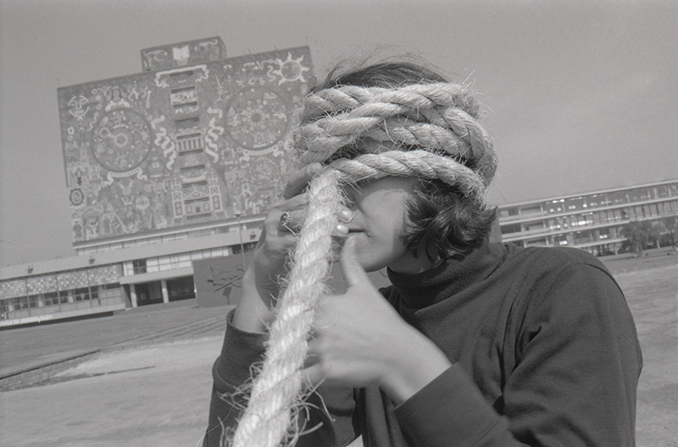 Dates: Sunday, Oct 15, 2017 -
Sunday, Jan 28, 2018
This exhibition examines diverse independent artist initiatives – including ad hoc street performances and interventions, clubs, collaboratively produced 'zines, archives and collections, pirate radio programs, and more. The project also references pronounced divisions of class, race, and gender, with art objects themselves the tangible outcomes of many different conditions of creating, living, and experimenting within the same place. A related publication complements the exhibition with content such as interviews, texts, and images generated through the deep research process, which has unfolded over the past four years.
Exhibiting Artists
19 Concreto, Eduardo Abaroa, Mariana Botey, Casper, Caxa, Andrea Ferreyra, Grupo Incidental, Melquiades Herrera, Jalarte, Marcus Kurtycz, Los Chinos, Los Lichis, Marcelaygina, Teresa Margolles, César Martínez, Sarah Minter, Taniel Morales, Lorena Orozco, Pinto Mi Raya, Vicente Razo/Museo Salinas, Elvira Santamaría, Semefo, Sonido Apokalitzin, Katia Tirado, Ema Villanueva, Lorena Wolffer
In the News
• From Donald Duck to Donald Trump
(LA Times)

• Initiative Seeks to Rescue Fugitive Art
(NY Times)

• A Dream of a Latin America
(LA Daily News)

• Pacific Standard Time Returns
(Hyperallergic)

• Exhibition Review
(HipLatina)

• Learning from LA/LA
(Art in America)

• Exhibition Review
(CARLA)

• Critic's Pick
(LA Weekly)

• Best of 2017
(Hyperallergic)

• Shows in LA (Art in America)
• Exhibition Review
(The Brooklyn Rail)
Media
• Press Kit

• Exhibition Images

• Exhibition Video

• Performance Festival Program

• Performance Festival Images

• Artemisa Clark Performance Images

• Exhibition Catalogue Launch Video
This exhibition is part of Pacific Standard Time: LA/LA, a far-reaching and ambitious exploration of Latin American and Latino art in dialogue with Los Angeles, taking place from September 2017 through January 2018 at more than 70 cultural institutions across Southern California. Pacific Standard Time is an initiative of the Getty. The presenting sponsor is Bank of America.




Major support for Below the Underground: Renegade Art and Action in 1990s Mexico is provided through grants from the Getty Foundation.



Additional support is provided by the Jumex Foundation, the Mexican Chamber of Commerce, and the Consulate General of Mexico in Los Angeles.



Image: Andrea Ferreyra, Torbellino/Whirlwind, 1993. A 12-hour performance in 13 places throughout Mexico City. Photo by Gabriela González Reyes; courtesy Andrea Ferreyra.