Akunnittinni: A Kinngait Family Portrait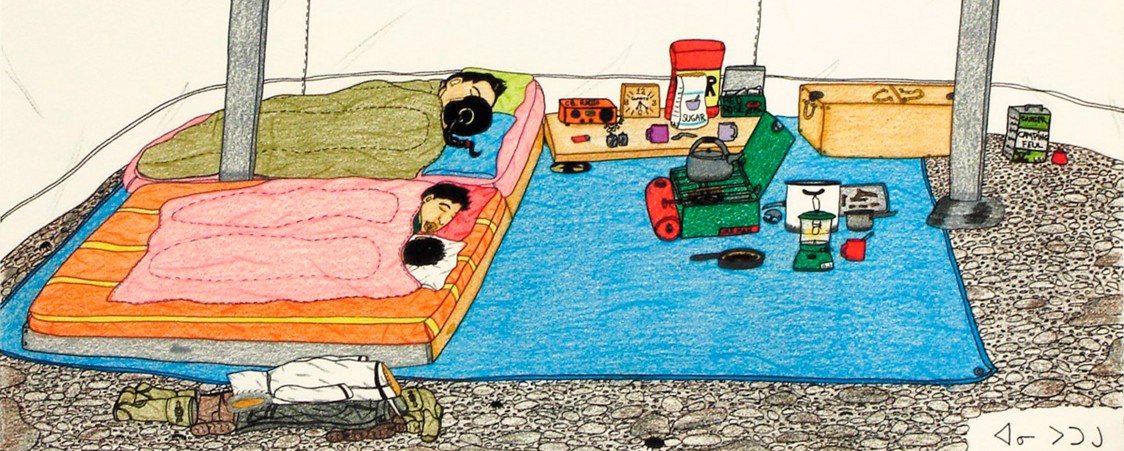 Dates: Sunday, Jul 1, 2018 -
Sunday, Dec 16, 2018
Hours:
Gallery open Fridays, 3 - 7 PM
Saturdays & Sundays, 1 - 5 PM
Free admission, donations appreciated
"A moving and intimate artistic dialogue."
— Los Angeles Times
This exhibition chronicles three generations of Inuit artists—Pitseolak Ashoona (1904-1983), her daughter Napachie Pootoogook (1938-2002), and granddaughter Annie Pootoogook (1969-2016). The prints and drawings on view depict nuanced depictions of family and village life in Kinngait, as well as sardonic references to pop culture that have now penetrated everyday life in this remote community in the Canadian Arctic. Kinngait is known internationally for its artwork, and the three women in this exhibition are among the most well regarded artists of this region.

Armory galleries are open daily from 12:00 PM to 5:00 PM (closed Tuesdays and holidays). Admission is always free.
Media

Akunnittinni loosely translates as "between us" in Inuktitut, one of the principal Inuit languages of Canada. This exhibition was organized by the IAIA Museum of Contemporary Native Arts (MoCNA) in Santa Fe, NM, where it was originally presented. Public programs made possible with the support of West Baffin Eskimo Cooperative.


Image: Pitseolak Ashoona (Inuit, 1904 – 1983), Dream of Motherhood, 1969. Stonecut print, 24 x 33 ¾ inches. Courtesy of Dorset Fine Arts, Toronto, Ontario, Canada.